Niecy Nash has never been one to be ashamed of her curvy bod (remember her "Reno 911" character?) and even less ashamed to say whatever the hell she pleases.  So she's holding nothing back in a new interview for Playboy magazine.  Check it inside, plus her hot new pics....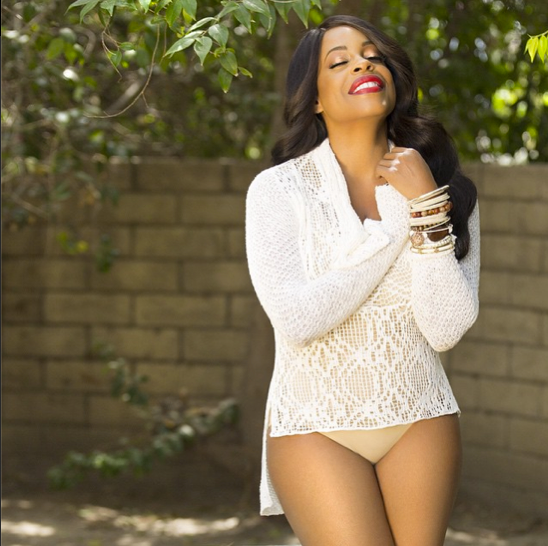 She's the author of the relationship book It's Hard To Fight Naked, the star of TVLand's "Soul Man", and also the star of HBO's "Getting On".  But the 44-year-old married star isn't just talented on screen.
In her new interview with Playboy magazine, Niecy's dishing up what it takes to keep a man happy -- a drained penis and a stomach full of food. 
What I say in the book is, "A BJ a day keeps the divorce attorney away" and I say that because I feel like men are profoundly simplistic, which is the reason I wanted to call my book what I used as the title of chapter three, which is, "Stomach Full, Penis Empty: A Woman's Guide to a Happy Marriage." Keeping him fed and drained, you have no problem. We are really more complicated than they are and I think that women are more generous with oral sex because we nurture by nature. We want to be pleasing by nature, that's in our DNA, so I think that a lot of the behavior we're looking for sexually, you might have to educate your partner. Sometimes, men just assume they're going to get it and you need to be like, "Give me mine. Ladies first."
She continued about the importance of communicating sexual needs, likes and wants  to keep a relationship in order.  And she also revealed how her hysterectomy changed her sex life for the better:
What's so interesting is that [women are] more willing to have conversations about "Do you want to get married? Where do you see this relationship going? Do you want to have children?" than we are to ask, "What kind of sex do you like? What are you into there?" You know what I mean? And that's a conversation that a lot of people dive into but if you're going to be with someone for the rest of your life and they're failing to meet your sexual needs is like doing a slow dance with death. We need to make sure we can meet right there in the middle. The best thing that could have ever happened to me, and I was so fearful when I did it, was I got my tubes tied and had a hysterectomy. It gives me and my husband a different liberty — we can do what we do anytime, anywhere, at a moment's notice. So that's a sidebar into my situation, but I can get the party started.
Well...
Check out the BTS footage above from her (fully clothed) Playboy shoot and read the rest of her interview HERE.
Photographer: Robert Ector