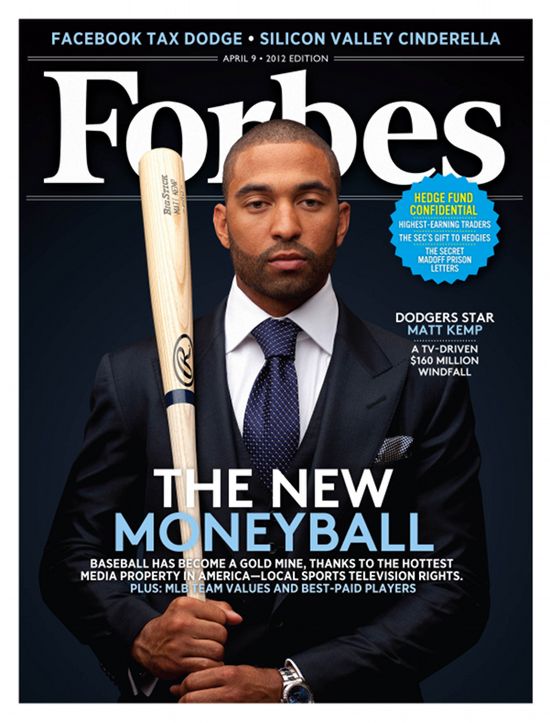 MLB star Matt Kemp isn't just known for nabbing Rihanna at one point.  He also nabbed an eight year $160 mill deal from his bankrupt team, the L.A. Dodgers.  And FORBES is talking about just how he did it while Mr. Kemp covers the April 9, 2012 edition.  Check it, plus LaLa Anthony's lovable bestie Po Johnson rocking the pages of PYNK magazine...
Now this is some serious cash.  Guaranteed cash.  27-year-old Matt Kemp has a guaranteed 8-year contract with the Dodgers for $160 milli.  And despite his team (now owned partly by Magic Johnson) being bankrupt, professional baseball is now leveraging television rights all the way to the bank.
The cutie baller is covering the new issue of FORBES magazine.  And here's an excerpt from his story:
The cable companies, the TV networks and incoming team owners alike are taking some risk with the new TV economics of baseball. That's why most of the regional sports networks have been structured with an equity component—they're sharing the risk.

There is one group, however, that gets a sure thing from the local broadcasting windfall: star players.
Mega-television deals, after all, are based on the underlying assumption that the team will be competitive—or that, at a minimum, it has some drawing power. So marquee players, the kind that a team can use to *market itself, suddenly find themselves in a better position than ever.

That's how the Los Angeles Dodgers–a bankrupt baseball team–gives a young star player, Matt Kemp, an eight-year, $160 million contract, even when he isn't a free agent.

Kemp is a terrific player—the 27-year-old outfielder led the National League in numerous offensive categories last season and finished second in Most Valuable Player balloting.

For the bankrupt Dodgers, headed for sale at auction, a long-term contract with Kemp represented an asset rather than a liability. The team's enormous valuation is predicated on the ability of the new owner to quickly negotiate a deal worth more than $3.5 billion over 20 years with a regional sports network. Locking up Kemp was an implicit guarantee that Dodgers broadcasts in the foreseeable future would be marketable and, one hopes, worth watching.
A similar rationale drove Arturo Moreno, owner of the Los Angeles Angels, to pay the biggest free agent on the market—Albert Pujols—$240 million over ten years, despite a recent drop-off statistically as *questions swirl about his actual age (remember: baseball contracts are guaranteed). No matter: Moreno now has a face for his franchise—and for Fox Sports West, which recently agreed to give the Angels $2.5 billion over 17 years.

And the players themselves? "It's great to know I'm going to be here for the next eight years," says Kemp. A $160 million guaranteed payday has a way of making a man feel like that.
Nice!
And if you love Po Johnson from "LaLa's Full Court Life," check out her brand new PYNK magazine spread.  She cleans up well: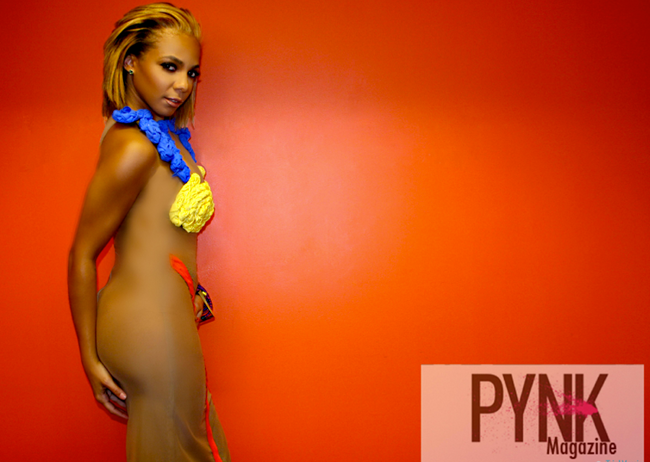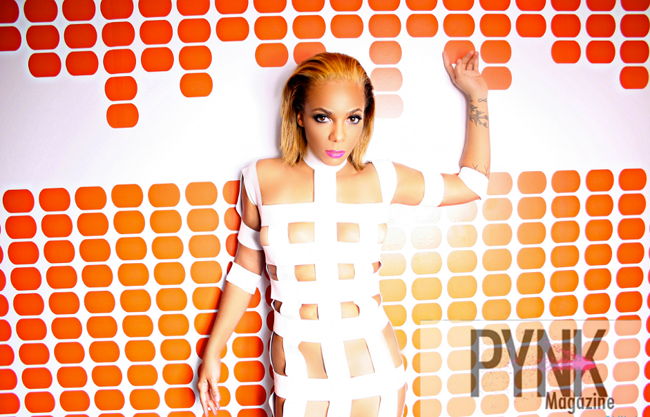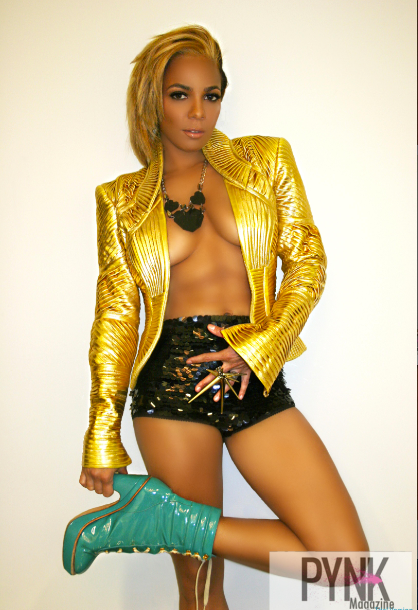 Here's the highlights:
On her love life:
"I'm not dating anybody, I'm not seeing anybody, I'm not fucking anybody, I'm not sexting anyone. I am on pause in regards to a relationship zone. I'm very much married to music. I don't even have the time to be emotionally responsible, and I feel bad, but it is what it is."
On living on camera:
"Once you expose yourself for everyone to see, it's like walking around naked in front of your lover for the first time. Why do you need to be nervous the second and third time?"
On accepting herself:
"You have to be like, "Fuck it, this is me. I like crawfish and crabs. I'm 5'4''. I'm from the south. I had a stuttering problem. And I want be a fucking artist. My name is po. Fuck you if you don't like it." Once you let those inhibitions go, everything else is irrelevant. I owe it to the audience that's watching; I owe it to all those little girls; I owe it to all those people who feel like geeks and weirdos, I owe it to them to let them know that this is cool. You don't have to be a part of the masses. What everyone sees on TV is me celebrating the fact that I've owned that. I'm not going to apologize for who I am, and I'm not going to apologize for who I want to be."
On her music:
"It's always been funky, but poppy and fun — very much teen angst. Everything I've always wanted to say, I'm going to say it through my music. If you take punk, pop and the streets, and put it together, that's what my stuff sounds like. Think of Cee Lo as a female artist or No Doubt, but a lot more urban.
I am not signed to anybody right now, so I feel like this is a good time for me to be uninhibited. In regards to artistic limitations, I have none. I want to be very honest about who I am. As eccentric, crazy, and out of the box as I am, I'm still very relatable. What's the point of doing it if you're not relating to anybody?"