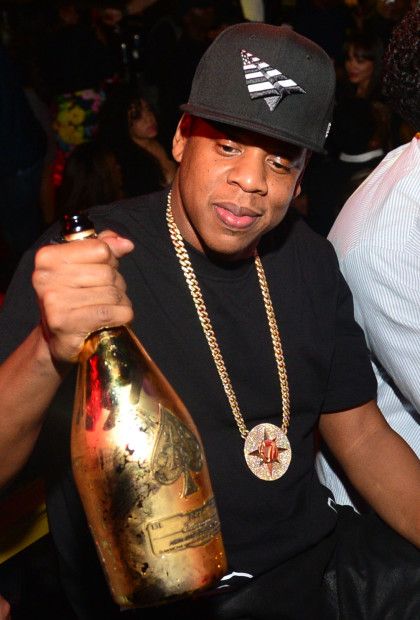 Since he's made the brand a household name, it's only right he owns the company...at least in part.  Deets on Jay Z purchasing stake in Armand de Brignac champagne inside...
It's ANOTHER huge business move for the Carter household.  And Beyonce& Jay Z have pretty much made simply being the face of a brand seem utterly basic.
They're now owning ish.
According to Bloomberg, the New York Times, and other credible outlets, a new company led by Jay Z just acquired Armand de Brignac Champagne (which Jay gave the moniker Ace of Spades).
Former owner Sovereign Brands said in a statement to outlets today:
"We are proud to announce that Sovereign Brands, a New York-based wine and spirits company owned by the Berish family, has sold its interest in the Armand de Brignac ('Ace of Spades') Champagne brand to a new company led by the globally renowned Shawn 'Jay Z' Carter,"
Yvonne Lardner, global director of brand communications for Sovereign, added in an emailed statement:"We have had a wonderful relationship with Jay Z throughout the years since he first discovered Armand de Brignac. He became interested in owning the brand and made us an offer we simply couldn't refuse."
Jay Z's company name and the terms of the deal (how much stake is it exactly) have not yet been revealed.  But this is a big freakin' deal.
All of this Ace of Spades I drink just to piss out
I mean I like the taste could've saved myself 6 thou's
-Jay Z, "Success"
Well, he can drink up and free himself of all the Ace he wants now....
Photo: Prince William