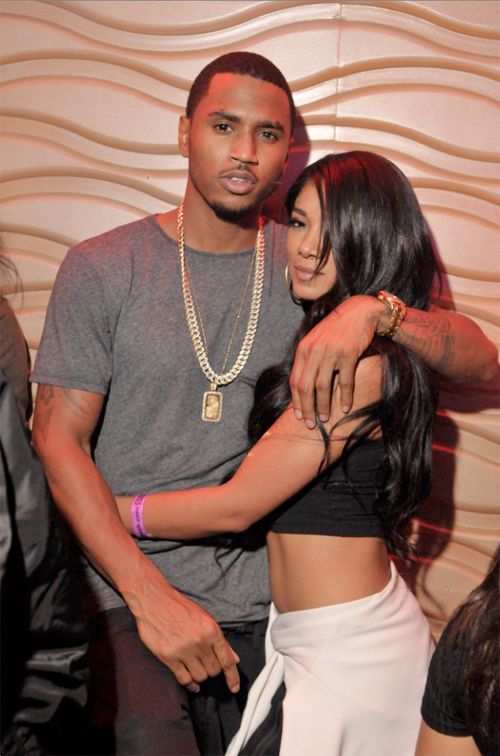 There are rumors circulating that Trey Songz and Mila J are dating. And last night, the two only fueled the fire behind the speculation. Get the deets on their night and find out what French Montana had to say about dating Trina and whether he and Khloe Kardashian are still together inside…..
So are R&B crooner Trey Songz and budding singer Mila J dating? We're not exactly sure, but last night could be an indication that the two could possibly be romantically involved.
Last month, we told you about the talk on the rumor mill that these two are dating. Trey was caught writing "love you too baby" in the comments on a pic he posted of Mila J with the words "I Love Trigga" on the picture. And he also posted a picture of Mila and himself with the caption, "she so fine".
Well, last night, both Trey and Mila attended Power 105's Powerhouse concert at the Barclays Center in Brooklyn. And afterwards, they linked up to continue the night's festivities.
Mila and Trey were spotted partying it up at Stage Forty8 in NYC. Neither The Motown singer (nor Trey) confirm or deny involvement with each other, but Mila did say they are "just very good friends". Mmmhmm….
We hear the two never left one another's side throughout the night as they danced to tracks from Trey's TRIGGA album and Mila's debut EP M.I.L.A. (Made In L.A.). They spent the entire night sipping on champagne and enjoying each other's company. And as you can see (above) the two looked like they got quite cozy with one another.
Looks like a little more than friends to us…but you decide.
And in a candid interview....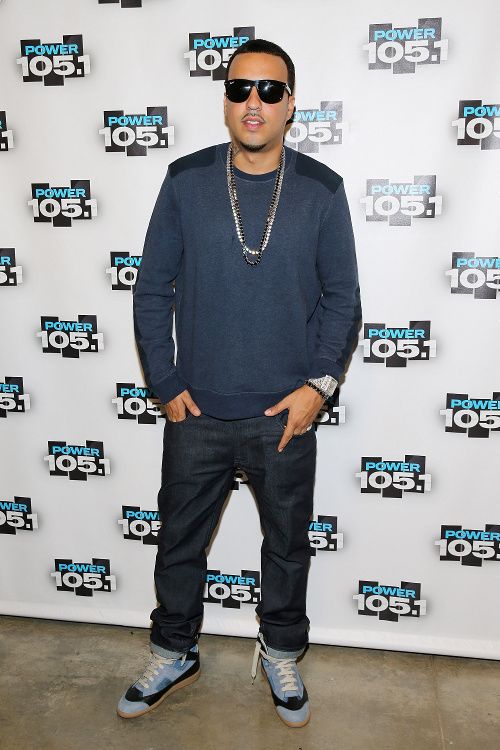 French Montana stopped by the "Wendy Williams Show" this morning to dish on his current relationship status with his girlfriend (?) Khloe Kardashian. French was originally scheduled to perform with singer Jeremih, but since Jermih missed his flight, French was tapped to perform "Don't Panic" and was convinced to sit down with Wendy. Luckily for us, NO questions were off limits and he kept it 100.
The Coke Boy revealed he and Khloe are in a "special zone" right now and that every relationship has its ups and downs. So we're assuming these two are still together. He also revealed he was NEVER in a relationship with raptress Trina and confirmed the big $2million payout he gave his now ex-wife Dean Kharbouch.
Below are the highlights:
On he and Khloe Kardashian's current relationship status:

"I just feel like every relationship, you break up and make up. Right now we're on real good times. We're in a special zone right now. She's going to be my baby forever."

On if he's dating Khloe for publicity:

"I don't feel like love come like that. That's just something people want to run with. I feel like when you meet someone you really like you don't worry about that stuff"

On Trina introducing him to the Kardashians:
"No, not at all. Kanye [West] invited me to the Barclays Center to his show and just so happen Kris [Jenner] and Kim [West] was there. Then so happen Trina knew Kim so she said 'Hi, this is French' That's what it was she didn't introduce me to them"

On his relationship with Trina:
"Honestly I was never a couple with Trina. I was just going through my divorce so I was just having fun with life. I wasn't in a mental space [to be in a relationship]. I can't claim nobody after I was just going through a divorce"

On his divorce being finalized and having to pay his ex-wife $2 million:
"Yea something like that. I don't really want to talk about it I might start sweating"

On his son Kruz Kharbouch:
"My son is good. I'm going to see him tomorrow. Take him trick or treating in the park"

On if he got paid for the upcoming reality show "Kourtney and Khloé Take The Hamptons"(which starts this weekend):

"Big time"

On Kris Jenner:
"I love Kris. She's a strong woman just to be in the position she's in. They go through a lot that people don't see. I love them a lot"
 
Oh....
Check it:
French's new album Mac & Cheese drops Dec. 16th. 
Photos: Getty/Aziz Harden