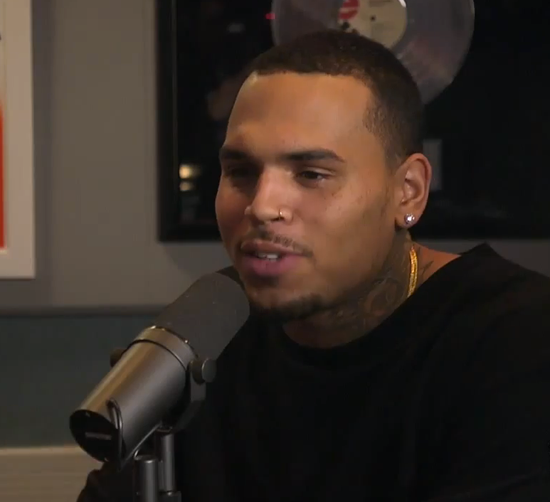 Chris Brown is talking! And he's spilling all types of tea. Find out what he said about his battle with drugs, how he felt about his ex-girlfriend Rihanna dating his frenemy Drake and whether marriage and kids are in the future for him and current girlfriend Karrueche inside….
Chris Brown did a very candid and eye-opening interview that aired this morning. He spilled all the tea and dropped plenty of notable nuggets.
During a sitdown with Hot 97's Ebro In The Morning show (for the first time), Breezy was very honest and open about the many situations he has been involved with over the years.
He said at one point in time, he was battling with drug use and it was affecting his craft ("I was falling asleep on video sets"), the Rihanna situation ("We made amends, we good now").  He also said how he felt when Rihanna did her interview with Oprah ("I was actually moved by it"), how he felt about Rih dating Drake ("I was tight"), how he and Drizzy squashed their beef for the 2014 ESPY Awardsand whether marriage and kids are in the future for him and his girlfriend Karrueche Tran.
Below are the highlights:
On battling with drugs:

"I was off the syrup, the Xanax....that's the hood cocktail. I was falling asleep on video sets, I was cussing people out randomly. I was doing crazy stuff. I would wake up and be like 'aye man, what time we shooting this video?' And they would be like 'dude we shot it yesterday.' I be like 'Damn!'

He then realized, "This ain't for me. As time progressed I was like let me chill out. I don't want to be a zombie when I meet people. Or say the wrong thing, or end up punching somebody or doing something crazy…like I did…because I was under the influence of some bull."

His biggest demon:

"Being afraid of failure."

On the Rihanna situation:

"Me and her, we made amends. Like, we good. She's my friend. I knew that was a mistake I would never do again. I look back at it like I was 17-18 and I'm 25 now so I look back it like 'dang'. And I'm still doing community service and going to see the judge every month in a half over that situation."

On getting back with his ex-girlfriend Rihanna:
"Yea..we was cool. For me it was like a lot of it was on me trying again to pick up the pieces. I just wanted to make sure it was still there. But at the end of the day, I kinda wanted to make amends to her to show her I could be the man she wanted me to be."

On Rihanna opening up to Oprah:
"It was a shock for me because you know, with different teams and how people's camps work. After I saw it I was like 'ok cool' now she's showing me that she care because I didn't know for awhile. I was actually moved by it. That's when I knew we could be friends and can talk.

On Rihanna dating Drake:
"I look at it like this. I'm content with who I am so whoever decides to move on and do their thing I was cool. I mean, I was tight, but you also have to consider that was in the 'thug Chris Brown era'. I was in my bag. At that time I was just all about running up on dudes, when I see you it's this."

So does he feel like Rih started dating Drake on purpose?"She's going to get mad when I say this but in a way I do. It's understandable. It's the game, we young. We do that at that age."

On the bottle throwing fight with Drake:
"That was a 'stick ya chest out' contest. That's all that was."

On who made the initial call to squash his beef with Drake:
"Honestly, his camp hit up my management and they was like we got this opportunity at the ESPYS, we want to do a spoof. So I was like cool. They were kind of hesitant because they didn't know our temperature between each other. But I was just like I aint got time to be looking over my shoulder and be upset. It just doesn't make me look good. But, I was just like let's break this whole beef thing. Let's just do something funny, let's make light of the situation. It just shows growth and maturity."

On his first encounter with Drake:
"I think we just avoided talking about the issue at that point. We was just like 'What's up man? We good.'"

On his girlfriend Karrueche being loyal:
"It's been almost 5 years. She's straight. I dig her man. She's dope. I feel like, especially being in this industry, you just need somebody that understands you. Who understands who you are personally except for your name. Me and her have a real connection, like best friends on top of our intimacy."

On marriage and kids with Kae:
"I'm scared of marriage cause I'm young right now. Kids? Yeah man, I need a little Chris Brown cause when I can't dance no more I need to teach him something. I ain't rushing."
 
Well alright! Glad Chris has seen the errors in his ways and is now attempting to become a better man.  For the first time in a LONG time, we can actually see the growth in him as a man.  Keep it up Chris!
Peep his interview below:
As for Rihanna...
While on the carpet at Lenox Square Mall in Atlanta for her ROGUE Man fragrance launchlast week, she was asked,"What are you looking for in a man now?"
She responded, "I'm not looking for a man, let's start there."
Ha! *Snaps*