Cleveland fans unite! In a brand new Nike ad, LeBron James gets fans fired up for his second homecoming as a Cleveland Cavalier. Peep the motivational clip and new deets on baby ZhuriNovaJames inside…
After four years with Miami Heat, the king is back! And he's ready to take his thrown. "One city. One goal". Nike Basketball is setting the mood and getting fans riled up for a night they've all been waiting for.
Since LeBron James announced he would be coming back to his hometown, there has been a lot of hype surrounding his return to Cleveland as a Cavalier. Days after the release of his new "First Home Game" Sprite ad, LeBron stars in a brand new motivational clip titled "Together".
In the Malloy Brothers –directed ad, King James rallies up his teammates along with Cavalier fans as they huddle before the opening night tip-off. Cavalier fans from all walks of life join in on the massive huddle at the Quicken Loans Arena as they show their unity welcoming home their hero.
Also, a few notable cameos are made by his mother Gloria James, his high school basketball coach Dru Joyce and kids from the LeBron James Family Foundation. In addition to appearances from his inner circle, his teammates Kyrie Irving, Dion Waters, Anderson Varejao, Shawn Marion, Tristan Thompson, Matthew Dellavedova and Joe Harris also make cameos.
The short film will air tonight during the live broadcast of the Cavaliers' season opener going head-to-head against the NY Knicks and will continue to air throughout the month of November.
Check it:
Also to celebrate, a 10-story banner welcoming King James back to Cleveland will be unveiled on Thursday. The 25,000 square foot installation (located on Ontario Street) will take more than nine hours to unveil, with the full image revealed pre-game. In the banner, James literally represents Cleveland on his back.
To kick off tonight's festivities, rapper Kendrick Lamar and comedian/actor Kevin Hart will headline the Cleveland Cavaliers' fan fest happening right before tip-off against the Knicks at the Q.
In addition to his notorious return, LeBron is also releasing a brand new pair of sneakers, LEBRON 12 HRT OF A LION. You can cop you a pair in retail stores nationwide or customize your sneakers on NikieID.com.
Peep his new kicks below:
Nice! Game time: Tonight 8pm ET...who will you be rooting for?
And speaking of all things great in LeBron's life....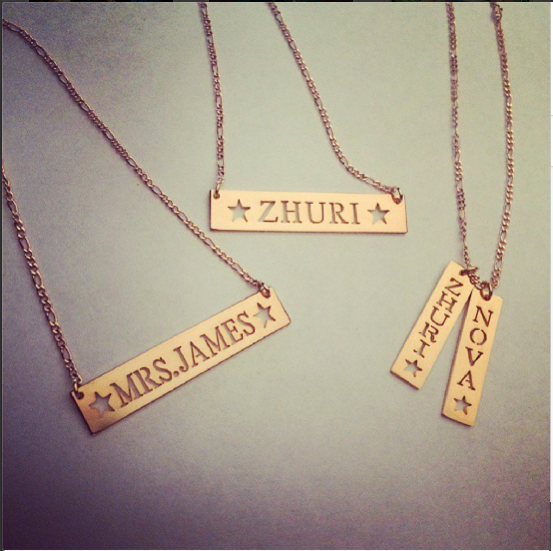 The power forward became a proud dad of his first daughter Zhuri Nova James with wife Savannah James on Oct. 22nd. And he confirmed her arrival yesterday, following the Cavaliers' practice at The Q.
Joining big brothers Bryce Maximus James and LeBron James Jr., Papa James gushed on adding a new bundle of joy to his adorable family. He said, to Cleveland.com:
"It's great, we have a great family, man, and my family is happy. It's a blessing to be able to add another one to our family, and try to keep it going."
Sounds like he's ready to go for a fourth already! He also talked about the difference it is this go round being Zhuri is his first girl. He spilled,
"It's a lot different, for me, you give rough love to your boys and you give soft love to your daughter. I understand that and I look forward to the journey of all three of them growing up."
Loves it!
Photo: Savannah's IG