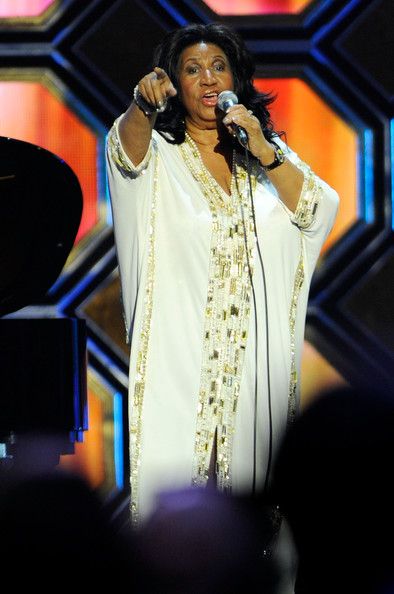 Sex. Drugs. Liquor. Pimps. Chile....When the applause stopped and the curtains fell...the life of Aretha Franklin was MANY things.  One biographer dared to dish the alleged behind-the-scenes tea on the Queen of Soul and it's a real page flipper!  More inside...   
First things first...Aretha Franklin is the undisputed Queen of Soul.  But, famed biographer David Ritz insists that behind the throne there are tales of debauchery that would make Zane blush and Ray Charles see the light!
Respect: The Life of Aretha Franklin by David Ritz tells the story of Aretha Franklin and her rise from child prodigy to one of the most decorated entertainers of all time. Along the way, she was reportedly abused, battled depression and addiction and never felt like she was pretty enough.
According to the Daily Mail, via the book, the story all begins with her father, the Rev. C.L. Franklin, a legendary minister who deserves a book of his own. Here's how David described New Bethel Baptist Church in Detroit, where Aretha was reared and her father was the head pastor,
"It was the point where Saturday night merged into Sunday morning and sin met salvation at the crossroads of African American musical culture. High on the Holy Ghost, dancing in the aisles of New Bethel, the saints celebrated the love of Christ. 'High on wine and weed, the party people celebrated the love of the flesh'.
It gets worse.
Aretha's father is further described as a serially promiscuous philanderer whose church was notorious for its orgies, some all-male, some all-female. Here's what Ray Charles said,
"When it came to pure sex, they were wilder than me – and that's saying something. In those days I had a thing for orgies, but I had to be the only cat in the room with two or three chicks. The gospel people didn't think that way. The cats liked it with the cats and the chicks liked it with the chicks and no one minded mixing it up this way or that. I got a kick outta seeing how God's people were going for it hard and heavy every which way. I was just surprised to see how loose they were."
SIDEBAR:  Imagine an orgy so off-the-chain that Ray Charles (a blind Heroin addict) gives a direct quote that he "saw" it.  Many things.....
 
10 THINGS You Didn't Know About The Queen Of Soul (because she wouldn't dare say them out loud)...all based on this unauthorized biography:
1.  Aretha Franklin was said to rival Kris Jenner and Madonna when it came to manipulating the media in her favor.  The book claims she regularly fabricated stories about romance and happiness to EBONY and JET to make sure her fans saw her life the way she "imagined" it to be.  
2.  At the age of 19, Aretha married an infamous Detroit pimp named Ted White who supposedly turned her onto weed and booze.  He also allegedly financed her career with money from his "girls."
3.  The church of her father, the Rev. C.L. Franklin was supposedly full of "holy" debauchery, with rampant orgies.  It was too much for Ray Charles!
4. Aretha was allegedly sexually promiscuous at a young age and when she became pregnant at age 12, some folks blamed her father while others suspected he was the dad!  He wasn't.  But still....
5.  12-year-old Aretha allegedly had an affair with 23-year-old R&B singer Sam Cooke. 
6.  Friends and family admit that Aretha is deeply insecure and she never felt pretty enough, skinny enough or that her singing was the best.  She masked her insecurity by belittling others and starting fights.  
7.  Her ego reportedly prevented her from befriending other women and she was insanely jealous of  Diana Ross and Barbra Streisand.  When it came to her competitors (Natalie Cole, Anita Baker, Roberta Flack even Whitney Houston) she couldn't stand for anyone to garner more attention  for singing soul music. 
8.  She allegedly started fights with Luther Vandross and would only refer to him as Vandross.  He was required to call her Miss Franklin. 
9.  She was notorious for cancelling concerts, showing up late, no-shows and skipping out on bills.  In 1996, she reportedly flew to Canada with a mink coat so big it required a ticket of its own!
10.  Some would argue she had both sex and food addictions...particularly to fried chicken.
Respect: The Life of Aretha Franklin by David Ritz is available now.
Photos via Getty