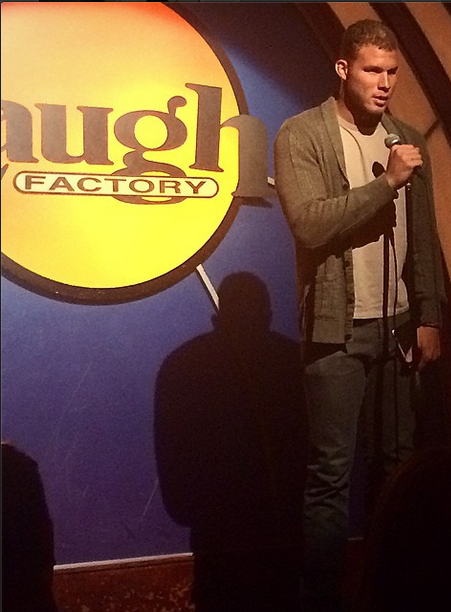 Blake Griffin is accused of attacking a Las Vegas clubgoer and snatching away his cell phone. Get deets on the alleged attack inside...
What happens in Vegas...MIGHT NOT stay there. Although L.A. Clippers star Blake Griffin (shown atop during a standup comedy set) has managed to keep a relatively clean image, a recent incident in Las Vegas threatens to derail that.
According to TMZ Sports, a 39-year-old clubgoer claims he partied at Tao nightclub in the Venetian late Saturday/early Sunday where he was allegedly attacked by Blake.  The man (identified as Daniel) says he took a cell phone picture of the crowd and that seemed to upset Blake, who then demanded the phone. After Daniel refused, he says Blake "grabbed my phone with one hand." When Daniel didn't let it go, Blake allegedly grabbed his neck.  But it didn't end there.....
The two were eventually separated but Blake went in for the guy's neck a second time!  Once security intervened, Daniel says Blake told them, "Get him the f**k out of this club." And then he "slapped me in the right side of my face."
After the "incident" Daniel filed a battery report with the Las Vegas Metro Police Department. So far, there's been no comment from the LA Clippers or Blake. 
In other Blake G. news, the Jordan Super Fly 3 sneaker that the GQ cover man helped design hit shoe shelves on Oct. 1. They retail for $140 if you're interested. 
Photos via Blake Griffin's Instagram