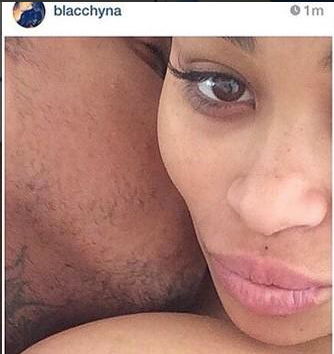 So much for rapper Tyga and his baby's mama Blac Chynabreaking up.  The stripper turned Lashed business woman wants y'all to know it's officially cuffin' season again.  Or, is it?  Deets inside...
Blac Chyna posted the above pic, with Tyga (and his fiery tatt) nuzzling her neck earlier today.  Which caught most people off guard since they're supposedly broken up.
She referenced Nicki Minaj's "Anaconda" in her caption saying, "by the way he said I'm not missin no meals".
Oh?  Wonder if he told Kylie Jenner the same thing, since the two have been cozying up all around town for weeks now...as recent as Tuesday.
Chyna deleted the pic a few minutes later.  But it seems she's staking her claim again...
EXTRAS:
1.  Keyshia Cole and K.Michelle just announced the are going on tour.  Together.