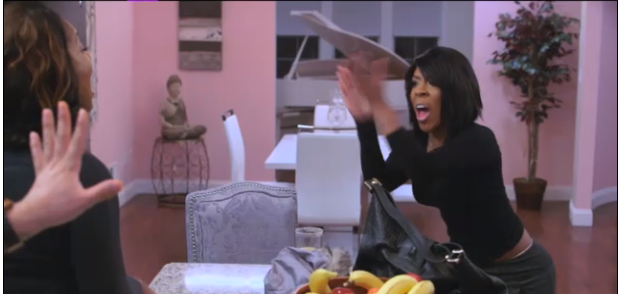 K.Michelle is about to kick off her own spinoff reality show called "My Life."  Catch the first trailer inside, plus Erykah Badu showing you just how hard it is to sing for your supper....
K. Michelle takes on the Big Apple in her new spinoff reality show "My Life." 
She may be single, but she's not alone.  K is on her NYC journey with friends Paris, Jonathan, Nema and Tracie--folks who want to see her truly make it.  But while she's reached her dream of nabbing a hit album with Rebellious Soul, she's still finding the balance between her music career and family life with her 10-year old son, Chase, who lives in Memphis with his grandparents.
Here's what you can expect to see:
K. Michelle has a team of friends in place that are committed to helping her make sense of it all. Paris, having met K. Michelle on Twitter a few years ago, is fiercely loyal and outspoken sometimes to her own detriment; make-up artist, confidant and shopping partner Jonathan constantly encourages K. Michelle to stay clear of the drama, open up to giving second chances and follow her heart. Nema is her glamorous roommate who has New York City nightlife in the palm of her hand. Rounding out the group is Tracie, K. Michelle's childhood friend and part-time dog-sitter, who comes to attempt reconciliation with K. Michelle regarding issues that have arisen between them in recent months.
The show airs Monday November 3rd at 9/8c.
Meanwhile, Erykah Badu is singing in the streets.  Literally.  A few days ago, Ms. Badu took it to the streets of Manhattan-slightly undercover-armed with her iPhone. 
She said, "I just kind of always wanted to see what it would be like to sing for money on the streets."
And she saw that it was far from easy.  While singing freestyle choruses, and not her own songs, she earned a whopping $4--almost.
"Look at all this money. If you've got some initiative, you can make money," she says. Her video then flashes a message: "Easy to judge isn't it … but in reality life is a lot harder than this."
Peep the video below:
Class dismissed.