Iggy Azalea is pissed at Snopp Dogg after he posted a meme on Instagram poking fun at the "Fancy" raptress. In other news, Ariana Grande confirmed what we already knew…she and Big Sean are in a relationship. Deets inside….
It's all fun and games until someone's feelings get hurt.
Iggy Azalea was the butt of one of Snoop Doog's Instagram posts. And she's not letting it go unaddressed. Over the weekend, Snoop posted a picture of what appears to be an Albino woman with cornrows with the words, "Iggy Azalea No Make Up" written across it. Check it:
Many of Snoop's followers found it funny, but Iggy wasn't too fond of Snoop posting "mean" things about her. She hopped on Twitter to question Snoop's motive behind the posting because she initially thought they were good friends. She tweeted then deleted (read from the bottom up):
No response from Snoop. Chick's personal life seems to be giving her a hard time lately.  
In relationship news....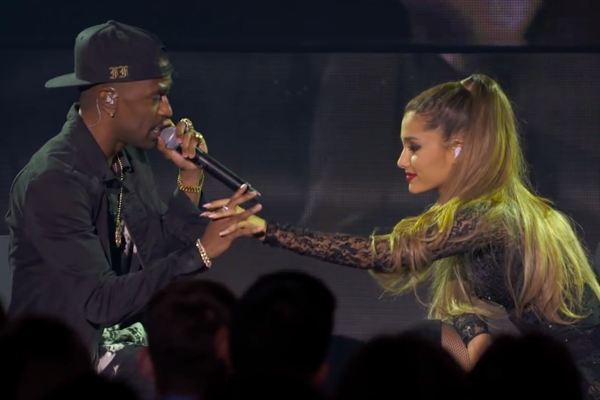 Ariana Grande has finally confirmed she and Big Sean are in relationship…as if we already didn't suspect it.
On a recent trip to an amusement park, the two 21-year-old singer and the 26-year-old rapper were spotted locking lips on the Revenge Of The Mummy roller coaster at Universal Studios last week. There was pretty much no denying they are least dating, so she decided to finally break her silence on their love connection.
During an interview with The Telegrah, she was asked if she and Big Sean are dating. She revealed,
Yes! He is one of the most amazing men in the whole world, and that includes my grandfather and my brother. I think the world of him, and he's an amazing person. That's kind of all there is to it."
A few weeks ago, Big Sean was asked about their current relationship status, but he remained rather coy about their budding romance, saying he wanted to keep his personal life…private. He told Ryan Seacrest,
"I like to keep my personal life personal. But I am going to tell you this... that Ariana is very, very special. She's very special to me. Everything she has going on is good with her, everything I have going on is good with me, everything between me and her is good, and Imma just leave it at that."
We saw their first display of public affection backstage at the 2014 MTV Video Music Awards in August. They were spotted holding hands as they made their rounds after her performance. Big Sean is also is featured on Ariana's single "Best Mistake" from her latest album, My Everything.
And speaking of "Best Mistake", the two performed the track live at the iHeartRadio Theater in L.A. last month And there was plenty of chemistry between the two. Check it:
Guess he had to get that Naya-diss track off his chest to keep it moving.
Photos: Getty/Rap-Up