Today in new music, Big Sean dropped the video for "Paradise" today, Jaden Smith rhymed over a Pink Floyd beat in "Melancholy" and Miguel gave fans a peek at "Coffee."  Listen inside...
Since announcing his move to Roc Nation, Big Sean has been busy making some big moves.  Today, he released a video for "Paradise."  Produced by Mike Will Made-It (who also does a cameo in the clip) the philanthropic rapper rides around in his red Lamborghini with Love Dollhouse's Ryan Destiny.  The track is expected to appear on his upcoming album (early 2015) which will feature collaborations with Chris Brown and Kanye West.
New music...
In his latest release, "Melancholy", Jaden Smith raps over Pink Floyd's 1973 track release "Breathe." While delving into a deeper tone of voice, Jaden challenges bullies "I hide behind my hate because I wish I had your confidence" and critics "Oh you rappin' on this? I bet you thought that you would body this/You messin' up a classic, how you did with The Karate Kid." It becomes a family affair once Jaden's sister Willow pipes in with her haunting background vocals. Check it...
More music...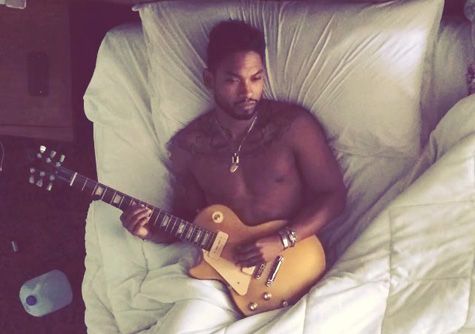 While fans of Miguel await the follow-up to the 2012 album Kaleidoscope Dream, he dropped two goodies today. First.....Instagram followers got a shot of him in bed with no shirt (and his guitar). Second, he loaded a snippet of an upcoming song named "Coffee." Enjoy! 
Photo via FameFlynet/Miguel's Instagram