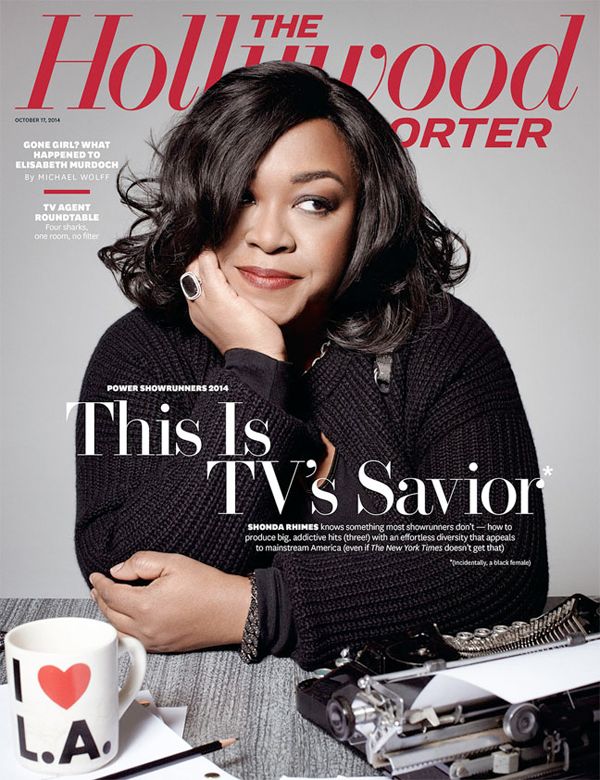 Two powerful black women are heating up the magazine circuit with their brand new covers. Shonda Rhimes talks race and gender roles in the latest issue of The Hollywood Reporter after being labeled "an angry black woman". Meanwhile, Oprah (who is slaying in a white pants suit) dedicates her newest issue of 'O' magazine to gratitude. Peep their covers inside…
"Grey's Anatomy" & "Scandal" mastermind Shonda Rhimes has landed the cover of The Hollywood Reporter's newest issue. And she is giving her take on gender and race roles in a supposedly postracial society.
We were appalled after learning about the New York Times article that labeled the ABC hit series creator "an angry black woman". Online petitions demanding a retraction were started up, "Grey's Anatomy" star Jesse Williams and "How To Get Away With Murder" star Viola Davis both came to her defense, but the ShondaLand producer had not directly responded to the article (other than tweets about the writer getting her title incorrect)…until now.
In the cover story, Shonda called the NY Times analysis a reminder that although we're living in the year 2014, there are still traces of "casual racial bias" and "odd misogyny", specifically aimed at black people AND women. She said,
"In this world in which we all feel we're so full of gender equality and we're a postracial [society] and Obama is president, it's a very good reminder to see the casual racial bias and odd misogyny from a woman written in a paper that we all think of as being so liberal."
Well said.
The ABC producer (and single mother of three) also talked about a time she was tapped to appear at an event and the draft announcement called her, "the most powerful black female showrunner in Hollywood." She crossed out "female" and "black" and sent it back. Gender and race "pisses" her off and here's why,
"They wouldn't say that someone is 'the most powerful white male showrunner in Hollywood. I find race and gender to be terribly important; they're terribly important to who I am. But there's something about the need for everybody else to spend time talking about it … that pisses me off."
Agreed.
She also talked about dealing with fame, as most writers are hardly ever recognized in public. She said,
"I don't know too many other writers who people can recognize their faces … so that was a little disturbing for me and my kids," she says, adding with a mix of humor and horror: "My 12-year-old instinctively says to people: 'No autographs, please. She's with her children.' "
Check out Shonda's full interview here. You can get your copy once it hits newsstands on October 17th.
 
And on another magazine cover....
Oprah is white HOT in a Rena Lange pantsuit and Nicolas Kirkwood heels on the cover of 'O' magazine's November 2014 issue. She even got sultry with a little cleavage. We see you Lady O!
Serve O! The 60-year-old media mogul dedicates her newest issue to gratitude and inside, she talks about giving thanks each morning she wakes up for everything she has. She said, "I wake up every morning and the first sentence that comes through my brain is, 'thank you.'"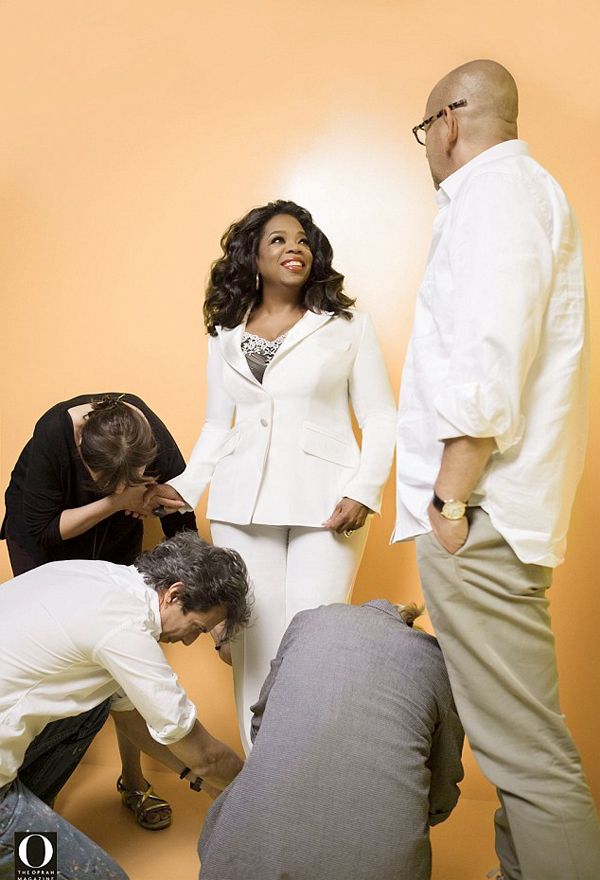 She also talked about how we should change our perception on the things we do have and looking at the glass as being half full rather than half empty. She said,
"If you focus on what you have, you will begin to see that you have more. And if you focus on what you don't have, you will always live in a space of lack."
Words of wisdom…take heed.
 
Grab your 'O' copy when it hits newsstands on October 14th.
Photos: Mary Rozzi/ Ruvan Afanador