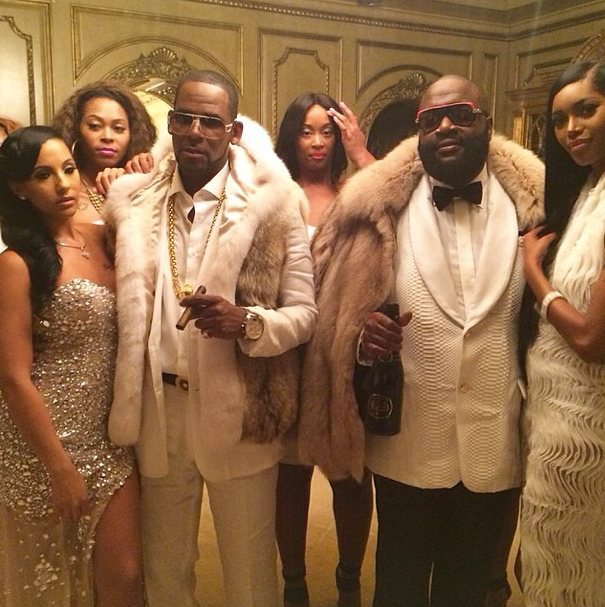 Rick Ross and R. Kelly have teamed up for new visuals for their track "Keep Doing That (Rich Chick). And we have the behind-the-scenes pics. Plus, Kendrick Lamar popped up during Prince's album release concert at his Paisley Park studio. Get your music fix inside…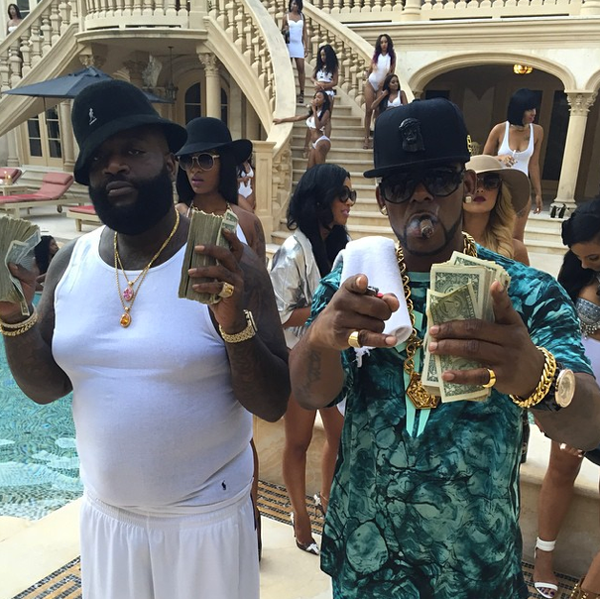 MMG head honcho Rick Ross trekked it to Atlanta to shoot the visuals for his track "Keep Doing That (Rich Chick) featuring R&B legend R. Kelly. "Keep Doing That" is Rozay's lead single for his upcoming album Hood Billionaire (November 24th).
R. Kelly, Young Jeezy, Jermaine Dupri, DJ Khaled and model chick Jessica White make appearances in the video, shooting from a mansion in Buckhead. Looks like Jessica will be playing (at least one of) Rozay's "rich chicks".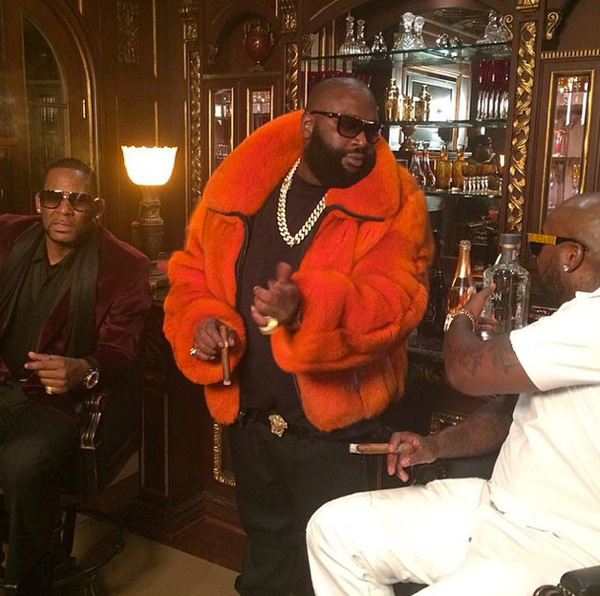 Along with the lavish furs and unlimited cigars, there was also plenty of bubbly on deck. The Black Bottle Girls were on hand to pour up the Belaire Rosé.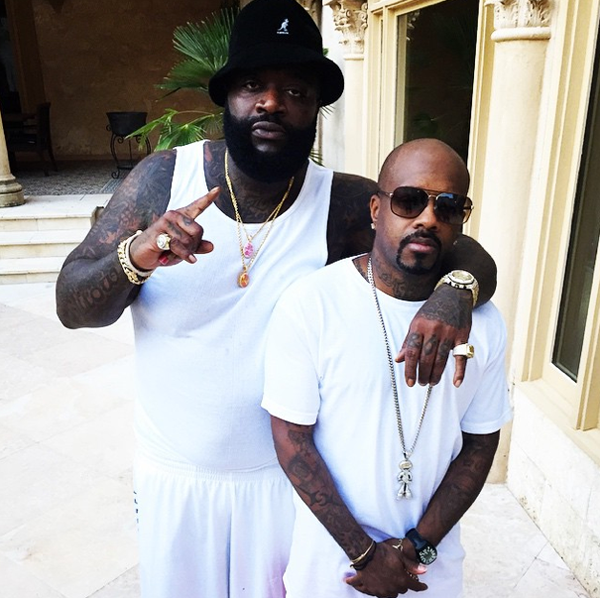 Ross and Jermaine Dupri stopped for a photo-op in all white in between takes.
Young Jeezy made sure to grab his own personal bottle of bubbly. Sure he could use a drink considering his recent legal woes. Bishop T.D. Jakes has filed a lawsuit against him (and Kendrick Lamar) after they sampled a speech made by the pastor for their "Holy Ghost" remix.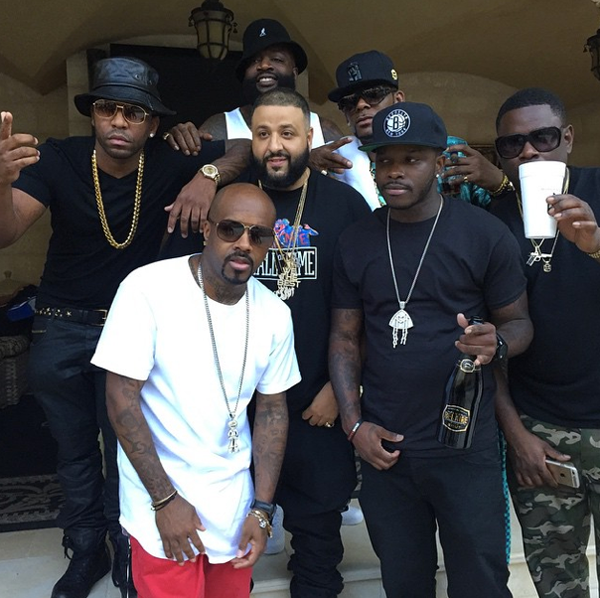 Then DJ Khaled hopped in on the group shot. 
And during a Prince concert...
The Purple One kicked off two new albums, Art Official and his band 3RDEYEGIRL's PLECTRUMELECTRUM, with a concert at his Paisley Park studio in Minneapolis yesterday. And who does he tap to surprise his fans? "I" rapper Kendrick Lamar. Kendrick hit the stage for a surprise performance on the rare track "What's My Name" from Prince's 1998 album, Crystal Ball.
The 20-minute Prince concert streamed live on Yahoo!, which also included a behind-the-scenes tour of the 65,000 square foot studio. Nice!
Check it above.
 
BONUS:
Diddy had a moment after watching his ex-girlfriend Jennifer Lopez shake her donk in her new video "Booty" featuring Iggy Azalea.
During a promo run for Revolt TV's upcoming music conference, he sat down with Access Hollywood Live and gave his honest opinion about his ex-boo's new vid. He said,
"Oh my God, oh my God! I am so lucky to have that great woman in my history. She is one of the greatest I've ever seen. Go girl!"
He goes on to say the 45-year-old singer's "ass"ets are a body of work and that Kim K parts have nothing on JLo.
He said,
"[Her booty] is great. It's a work of art. It's something that will go down in history. Also her talent, her drive, her determination," he added. "She will never give up. She's a great friend of mine... that thing is just incredible."
When asked if Kim Kardashian's butt lives up to J.Lo's, Diddy responded with an emphatic "no way!"
Well alright.
Photos: Rozay's IG/Jermaine's IG/Khaled's IG