K. Michelle is pulling out receipts in the domestic violence case she has against Toya Wright's husband MempHitz. Who abused who? Get all of the deets and weigh in inside…
After certain media outlets this past week accused K. Michelle of lying that her former fling Memphitz allegedly assaulted her, but now we've got the "Love Em All" singer's receipts.  She believes they prove that he DID abuse her that night in a Memphis hotel. And that he admitted to it.
For years, K. Michelle has been saying MempHitz assaulted her. It was her main storyline when she joined the "Love & Hip Hop" franchise. And the newly released deposition transcriptions allegedly prove he did "abuse" her to some extent.
You'll recall, MempHitz defended himself, during an interview in 2012 with iPower 92.1 radio host TT Torrez, against the accusations He said he never hit her, but he did restrain her. Hhis exact words:
"So I grabbed her. Grabbed her arms, cause I'm not, I'm tired of taking a thousand swinging punches like, from a girl. I'm like, what is going on? So I'm grabbing her. Yes, I grabbed her and held her arms down from hitting my ass again, and she was screaming and screaming and I'm like "Yo!" So the police get there and. Okay, so I did, I covered her mouth cause she was screaming so loud."
So according to him, K hit him several times before he tried to restrain her from hitting him again.
Also, in his deposition, MempHitz made the same claims of holding her down while trying to keep her from screaming. The document states,
"Q: So when you were covering her mouth with your hand or the towel or both [] she was standing up or was she laying down? A: She was on the ground -- laying down...I was just holding her down like. She was just kicking and screaming, doing all this crazy stuff."
Memphitz allegedly believes he was justified in his actions because he never actually hit/punched K. Michelle, but he did admit to restraining her and covering her mouth to keep her from screaming.
Below are additional highlights from MempHitz's cousin deposition who gave her account of that night. It reads:
The altercation lasted ten to fifteen minutes and police arrived to the scene in response to a third-party call to 911

Nikalya Miller, Wright's cousin who arrived at the scene of the hotel immediately following the altercation testified on March 3, 2014 to the following critical facts:

Wright was in custody in the back of a police car when she arrived at the scene and the officer in the police car stated that there had been an "altercation."

Pate was on a bench outside of the hotel, "hysterical" and crying, disheveled with messed-up hair and smeared and runny make-up.

Wright "just appeared mad," but his demeanor was not consistent with the use of marijuana (which he has claimed was the reason for his police custody, denying that it was related to a physical altercation with Pate)
Visible red marks and bruises appeared on Pate's arms shortly after the altercation, which both Pate and Miller attributed to Wright's arm grabbing her.

Nikalya Miller continues her testimony with the following chilling account:

Q: What has he said to you about the incident?

A: Okay.

Q: His state of mind.

A: Okay...he said when they went back to the hotel he told Pate "I'm done, it's over," and K attacked him with the water bottle. He said that he grabbed Pate and said somehow they ended on the floor. And he said that she was screaming and yelling. I don't remember if he told me he put a towel or pillow to be -- have her to be quiet. I don't remember which one it was because both of them have said two different things. I don't know which one said towel or the pillow, and he asked her to be quiet and that once he took the towel or the pillow off of her she wasn't saying anything. And then he said all of a sudden she was like, "it's me, it's me." And he was like "I know" or something like that. And said that when he let her up, that she ran out the hotel down the hall, and I remember he said that it was a housekeeper out there and said K just was running down the hall saying "he's trying to kill me, he's trying to kill me," you know and that was it.

Q: Okay. So that was the description that you received from Mickey?

A: Exactly.

Miller says that Wright didn't "beat" K. Michelle because Miller's narrow definition of the term "beat" means "you have bruises, fists beat, your face is bruised..'Beat' to me is your face is completely bruised or you're bruised or you don't want to be around people." And it was by that standard that Miller testified that the following physical assaults could not constitute a "beating" "smacking, slap in the face, pushing on the bed and being smothered"

 
K. Michelle has released an official statement on the definition of abuse saying:
"Domestic abuse isn't just defined by whether a person strikes you with an open hand or a closed hand or whether a person kicks you or spits on you, abuse is abuse and there should be zero tolerance."
Meanwhile on Instagram, MempHitz has posted a few subliminals aimed at K:
And his wife Toya Wright also jumped in to defend her husband:
I never met a Bish that pop off as much as you do and then play the victim role. Girl bye.

— Toya Wright (@ToyaWright) September 27, 2014
Hmmm....
Peep a few pages from the depositions below: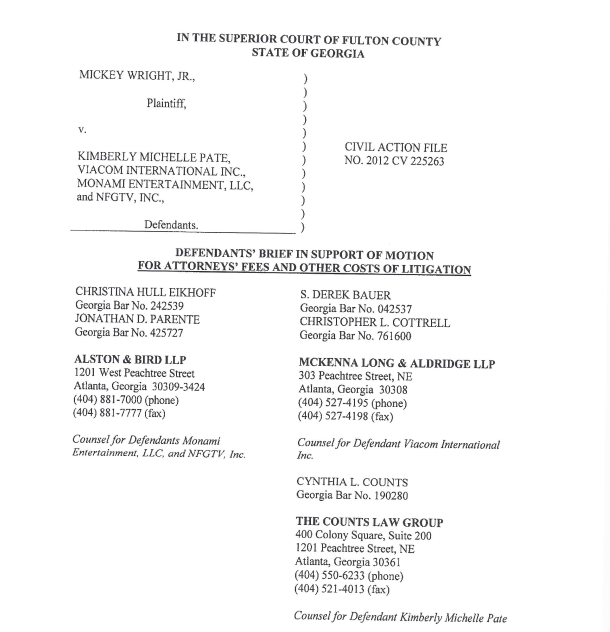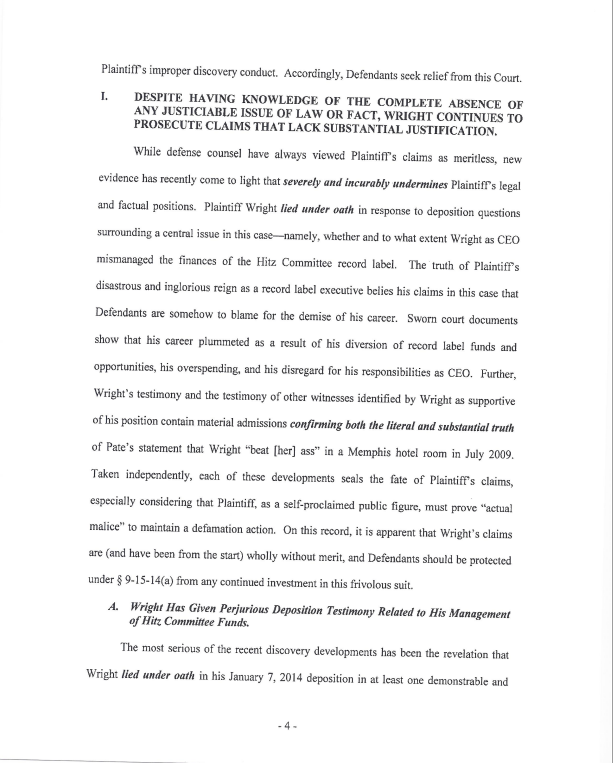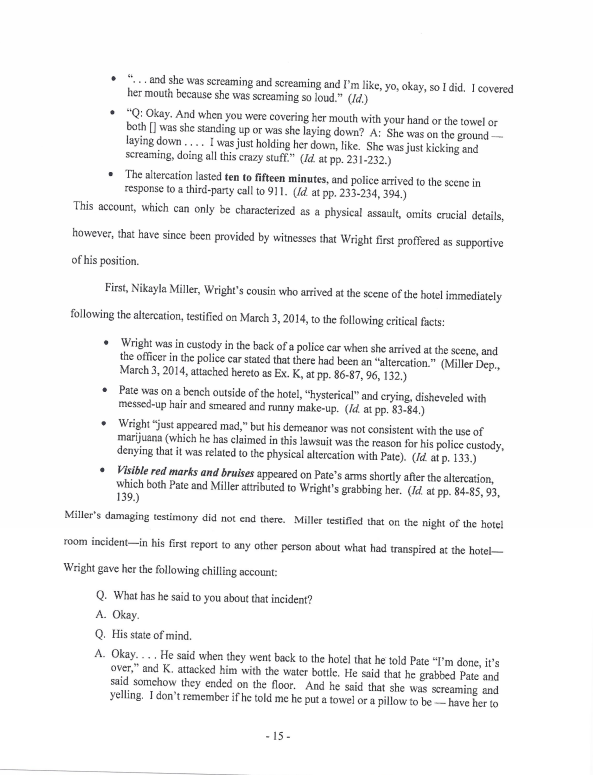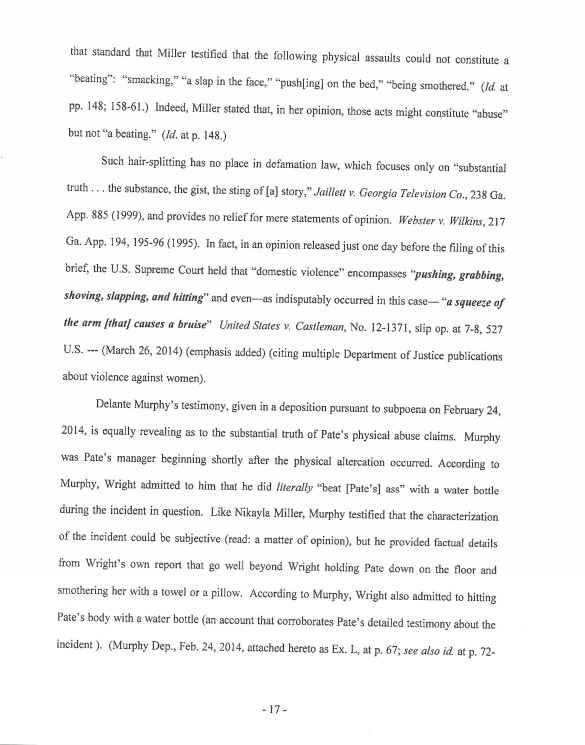 Who do you think is the cause behind this madness? Was it K. Michelle? Or did MempHitz have a right to restrain her IF she was hitting him with hands and objects?
Photos: Getty