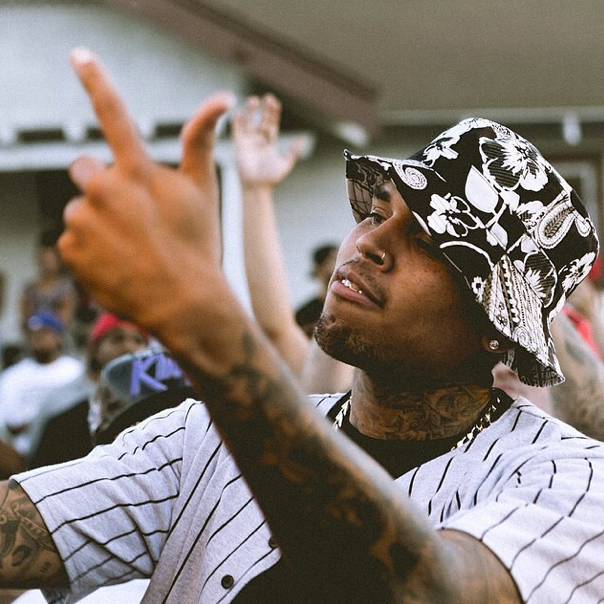 Since returning home from jail, Chris Brown has been very candid about his experience behind bars and even opened up about his current relationship with ex-girlfriend Rihanna. Also, Australian boy band Justice Crew revealed a time they witnessed Breezy making his now girlfriend Karrueche cry while traveling on tour. More inside…
Chris Brown and Karrueche have kissed and made up (after breaking up many times), spotted together on numerous occasions since his release from jail. But, as we all know, things haven't always been smooth sailing for the couple.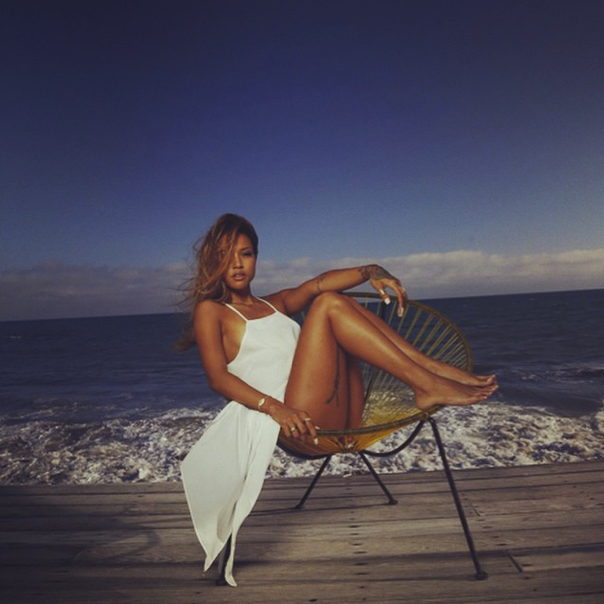 Chris may have just posted up the above pic of his girlfriend Karrueche as an Insta salute, but ish hasn't always been so great.
During an interview with Daily Mail Australa, Australian boy band Justice Crew recounts a time they witnessed Chris made Karrueche cry during a heated argument backstage as they toured on Breezy's 2011 F.A.M.E. tour.
They were asked about their most interesting backstage moment while on tour and the band described a time when Breezy brought Kae to tears backstage at a tour stop in Sydney.
The band revealed,
"I remember seeing Chris Brown having a little domestic with his girlfriend backstage and I walked past and she was in tears."
It seems the group didn't know Kae's name but when asked which girlfriend they were referring to they responded,
"The stylist, the one after Rihanna, I remember seeing them arguing, like real close and she was crying.. I was like ohhh domestics!'
Surprised?
 
Speaking of Chris and his relationships...
In a new interview with Entertainment Tonight, Chris talked about his current relationship with his ex-girlfriend Rihanna. And it seems the two are back to being just friends, but Breezy still left the door wide open on whether they would ever reconcile.
When asked about his relationship with the Bajan beauty he said,
"We're friends. Nothing too serious… We're not trying to start a life together right now, we're just having fun."
Right now? So maybe in the future? Hmmm…we could be reading too much into it, but it definitely seems like if the opportunity ever presented itself again, he would hop on it.
There's also a song on Breezy's newly released X album titled "Drunk Texting" (featuring Jhene Aiko) that has everyone assuming it could be about RiRi. Below are a few lyrics that would have some wondering...
Now my current situation, trying not to think of you, not to break the rules
Why's it always happen, when I get this way?
Just can't stop myself, so baby tonight

If by chance you're laying next to someone else right now
I hope it's the worst sex ever
Hmm…is he talking about Rih? He said,
"Oh no, not at all," Brown said. "I think that's just the fans' perception or the media's perception at all times because of our history. But whenever we do music, people can make the assumption and that's fine because if they buy more because they think that, then go ahead and buy a thousand copies!"

"But as far as me writing and going into that, I don't really try to put my focus on Rihanna every song," Brown continued. "At the end of the day it's almost six, seven years later. It's like, how many more times am I going to talk about the same situation?"
Check it above.
Thoughts?
 
Photos: Chris' IG