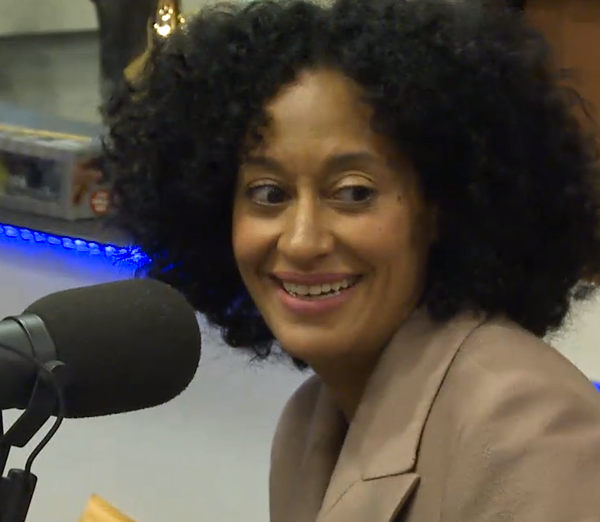 Tracee Ellis Ross believes social media could have saved "Girlfriends" had it been such a big phenomenon that it now. Find out what she said and more inside…
Tracee Ellis Ross is making her promo rounds for her brand new ABC series "Black-ish". And she hit up Power 105's The Breakfast Club to discuss her new role, the sudden ending of the hit series "Girlfriends" (which ran for eight seasons) and having a normal childhood.
Tracee was our favorite girl as Joan in the scripted series "Girlfriends", but it ended suddenly in 2008 with no real finale, no closure....nothing. POOF! Off the air. So what happened to Joan and Toni's friendship? Did they ever become friends again? Did Joan ever find love and eventually get married?
Well...Tracee reveals there was a script written where Joan finally got married and it also reunited Joan and Toni as friends again. 
She pointed out that the public outcry on social media is what brought the hit series "The Game" (which was cancelled) back to another newtwork (BET). Unfortunately, there was no Twitter back when "Girlfriends" was on the air. But she believes had social media been as big as it is now while they were filming, "Girlfriends" would still be on the air.
She then talked about her new show "Black-ish"also starring Anthony Anderson and Laurence Fishburne. She said the show is about a family dealing with their own "ish" and not just about being black, but a lot of cultural identity and race issues comes up since they live in a predominately white neighborhood.
The fab actress also talked about growing up as Diana Ross' daughter and said she really had a normal childhood growing up. In school, everyone's parents were stars of some sort, so it never felt like she had any special privileges growing up as a superstar's daughter.
The "Black-ish" actress also revealed Tracee Ellis Ross is NOT her real name! Who knew? Her real name happens to be Tracee Joy Silberstein. The bi-racial actress shared why she idenitifies more with her African-American side than her Jewish side (her father's side).  She said she doesn't believe she could pass as a white woman with her hair and her ass. Speaking of ass, she also talked about trying out different undergarments that women wear to make their butt look bigger...as if she needs any help in that department. Chick serves glorous cake daily.
Tracee believes she may have found a special talent after posting Instagram videos of her reading the lyrics to rap tracks such as "No Flex Zone" and "Pass Me The Hookah". We ended up giving gifting her her rap moniker T-Murda. She concluded that even though she's reading the lyrics to the songs, she still has no idea what they are talking about. Ha! We're with her on that one.
Check it:
"Black-ish" airs Wednesdays 9:30/8:30c on ABC.
Photo: The Breakfast Club