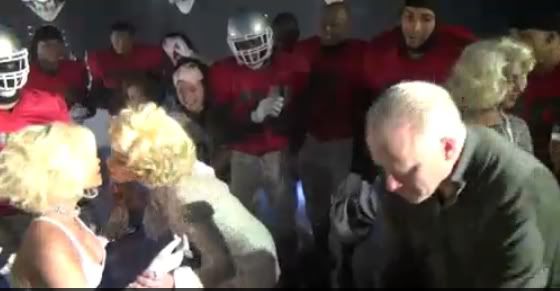 Back when they were shooting her "Gimme All Your Luvin" video, Madonna planted a big kiss on Nicki Minaj (who was celebrating a birthday). See the kiss inside.....
Video has surfaced of Madonna kissing Nicki Minaj during a birthday tribute filmed during the shooting of her "Gimme All Your Luvin" video.  
After the kiss, Nicki tweeted, 
"OH MY f'ingggg Gahhhh!!!!! MADONNA jus kissed me!!!!! On the lips!!!!!!! It felt sooooo good. Soooo soft!!!! *passes out* aaahhhhh!!!!!!!!!"
When discussing the kiss, Madonna told Anderson Cooper,
"It was her birthday and it was actually the end of one of those long days of shooting, and we were all giving a birthday toast to her. After a few sips of champagne, I kissed her!"
Watch "the kiss" and the birthday song here:
Watch the "Gimme All Your Loving" video here: