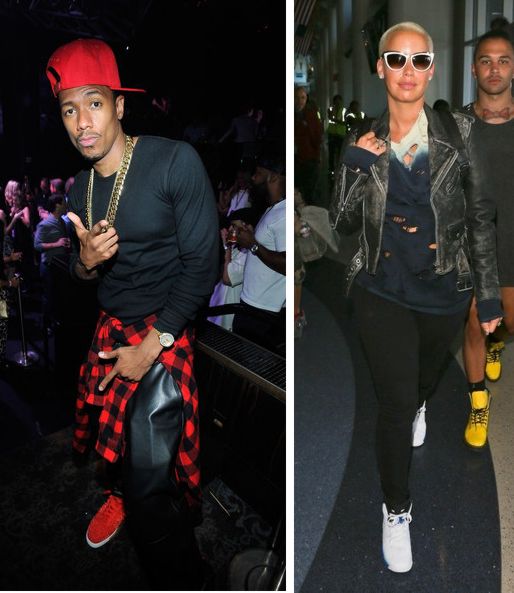 Nick Cannon is clearing his name in the Wiz Khalifa/Amber Rose divorce, while Jesse Williams weighs in on the NY Times article that called Shonda Rhimes "an angry black woman." Deets inside….
We were shocked to learn that just after 1-year of Wiz Khalifa and Amber Rose being married... they're calling it quits. Amber has filed for divorce requesting physical custody of their son Sebastian and that their prenup be upheld which allows for spousal support.
According to unconfirmed rumors, Nick Cannon (who is currently dealing with his divorce from Mariah Carey) may have been the reason the seemingly happy couple are headed down Splitsville Lane. But, sources close to Nick are claiming that is not true!
People in Nick's camp tell TMZ that he had absolutely nothing to do with their uncoupling. You'll recall he just signed Amber to his NCredible Entertainment label to manage her budding acting career. So of course, people are saying that he may have had something to do with their split, claiming Amber was cheating on Wiz with Nick.
It's reported Nick found out about Amber's pending divorce through her lawyers when she signed on as his client. Guess we will find out the real deal soon.
And in other news….
"Grey's Anatomy" star Jesse Williams is coming to Shonda Rhimes' defense after an article was published in the New York Times by writer Alessandra Stanley labeling the writer/executive producer an "angry black woman."
The article caused an outrage amongst fans who started a petition demanding a retraction from the paper. Now, Jesse is speaking up for the show's executive producer and here's what he had to say about the offensive article,
"This person knows zero about Shonda Rhimes… and what's interesting and why I hesitate to even give this person any time or energy, is that its boring… it's the same stuff over and over again."
We agree.
He added,
"Do you know how many characters Shonda Rhimes has created?...iconic, iconic characters, and how diverse they are? Grey's Anatomy is the most incredible example of how its perfectly doable to have a diverse cast of people who are representing themselves and are whole human beings, and are not demonstratively Black or Asian, or female or Latino...just people being people"
We couldn't have said it better.
Check it:
 
Photos: Getty/Queen Latifah Show