It's not Throwback Thursday yet, but we can't wait to take you down memory lane. Oprah gathered up the cast of '90s sitcom "A Different World" for a brand new episode of "Oprah: Where Are They Now?" Catch up with a few of your faves inside…
"A Different World" fans get excited! Oprah has rounded up some of the cast of the hit '90s sitcom for a new episode of "Oprah: Where Are They Now?" And they're updating us with what they have been up to recently AND going back down memory lane about the hit television series that had us all wanting to go to college. Ahh…good ol' Hillman College.
The show was a spinoff of "The Cosby Show", centered around Bill Cosby's on-screen daughter Denise Huxtable (played by Lisa Bonet) going to a historically black college. Ratings went through the roof, making it a hit television series that tackled real-life issues, but still brought on the comedic relief.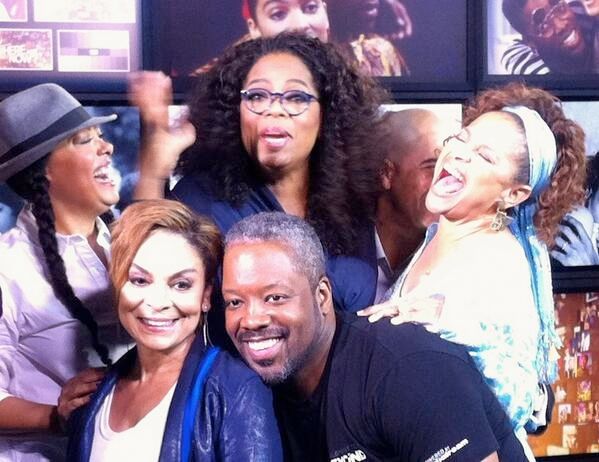 Oprah rounded up Jasmine Guy (Whitley Gilbert), Kadeem Hardison (Dwayne Wayne), Dawnn Lewis (Jaleesa Taylor), Darryl M. Bell (Ronald "Ron" Johnson), Cree Summer (Winifred "Freddie" Brooks), Sinbad (Coach Oakes) and executive producer Debbie Allen for a sitdown about their lives after the hit NBC series.
Below is a clip from the upcoming episode where they talk about inspiring a generation of kids to strive for higher education and how creator Bill Cosby would dead a conversation.
Check it:
Mark your calendars and set you're your DVRs: Their episode premieres Sunday, October 26th at 9pm ET on the OWN Network. And before their premiere, Raven Symoné is featured on October 5th and Vivica A. Fox on October 12th.
BONUS:
There may be a revamped adaptation of the show in the works. Executive producer Debbie Allen spoke with theGrio.com (in April) and revealed she's looking to bring "A Different World" back to TV. She said,
"I have been trying with some very powerful people behind me [to reboot A Different World]. The difficulty is that it's very convoluted when you're mixing old writers and new writers. I just wanted to have the name so that I could get started again. Bill Cosby wanted to see this happen. Right now we're kinda at a stand still. I got really far up that ladder, and then I got stopped. So we're going to re-investigate it again because it's such a good idea."
Guess we will have to wait and see….
 
On another TV show....
Academy-Awarding winning actress Lupita Nyong'o linked up with her furry friend Elmo for an episode of Sesame Street. The flawless one and Elmo discussed the functions of our skin and the many different shades and colors. Who better to talk about skin than Ms. Beauty Perfection herself?! Peep her segment above.
Photo: Debbie Allen's FB/Jasmine's Twitter