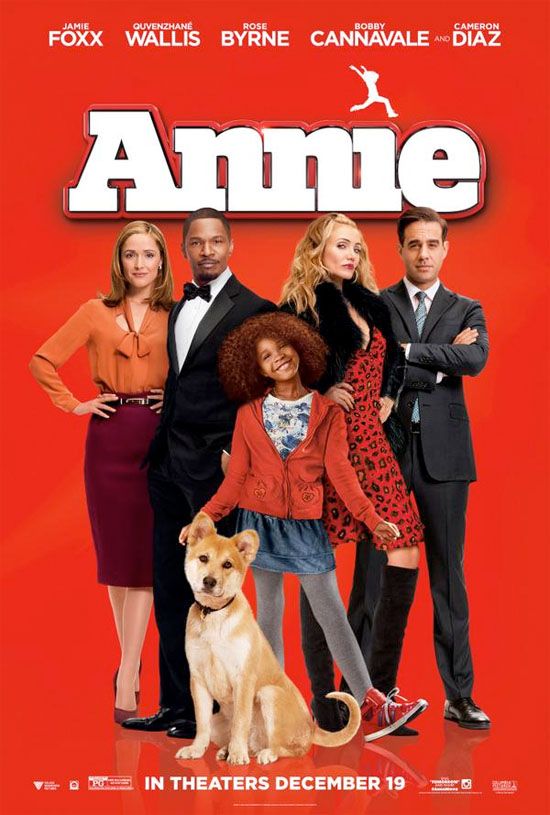 In today's movie bits, we have the official Annie poster starring Jamie Foxx and Quvenzhané Wallis. The lead stars paid a visit to an elementary school to support the Turnaround Arts initiative yesterday. Also, the release date and an extended trailer for VH1's upcoming film Drumline: A New Look has been released. More inside….
We're super excited for the upcoming remake of Annie, starring Jamie Foxx and Oscar-nominated actress Quvenzhané Wallis. And today, the official poster for the forthcoming film has been released.
The YBF starlet stars plays the lead role as orphan Annie and Jamie Foxx plays Will Stacks, an updated version of the character Daddy Warbucks. Cameron Diaz will star as Annie's mean foster mom, Miss Hannigan.
The modern telling film will be directed by Will Gluck and co-produced by Jay Z, Jada Pinkett Smith & Will Smith, Laurence "Jay" Brown, Tyran "Ty Ty" Smith, James Lassiter and Caleeb Pinkett through Marcy Media in addition to the Smith's Overbrook Entertainment.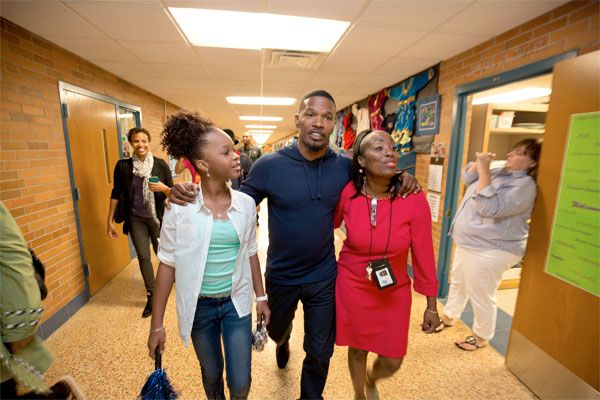 In support of the new film, lead stars Q and Jamie, along with filmmaker Will Gluck (below), made a visit to Northport Elementary (above walking with school principal Leona Derden) in Minneapolis, a Turnaround Arts school, to help kick off the Turnaround Arts initiative.
Sony Pictures Entertainment is helping to support the signature program of the President's Committee on the Arts and the Humanities. Turnaround Arts works with local program partners to provide intensive arts education resources to many high-poverty schools across the country.
As part of a collaboration with Annie to promote arts education, Turnaround Arts will receive support, and Turnaround Arts schools who want to put on the Broadway classic will get resources and assistance in staging their production.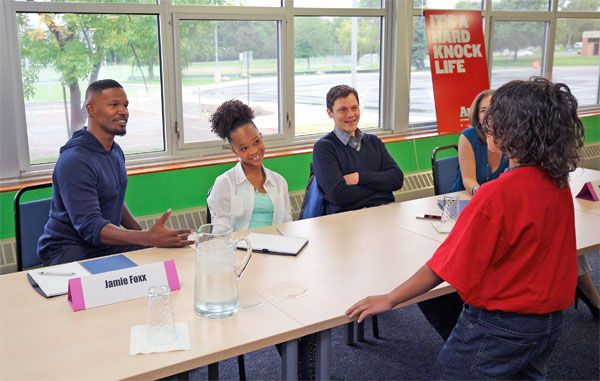 Yesterday, the Annie cast met with excited fifth graders who are preparing to audition for their school production of Annie.
Jamie spoke on the collaboration saying, "Arts education is a way to make a real difference in the lives of kids everywhere. Being involved with the arts certainly changed my life, and I've seen that engagement change the lives of many others."
In addition, Quvenzhané also shared a few words saying, "I was excited to visit the school today. We had so much fun and I'm glad that they are preparing for their own production of 'Annie.' Every Annie can be different, which is one of the reasons why it is so great to be a part of."
 
Nice! Annie hits theaters December 19th.
Another movie hitting theaters soon….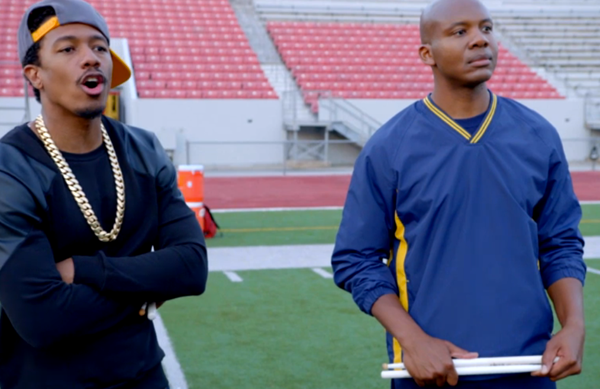 VH1 is gearing up for the release of their telefilm Drumline: A New Beat. And its slated to premiere on the network October 27th at 9PM ET/PT.
The new made-for-TV movie is executive produced by the original film producers Wendy Finerman, Dallas Austin and Jody Gerson. They's also added Nick Cannon as an executive producer (who starred in the original) through his NCredible Entertainment banner.
In a press release, a synopsis of the film details,
"Drumline: A New Beat" will capture the sound and spirit of the first film while welcoming a whole new class to the Atlanta A&T drumline. The new story follows female lead Danielle "Dani" Raymond (Alexandra Shipp), an upper class Brooklyn girl who defies her parents in order to attend Atlanta A&T so she can join – and revitalize – their once-prominent drumline. Dani's quest to become the first female section leader will be hampered by upperclassmen, including her cousin Tyree (Jeff Pierre), her feelings for fellow bandmate and rival Jayven (Jordan Calloway), and the school's crosstown competitors. Tasha (Jasmine Burke) and Josh (Scott Shilstone) round out the freshmen drumline and bring their own ambitions onto the field. Sean Taylor (Leonard Roberts) from the original film will return to the franchise as Atlanta A&T's new band director. Sean is looking to make his mark on his alma mater while dealing with "ghosts" from his past: the dean, Dr. Nia Phillips (LeToya Luckett), his brother, Kevin Taylor (Deray Davis) and original "Drumline" favorite, Devon Miles (Nick Cannon).
Peep the newly released extended trailer below:
Will you be tuned in?
EXTRAS:
1. Romeo Miller will no longer be starring as the lead role in the upcoming Jean-Claude LaMarre's flick "Chocolate City". Robert Ri'chard (Tyler Perry's "Meet The Browns") will now play the lead role of Devin, a young college student who discovers the world of male exotic dancing to make ends meet. STORY
Photos: Columbia Pictures/VH1