Michael Strahan, Carmelo Anthony and Will Packer are among the many faces you'll see on newsstands this month. Get deets on their magazine covers inside...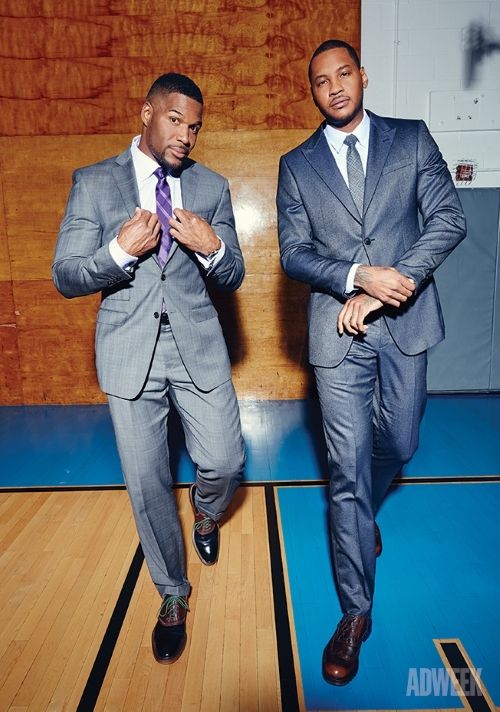 Adweek paired "Live With Kelly & Michael" star Michael Strahan with New York Knicks player Carmelo Anthony for an intimate Q&A inside the annual Men's Issue. During their chat, Michael, who was recently inducted into the NFL Hall Of Fame quizzed Carmelo on a range of topics like how many pairs of shoes Carmelo owns (over a 1,000), life on reality TV, his recent weight loss, the hardest part of fatherhood and what stereotypes irk them the most. Here are the highlights:
On how many shoes Carmelo owns
C: I stopped counting after like … a thousand....I'm a real sneaker
head, though. You know that as athletes we get free sneakers and free stuff ... I can take my storage and start my own sneaker store, like Melo's Foot Locker.
On being on reality TV with his wife
C: I had to get used to it. I had to set some standards. You know, we've been
together going on 11 years now...she gets the fact that I really don't like being in front of the camera [on a reality show]. I'll support it, but I'd rather that be her thing.
On stereotypes
C: I hate to hear that: "Oh, he's just an athlete. He should just be focusing on playing basketball." And for me, you know, I try to do a lot of different stuff, from fashion to tech to art, just trying to broaden my brand. But basketball is my foundation. Let's not get that misconstrued. I kind of use that as a launching pad for everything else.
M: That's when I first started doing Live! "Oh, what's the football player doing on there with Kelly Ripa?" It made me mad. And even as a player it upset me when people go, "Oh yeah, you're that football player." Because you want to define yourself outside of what you do.
On Carmelo's weight loss
C: You know, I dabble with my diet here and there. But since last summer when I started training for last season, I haven't taken any time off after the season. I took maybe a week or two weeks off. So that training from last summer continues right now. So this is not just a transformation from the past two months. This is the transformation over the past year.
Hardest part of fatherhood
C: Knowing that my past and the way I grew up made me who I am today and knowing that he would never, ever, ever experience that. You know, so sometimes I find myself, like, "You've got to be tougher" ... For me, it's just a matter of waking up every morning and knowing that I got a chance to impress my son, to be a role model to my son...He's at that age now where he's taking what I'm doing and kind of incorporating it into his life in some way, shape or form.
On whether LeBron's return to Cleveland affected Carmelo's decision to re-sign:
C: Honestly, I think it was the other way around. I think he saw when I came back home to New York and saw the response and saw the reaction and saw how at peace I was when I came back home...I'm pretty sure he looked at that moment and saw that that was a very special moment, and he had the opportunity to go back home himself and regain that love.
Read the full article here.
Also.....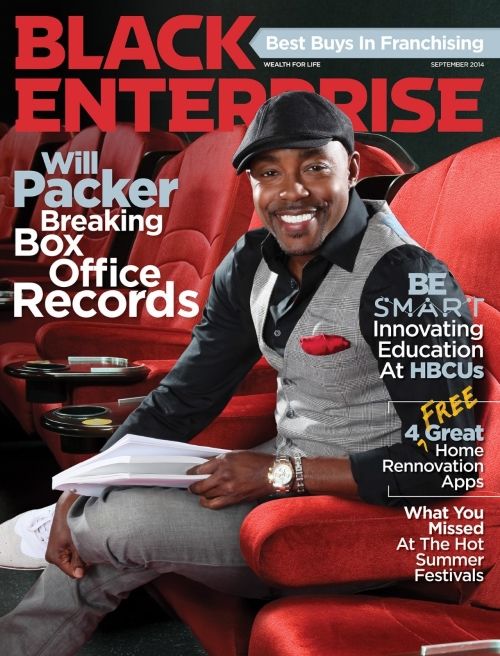 Hollywood mogul Will Packer covers the latest edition of BLACK ENTERPRISE where he discusses his rise in Hollywood and how he plans to impact cinema. His 12 films have collectively grossed more than a half billion dollars worldwide with six opening at No. 1 at the box office. This year, he accomplished the rare.
Will, a FAMU alum,  has already proven to Hollywood that films with Black leads can do BIG numbers.  He had one of the most successful films of 2012 (Think Like A Man grossed $96.1 Million); and his 2014 film Ride Along has done over $150 Million in box office receipts.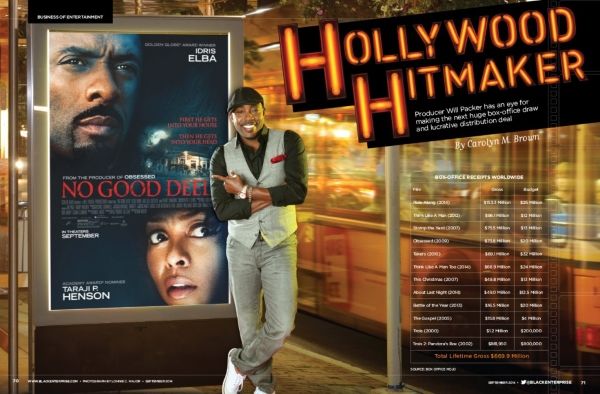 Will, whose most recent film No Good Deed (starring Idris Elba& Taraji P. Henson) hits theaters on Septermber 12th, talk about the landing on BE's cover on Instagram saying,
"What an honor to be on the cover of @blackenterprise!!! As a young wannabe #entrepreneur I grew up reading these pages and being inspired by the insight and examples of successful #business people who looked like me. I'm humbled to think that now someone may glean some #inspiration from reading my story."
In case you missed it:
Pick up both issues on newsstands now.
 Photos via AdWeek/Black Enterprise