Ray Rice's wife Janay Palmer Rice is defending her husband after the appalling video footage of him knocking her unconscious in an elevator surfaced. Find out what she said inside….
Yesterday, shocking video footage of former Baltimore Ravens running back Ray Rice knocking his then fiancée (now wife) Janay Palmer Rice out cold in an elevator surfaced. The video sparked public outcry for the NFL to do something other than the two-game suspension he was initially sentenced to. 
Once the elevator footage was released, the Baltimore Ravens decided to cut him from the team and soon after, NFL Commissioner Roger Godell suspended him indefinitely.
NOW…Janay is speaking out and she's DEFENDING her husband's actions. She says the media and unwanted opinions about their situation has caused her family a great deal of pain and she's furious that the NFL suspended her husband, blaming it on the media trying to gain ratings. Wait….what?
Here's what she said: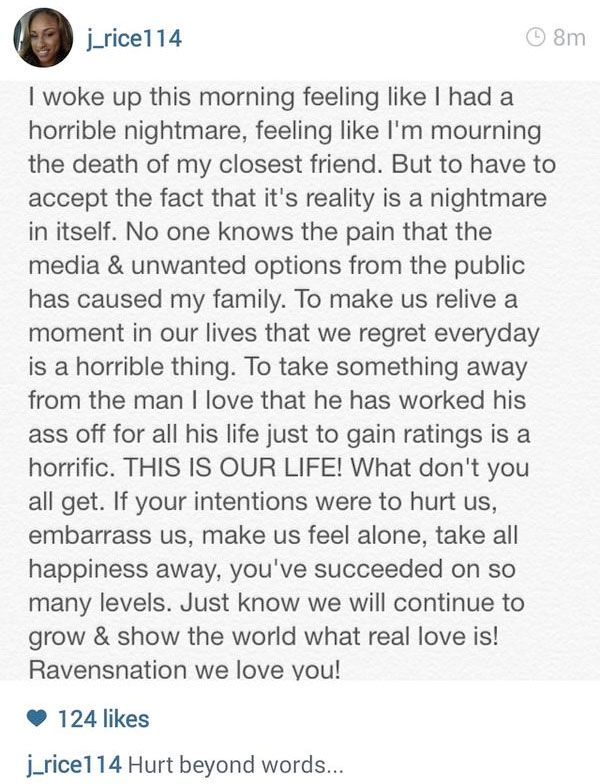 Chile...
You'll recall back in May, Ray pled NOT guilty after he was indicted on third-degree aggravated assault charges following the physical altercation at the Revel Casino and Hotel in Atlantic City, N.J.
At the time, there was only footage of the NFL player dragging Janay outside of the elevator, so Ray got a slap on the wrist and was suspended for only two games. After heavy criticism for the two-game suspension, NFL Commissioner Roger Goddell implemented a new domestic violence policy for the league. The couple even held a joint press conference apologizing over the domestic violence incident.
But once the footage of the actual assault inside of the elevator was released, all hell broke loose. The NFL claims they did NOT have access to the newly released footage and that was the reason he was only suspended for two games. But now he's out...for good.
If love means knocking you out cold, acting as if nothing is wrong as he drags you out of an elevator unconscious then...we're good. What are your thoughts on Janay's response?
Photos: Janay's IG