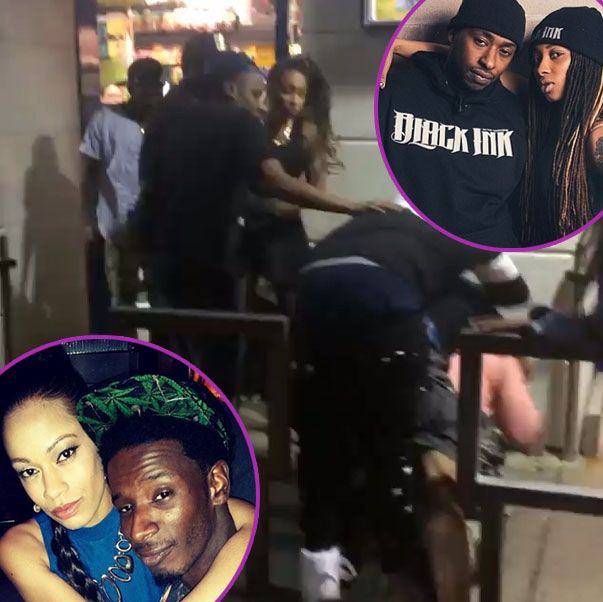 They fightin'! VH1's "Black Ink Crew" stars took it to the streets in NYC last night. And things got ugly, resulting in one castmate being treated at the hospital. We have the inside scoop on what went down when you go inside….
VH1's "Black Ink Crew" cast mates Ceaser (the owner of Black Ink) & his girlfriend Dutchess (above) and Puma (who now owns his own tattoo shop Ink 24) along with his wife Quanni (below) were involved in an all-out brawl in NYC last night. And one of them ended up in the hospital!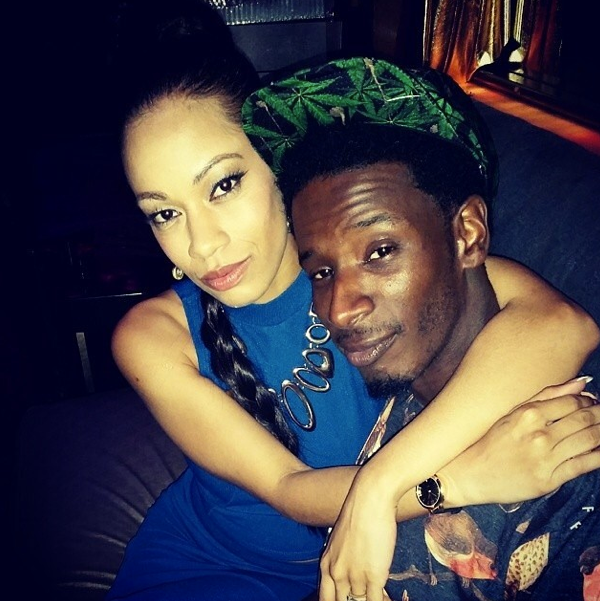 Here's what we know: A source close to the VH1 show tells TheYBF.com the cast attended Sabit NYC fashion show at the Highline Ballroom on 16th Street in the Meat Packing district last night. If you watch the show, you'll recall Cesar and Puma were once friends but fell out after Ceaser started dating Dutchess. At the end of the last season episode, Ceaser and Puma hashed out their differences and squashed their beef. But…maybe things weren't as peachy keen like portrayed on the show.
After leaving the fashion show last night, ish went totally left outside. According to Dutchess, Puma's wife Quanni and some of her friends allegedly jumped her!
In the beginning of the video, you can see a woman start to attack Dutchess and they begin fighting. Then you see Ceaser on the ground tussling with some men. Puma then runs up with a bottle, but luckily, he was unable to hit anyone with it. Ceaser gets up off the ground and throws a quick punch in the face to one of Puma's homies. Ouch!
Check it:
As you can see, there were no VH1 cameras on hand. 
After the brawl, Dutchess hopped on Instagram claiming she was jumped by Puma's wife and that the next time she sees Quanni...it's on! She spewed:
She quickly deleted this post but of course, nothing is ever deleted from the Internet once its out there. Our source tells us she is actually the one who ended up in the hospital. Maybe she plans on pressing charges and needed to get rid of any incriminating evidence. She looks fine and according to her all they did was mess up her dreads. Hmph.
Dutchess also took to her Twitter account and tweeted:
The truth is a motherfucker....watch the whole #blackink fight http://t.co/0lGEKWaUpV it's mad funny that u had eve body fooled he's the 1.

— Dutchess Lattimore (@DutchessofInk) September 8, 2014
Ceaser also reacted to the all-out brawl, noting he was also jumped but didn't get one scratch or bruise:
He wrote, "No scratches,No bruises.... Niggas couldn't beat 1 on 1 so they had to jump me........this lil nigga… "
Puma also took to social media to speak his piece and apologize. He wrote:
He captioned, "I'm not for going on social media to express problems wit people"
Our source also tells us they are currently filming for the show and will shoot today. Lordt....this upcoming season looks like it will have plenty of foolywang material. Sighs....
Photos/Videos: Dutchess' IG/Puma's IG/@jabberingjoyy