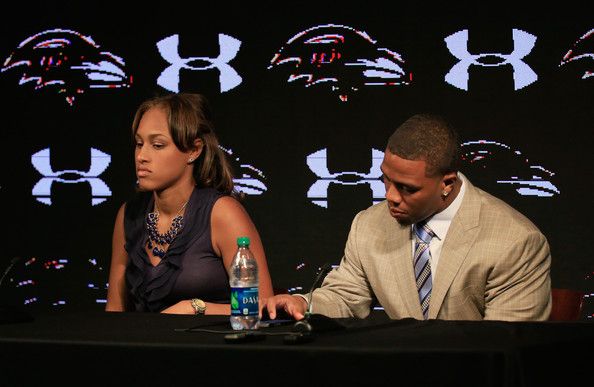 Video showing Ray Rice punching his wife Janay has emerged and it will make you cringe.  Watch the video inside and find out why the owner of the Atlanta Hanks is stepping down. 

TMZ has released the shocking elevator video that shows Ray Rice dealing a knockout punch to his wife Janay - sending her to the floor - unconcious!
You'll recall that this situation got Ray a two-game suspension and that had folks in an uproar! Since public outcry over the NFL's stance on domestic violence was criticized, NFL commissioner Roger Goodell had had a change of mind. Last week, he announced the NFL's tougher stance on domestic violence, which will result in a six-game suspension for a first offense and an indefinite ban for a second offense committed by any NFL personnel.
Hmm....We hope the suspension included some mandatory counseling as well.
UPDATE: 
Before you throw tomatoes at the NFL, they told TMZ Sports that they had NOT seen the new Ray Rice elevator footage PRIOR to giving him a 2 game suspension.  An NFL spokesperson said,
"We requested from law enforcement any and all information about the incident, including the video from inside the elevator. That video was not made available to us and no one in our office has seen it until today."
In other sports news....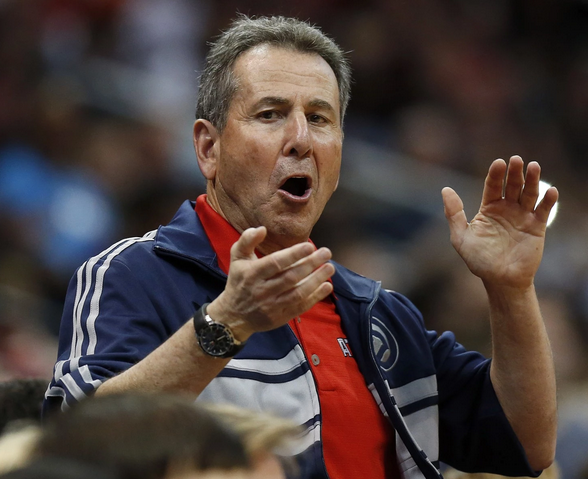 Bruce Levenson, a managing partner of the Atlanta Hawks, has announced plans to sell his stake in the team after racially insensitive comments il he wrote in 2012 came to light.  Here's the email:  
"My theory is that the black crowd scared away the whites and there are simply not enough affluent black fans to build a significant season ticket base,. And just for good measure, he added "there are few fathers and sons at the games."
On Sunday, Bruce issued an apology for the email saying,
"I shared my thoughts on why our efforts to bridge Atlanta's racial sports divide seemed to be failing. In trying to address those issues, I wrote an e-mail two years ago that was inappropriate and offensive. I trivialized our fans by making clichéd assumptions about their interests [i.e. hip hop vs. country, white vs. black cheerleaders, etc.] and by stereotyping their perceptions of one another [i.e. that white fans might be afraid of our black fans]. By focusing on race, I also sent the unintentional and hurtful message that our white fans are more valuable than our black fans.

"If you're angry about what I wrote, you should be. I'm angry at myself, too. It was inflammatory nonsense. We all may have subtle biases and preconceptions when it comes to race, but my role as a leader is to challenge them, not to validate or accommodate those who might hold them."
Bruce joins Donald Sterling on the growing list of franchise owners who's racial biases and prejudices have come to light.  Thankfully, his apology went over a lot better than Donald Sterling's Anderson Cooper interview. And this time - no one insulted Magic Johnson.
Photo via Getty