For the first time, Budweiser's Made In America festival went down in Philly and L.A. simultaneously this Labor Day Weekend. Check out Kanye's headlining performance, pics of Jay Z, Travie McCoy & Big Daddy Kane in Philly. Plus, Iggy Azalea and Rita Ora almost kissing during their Made In America set in L.A. inside….
Back in April Jay Z, alongside L.A. mayor Eric Garcetti, announced this year's Budweiser's Made in America festival would be going down simultaneously during Labor Day Weekend in Philadelphia and L.A.
About 50,000 east coast Hip Hop fans made their way to Benjamin Franklin Parkway for the performance of a lifetime. Celebrating nine years since the release of his second studio album Late Registration, Kanye West performed tracks from the celebrated album and his latest album Yeezus before a packed out stadium of screaming concertgoers.
Yezzy opened his set, wearing his signature-jeweled mask, to heavy bassed track "Black Skinhead". It kind of got off to a shaky start, but fans got into it after his performances of "I Don't Like (Remix)," "Cold," "Can't Tell Me Nothing" and "New Slaves." He then went into his infamous rant, reminding fans, "this sh*t we do is serious and how he makes music to help people." He went on saying, "What we do, we put our lives, out hearts, our soul into. It's three in the morning every night in the studio." He followed his rant with a performance of "Blood On the Leaves."
He then performed "Good Life," "Heartless," "All of the Lights" (which he sarcastically called his biggest "underground" hit), and "All Falls Down." And closed his set with another performance of "Blood On the leaves."
Check his entire set below:
Also taking the stage...
Big Daddy Kane (and his half-buttoned shirt) went old school performing some of his hits "Ain't No Half-Steppin'" and "Raw".
The mastermind behind the Made In America festival Jay Z came out to enjoy little brother 'Ye and the rest of the lineup. Other performers included The National, Young & Sick, Cherub and Mayer Hawthorne.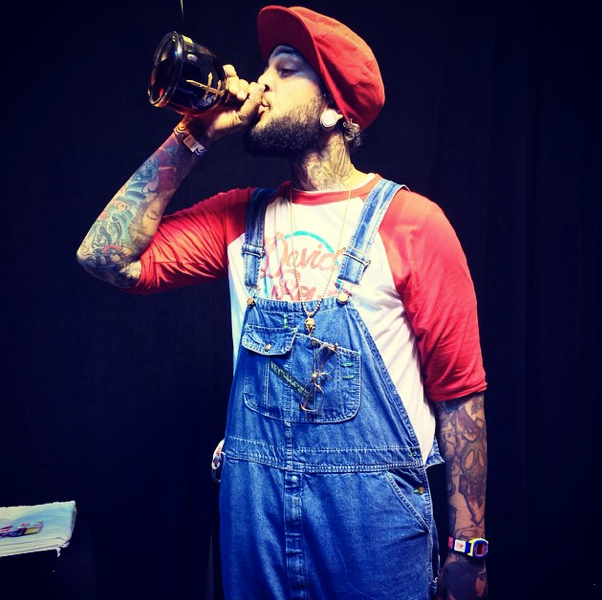 While Jay enjoyed the show, Gym Class Heroes rapper Travie McCoy was spotted sipping on some D'USSÉ VSOP Cognac backstage.
And over in L.A.....
Iggy Azalea and Rita Ora took the stage at Grand Park to perform their hit "Black Widow" at the Made In America festival.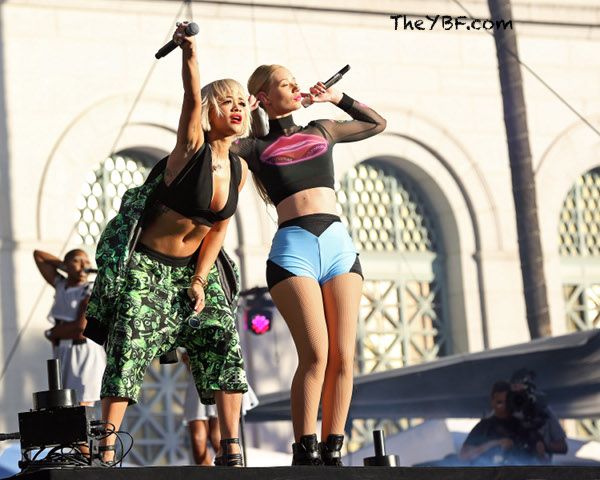 And during their set, the two leaned in for what looked like a Madonna-Britney Spears type kiss…but it was just a tease.
Peep their exchange at 2:08 mark:
Photos: INF/Splash/Travis' IG