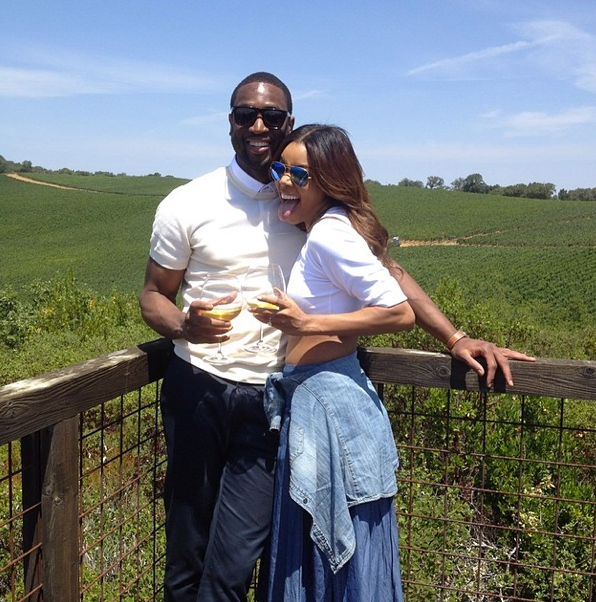 Gabrielle Union's bestie Essence Atkins, along with her husband, will be officiating her and Dwyane Wade's upcoming wedding ceremony. Plus, we have the deets on the confidentiality agreements guest attending the wedding have to sign. More inside…. 
Who knew Essence Atkins was an ordained minister?! "Being Mary Jane" star Gabrielle Union and Miami Heat baller Dwyane Wade sure did.  And they have requested that she, along with her husband (who is also an ordained minister), officiate their nuptials in Miami on Saturday!
Although D. Wade and Gabby have been trying to keep wedding deets top secret, Gabby's long time best friend Essence spilled a little tea on their upcoming ceremony. During an interview with Hip Hollywood on the red carpet for Entertainment Weekly's pre-Emmy party, the actress revealed she and her husband will be officiating the couples' nuptials. She said her husband officiated Alphonso Ribeiro's (Carlton from "Fresh Prince") wedding about two years ago, so D. Wade and Gabby requested for the both of them to do theirs.
When asked how she felt about Gabby not having any bridesmaids, she responded,
"I'm not feeling any way about it because I'm actually officiating the ceremony."
 
Oh?!  And how long has she been an ordained minister?
"A while ago…[but] this will be my first time."
Talk about pressure!
 
Check it:
Speaking of the lovebirds' wedding...
Someone in Gabby and D. Wade's camp has slowly been leaking information about their wedding. And now we have the deets on the nondisclosure agreement guest must sign to attend their luxe Miami wedding.
TMZ got a hold of a copy of the confidentiality agreement that must be signed before anyone even thinks about attending their ceremony. Everyone has to sign, mom, dad, grandma, caterer…everyone!
Guests have been asked not to bring any cell phones or cameras and anything seen or heard at the wedding shall stay AT the wedding. And if anyone decides to break the rules….guess what? They're going to have to cough up some cash! Any person found violating the agreement will be fined for unspecified damages.
So...will these nuptals air on a BET wedding special?  We wouldn't be surprised...
Yikes!
 
Photos:Dwyane's IG/HipHollywood