Wiz Khalifa is dishing a few deets about his wedding ceremony to wife Amber Rose. And you know it involves his favorite pastime. Also, he reveals Amber will be making a new twerk video and a possible Madonna collaboration. Deets inside….
After some major (and fatal) bumps in the road during his "Under The Influence Tour", Wiz Khalifa seems to still find fulfillment when talking about his wife Amber Rose and son Sebastian "Bash" Taylor Thomaz. And he still has plenty to celebrate after earning his first #1 on spot on the Billboard 200 with his album, Blacc Hollywood.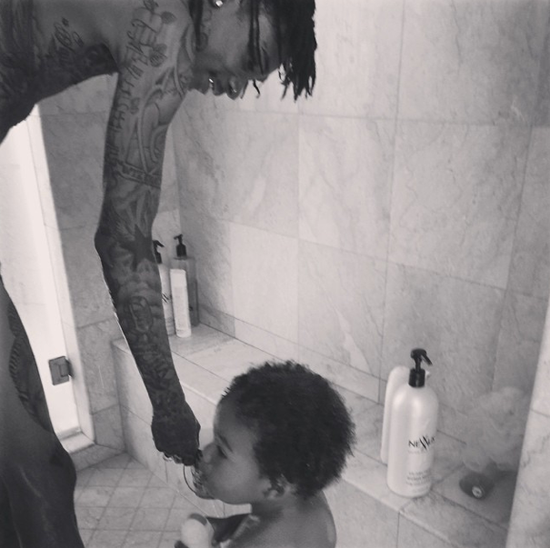 During an interview with Wild 94.9 radio host Nessa, Wiz got personal as he opened up about spending time with his son, his wedding being more like one big party and who he's trying to get on his next project.
So what is life like being a husband and first-time dad? Great. He's still living his rockstar life on the road but he loves to come home and hang out with his son.
"Yea I get to chill with my son, I be missing my son. He is the man. Girls love him."
Aww…
As for Baby Bash's new "IT" phrase,
"Now he's got this thing where if I call him, I say 'Sebastian, come here' and he'll be like 'coming!' Yea…at 18 months. It trips me out."
 
You'll recall, Wiz and Amber recently celebrated their one-year-anniversary. And as he reflected on their special day, he let us in on what it was like. He said,
"It was crazy. We was cutting up. And we was smoking weed the entire time.
No surprise there. And Amber's new twerk video?
"We going to do a new one over 'Ass Drop,' that song that's on the album. She was like 'Dad can I do another twerk video?' I was like, 'Yea you good.'"
 
Dad?  Oh.
So who is the next artist Wiz Khalifa is gunning to get a collabo from?
"Madonna. She's dope. I just like what she stands for. I feel like her attitude and her spirit, we share the same views on life."
 
Well alright.
Check the video below, plus what he said about y'all clowing his super skinny jeans:
Photos: Wiz's IG