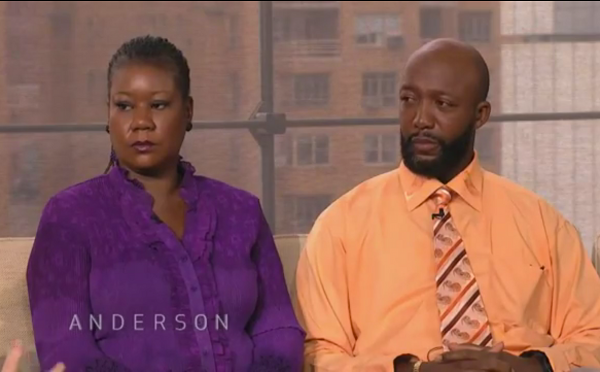 News of unarmed 17-year-old Sanford, Florida teen Trayvon Martin being gunned down outside of a gated community--by a regular citizen--with no form of justice being served has angered and swept the nation.
Now, Trayvon's parents, Sybrina Fulton & Tracy Martin, are speaking out and giving their take of what happened, and what now needs to happen, on Anderson Cooper's talk show airing later today.  We have clips from the show inside...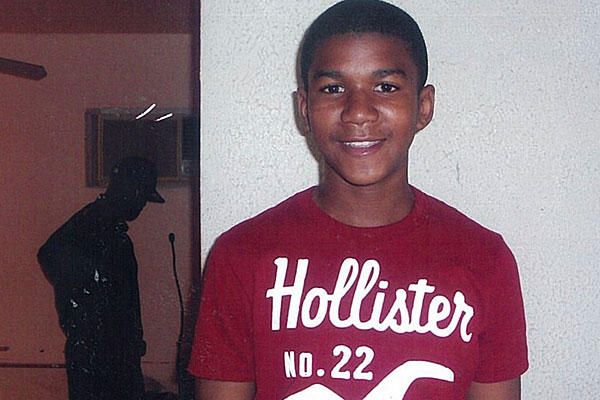 On this afternoon's episode of "Anderson," the parents of Trayvon Martin will speak out about the killing of their high school son.  We have purposely not speculated on the situation as there are very few facts, but plenty of unproven accusations.  Whether readers agree or not, we choose not to gossip about non-Hollywood matters (which has been our policy for the 7 years we have been here) where gossip could do more harm to the case then good.
With a formal in-depth sit-down from his parents, we can now get a better idea of the horrible situation at hand.
Trayvon was fatally shot February 26, 2012 while walking to the house of his father's fiancee in Sanford, Florida, after a trip to a convenience store. George Zimmerman, a neighborhood watch leader, said he shot the teen in self-defense.  Trayvon reportedly was wearing a hoodie & carrying a bag of Skittles.
Zimmerman has not been arrested or charged. A police report describes him as a white male; his family says he is Hispanic.
As for the pending issues: There are some reports stating Zimmerman was actually not a member of Neighborhood watch, some reports say the 8 released 9-1-1 calls were edited/scrubbed to help Zimmerman, and some reports sate that Zimmerman is actually hiding out to avoid possible impending justice. Our nation is outraged at the Zimmerman seeming to equate hoodies and a certain "look" of a person as "trouble." There have been no explanations as to what was allegedly done to invoke "self defense" from Zimmerman.
Here are Trayvon's parents, as well as a witness, speaking on various aspects of the case:
Trayvon Martin's father, Tracy, talks about whether race played a role in Trayvon's death, and in the subsequent actions of the police:
Anderson: Tracy there has not been police action, this man Zimmerman was not arrested the day of the shooting. Do you believe if your son had been white that Zimmerman would have been arrested?
Tracy: I honestly believe had Trayvon been a white kid he would have been arrested. Zimmerman would have been arrested. I just feel as though the Sanford police department is doing us an injustice. They actually are trying to sweep our son's death under the rug. Trayvon was a person, he wasn't just a statistic, he was loved by his family, he was loved by his friends. I just refuse to stop pursuing the arrest of Mr. Zimmerman until he is arrested.
 
Trayvon Martin's mother, Sabryna, says that the as yet unidentified 911 calls prior to her son's death were absolutely Trayvon's voice.
Anderson: The eyewitness have said some of them believe it was your son calling out for help, no one saw him directly doing it or could say it 100% for sure. You've heard the 911 call where you hear somebody calling out for help. Do you believe that is your son's voice?
Sybrina: Yes I do. I believe that's Trayvon Martin, that's my baby's voice. Every mother knows their child and that's his voice.
Anderson: And the fact, if that's true and he called out for help, what does that tell you?
Tracy: He was afraid for his life. He saw his death coming. He saw his death coming. The screams got more frantic. At that second that we heard the shot the screams just completely stopped. He saw his death, he was pleading for his life.
Anderson: So you're saying that if it was Zimmerman who was screaming for help that might have continued after the shot but the fact that after the shot there was no more screaming for help.
Tracy: No more screaming whatever, it went completely silent.

 
Following the death of her son Trayvon Martin, Trayvon's mom says it has been difficult to grieve when no justice has been served.
Anderson: What's it like Sabrina for you to have to do this. Weeks later to be trying to get what you believe is justice for your son?
Sybrina: It's just difficult to grieve because it just seems like we haven't received justice yet. It's hard to sleep. I cry everyday. I can hear the 911 tapes in my head. I can hear him yelling. It's just very difficult as a mother to know that I had to bury my child.
One witness who saw George Zimmerman and Trayvon Martin struggling with one another tells her side of the story.
Anderson: When you both went outside. You saw George Zimmerman where? And where was Trevon Martin?
Mary: She was out the door first. When I came out the door I saw him basically straddling him. He had feet on either side of his body and his hands at the time I didn't know was on his back.
Anderson: Trevon was face down?
Mary: Trevon was face down. Once he got off of the body we could see that his face was down in the grass. At the time that he was holding his back I didn't know if he was trying to help him, hold the wound or…Selma had asked him several times, three times, 'Whats going on? Is everything okay? And each time he looked back but he didn't say anything until the third time he said, 'Just call the police.'
And father Tracy spoke on what he wants the audience and the nation to push for at this moment:
Basically we don't want to have another family go through this. We are very appreciative that the community across the nation is standing behind us and asking the same questions that we are asking. Why isn't George Zimmerman arrested? We want an arrest, we want him to have a fair trial. We are not asking for an eye for an eye but we want justice for our son. The only thing that will ease the pain is seeing him being punished for the crime that he committed.
The parents' full interview airs on "Anderson" this afternoon (Thursday, March 22nd).  Check your local listings.