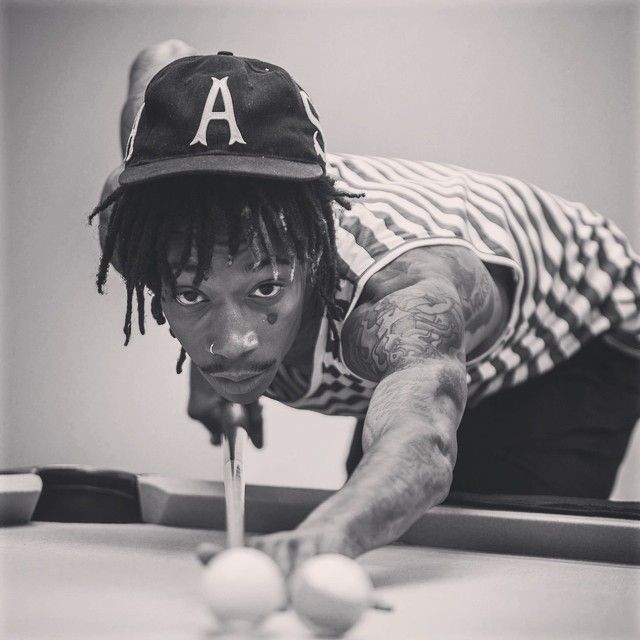 Friday night, a man was shot and killed at a Wiz Khalifa concert, forcing him to cancel his Saturday show in Chula Vista, California. Find out more about the tragic shooting inside and watch Iggy Azalea literally fall off the stage during a performance in Hollywood....
It's situations like these tht give rap concerts a horrible name!
Wiz Khalifa cancelled a performance last night as officials investigate the death of a 38-year-old man shot and killed backstage at his concert Friday at the Shoreline Amphitheater in Mountain View, CA.  It's unlear how far along the concert was at the time. 
CNN reports that shots rang out around 11pm and the victim was shot multiple times by a black pistol with a large magazine.  The unidentified man was transported to a hospital and died from his injuries. Authorities have reach out to the public for assistance in solving the crime and locating the assailant (described as a man in his 20's with short hair, between 5'6″ and 5'8″ tall and wearing a black top with white pants and a red baseball cap).  
Anonymous text messages may be sent to 274637 with the code MVTips in the text and police are also asking people to use the hashtag #MVPDInfo in their Twitter and Instagram posts about the shooting.
Wiz Khalifa expressed his condolences via Twitter,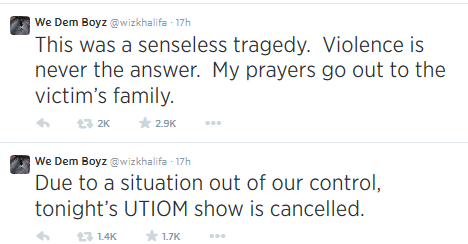 In other news....
Um....let's hope Iggy Azalea's appeance at the 2014 MTV VMAs tonight goes a bit smoother than her set this weeend at the Avalon theatre in Hollywood.  She performed "Fancy" but the performance wasn't...that. She literally DROPPED off the stage while performing.  Knowing your spacing is key chile...
In the clip above, you'll see her walk to the edge of the stage and fall off (she didn't know that she'd pushed passed her limits).And that goes for this show and her career.
On Instagram, she poked fun at herself saying, "Sorry but it would be a crime not to share this with you all, I know I laughed. #StillFinishedtheSongTho #KeptOnRapping #TheShowMustGoOn"
 
Ha!
Photos via Wiz Khalifa's Instagram/KingofSass Vine