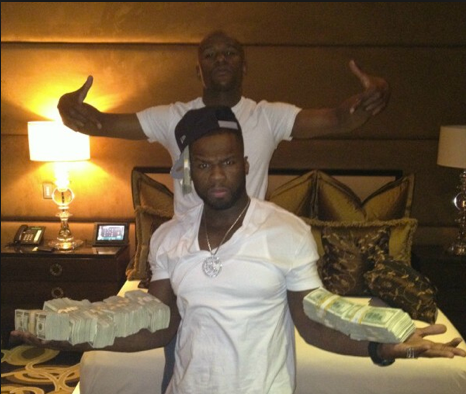 The drama continues between frenemies 50 Cent and Floyd Mayweather.  After all the shade 50 tossed Floyd's way about being illiterate, Floyd finally hit back today.  Deets inside...
We told you about 50's shade-filled challenge to Floyd recently over on Instagram.  He switched up the rules of the ALS #IceBucketChallenge and said he would donate $750,000 if boxing champ Floyd could read a full page out of a Harry Potter book...without messing up.  Damn shame.  He went even further and said he could read a page out of Cat In the Hat instead...since those words may be too big in the Harry Potter books.
While Twitter and IG followers jumped on the bandwagon to troll Floyd even more, the folks over at The Breakfast Club released raw audio of Floyd taking an hour to read a 10-second drop. 
So wrong.
Now, Floyd is clapping back.  With his math skills.  He posted pics of his latest FAT checks for the world to see: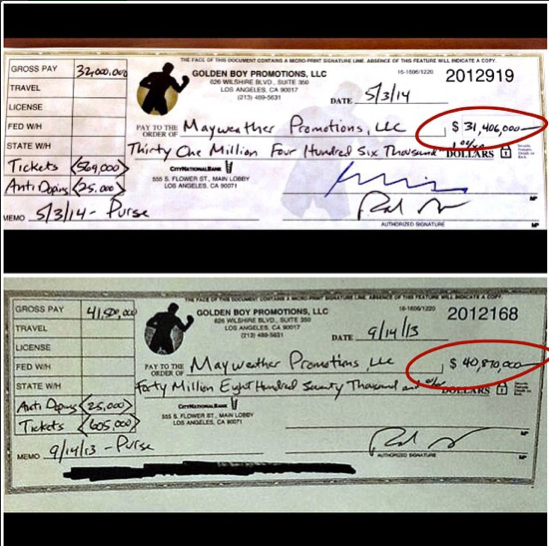 And said:
Well, hopefully he can read any important notices his accountant or the IRS has for him...so he can keep all his cash.
Photos: Floyd's Instagram