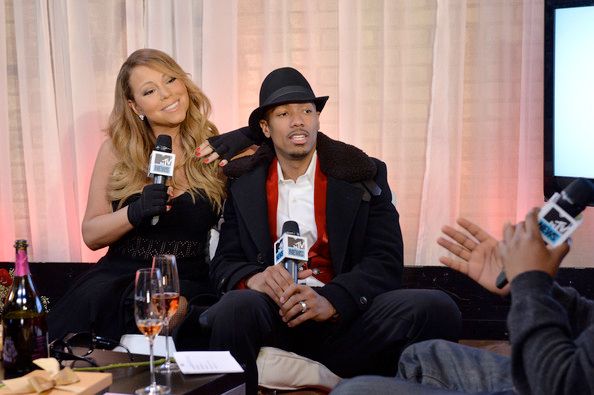 We told you earlier Mariah Carey and Nick Cannon were reportedly headed down Splitsville Lane. And now, Nick has confirmed the two have not lived together...for months! Get the latest on their break-up and deets on Joe Budden allegedly laying the smackdown on his girl inside…
Looks like the fairy tale love story Mariah Carey and Nick Cannon was once living has come to an end.
We told you earlier that divorce papers were being drawn up for the 33-year-old comedian/TV host and the 44-year-old R&B singer. Now, Nick has confirmed that the two have been separated for some time.  And this is straight from the horse's mouth. According to Nick, "there's trouble in paradise."
During an interview with The Insider, the "America's Got Talent" host confirmed he and his soon-to-be ex-wife are living apart. And have been for a while. He dished, "We have been living in separate houses for a few months."
So how is Nick handling the uncoupling? He says he's just focusing on their 3-year-old twins, Monroe & Moroccan. He also dispelled any cheating rumors as the cause of their break-up.
So what exactly happened between them?
Reports say the beginning of the end started when Nick did that interview with Big Boy's Morning Show where he revealed the celebrity chicks he got it in with. Following that interview, the comedian dished all to Howard Stern and detailed his sex life with his wife.
The two tried to show a united front with a family photo-op on Father's Day (above) but now it seems their 6 years of marital bliss has come to an end.
Speaking of Nick...
The "America's Got Talent" host hopped on the ALS Icebucket Challenge bandwagon. Except...he decided to do it NAKED! Check it above. Clearly he's been spending his newfound almost-single time in the gym.
And in other news....
The NYPD is currently investigating rapper Joe Budden after a woman claiming to be his girlfriend accused him of brutally assaulting her in his car.
According to the unidentified woman's claims, Joe found pics of her with another man, allegedly bashed her head into the dashboard of a car after and choked her out. She claims he ran up on her at an NYC restaurant, snatched her up and that's when he supposedly went ape sh*t on her as he drove away. She claims he took her back to his New Jersey home where the battery continued.
If interested, you can check out the gruesome photos of her injuries here.
Joey doesn't seem bothered by the news. According to his Instagram, he was out scouting for "h*es" with one of his homies last night.
Tahiry is probably glad she (mostly) dodged that bullet…
Photos: Getty/MC's IG/Joe's IG