Well isn't this special.  If you saw the episode on this season's "Khloe & Lamar" where Khloe Kardashian's bestie/actress Malika Haqq was dating Arizona Cardinals star Adrian Wilson, you will know why him renewing his vows with his WIFE this month is very convenient.
Now, Adrian is explaining the "cheating" rumors about him dating Malika while still married, but separated.  And took his wife to Hawaii this month to renew their vows...
On this season of "Khloe & Lamar," ATL star (who happens to be Khloe's bestie and has appeared on all the Kardashian shows faithfully) Malika Haqq started dating NFL star Adrian Wilson.  The relationship began to wear on her, though, when she began to feel guilty for dating him knowing he was married.  But separated.
Malika even got into a fight with married Khloe over it, who was trying to discuss with Malika why she felt guilty.  Malika essentially said she feels she's breaking up his kids' family, and knows that she could be the reason Adrian and his wife are not reconciling.  So she made the hard decision to take a step back.
Now, Adrian tells Essence.com he doesn't like how he was portrayed.  So he's dishing on his take on dating Malika during his separation.  Oh, and he decided to reconcile with his wife, Alicia, and give her the "wedding of her dreams" in Maui on March 11th.  The couple renewed their vows in front of 60 of their friends and family during a beach ceremony--with 2 gown changes from Alicia (both pictured above).  Must be nice....
Adrian Wilson on accusations he "cheated" with Malika on "Khloe and Lamar":
"We were separated for six months. That's what everybody doesn't understand. We were separated for a while. Getting back together was something that we had to talk about for a very long time. We talked some times all night long and into the next morning — talking about what needed to change. We realized they weren't really big things; they were just things we needed to work on as a couple."

Adrian Wilson on whether or not his experience dating Malika had any affect on his reconciliation with his wife Alicia:
"I don't think there's anything like true love. I've known my wife since middle school. I don't think there's anything stronger than knowing the other person the way we know each other. My wife did her thing; I did my thing. We were apart. Whatever. It was never really about any other person, it was about us individually."

Adrian Wilson on how he felt he was portrayed on "Khloe and Lamar" and the negative backlash he received:
"The whole episode attacked my character, and it was shown in a way that reflected the opposite of who I really am. But that's cool; that's what they do. Am I mad? Sure. But at the end of the day, that's not what is most important to me. It's no longer on my mind. I told my wife all about it and about everything that happened before the show even aired. She was well-prepared for everything — for the backlash and all that stuff."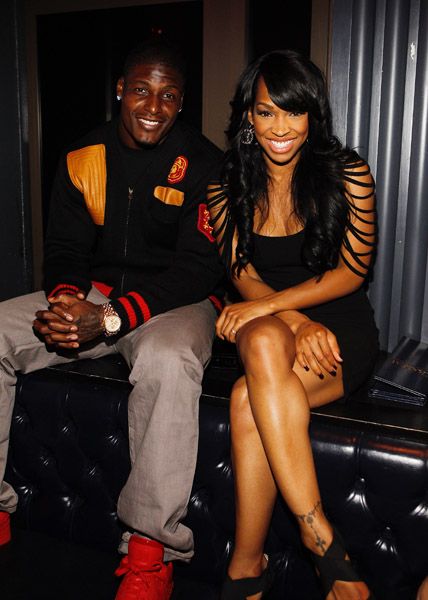 Adrian & Malika
Adrian's wife, Alicia Wilson, in her Twitter avi
Check out the full gallery of pics from the couple's wedding renewal over at ESSENCE.