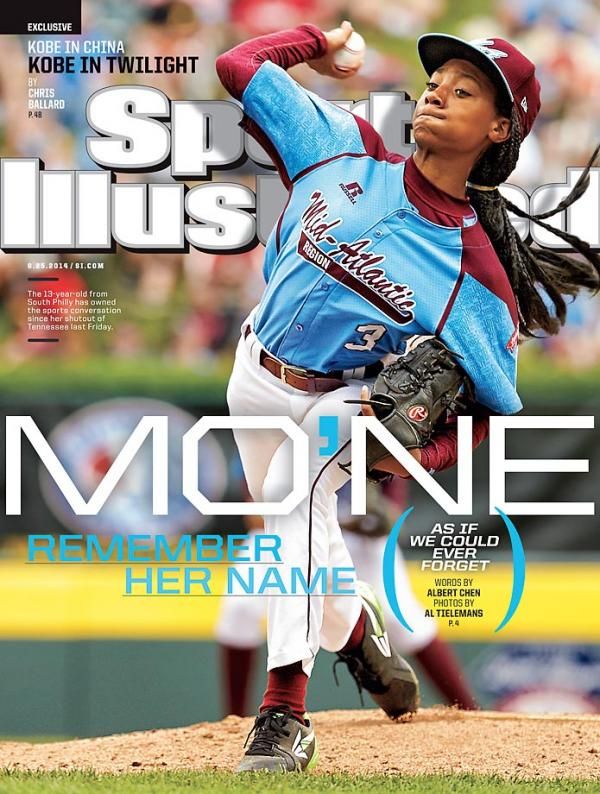 The real life YBF chick we're loving at the moment is Mo'Ne Davis.  Find out why inside...
A 13-year-old girl landing a Sports Illustrated cover doesn't happen everyday. But today, for the August 25th issue, it did.  Mo'Ne Davis is the baseball phenom who has made history by becoming the first female in history to pitch at shut out game at the Little League World Series.  And she's not just pitching, she's pitching 70-MPH fastballs!
Mo'Ne led her team, the Philadelphia Taney Dragons, to the Little League World Series as the only girl on the team.  This past Friday in the first game of the Series, she pitched a 4-0 shut out game against Tennessee.  And she's not too shabby at batting either.  Her walk-up music: Beyonce's "Run the World (Girls)".  Obviously.
As only the fourth American girl to ever make it to the World Series, she's been getting major pub all over the place.  She told CBS News about "throwing like a girl":
"Throwing 70 miles an hour – that's throwing like a girl."
Yassss!  How can we not love her?!  She also knows how big of a deal this is and what it can lead to:
"Probably like a couple of years from now, there'll be a lot of girls here, and then it won't be just like all boys, so they'll have to build like another dorm for girls, so it'll be a huge impact if more girls start playing," she said.
Her coach and teammates revealed that you'll never see her fall apart on the mound.  The commented that she has an unbreakable spirit and is about her business.
Oh, by the way.  Baseball isn't even her primary sport.  Chick is a beast at basketball...and that's actually her preference.  She told SI:
"To be honest, I never thought I'd be famous for baseball," she says. "I want to play basketball, and I could also do both basketball and baseball -- but I really want to play basketball."
Well, she always has something to fall back on...
Good Luck & Congrats Mo'Ne!