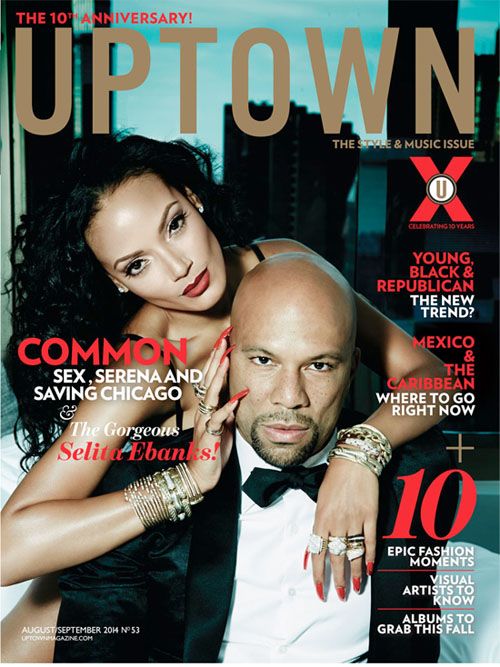 Common and Selita Ebanks are heating up the magazine circuit with this sexy cover. The rapper and fashion model posed for the 10th anniversary of UPTOWN's "Music & Style" issue. Peep their fiery cover and Common's full spread inside…
One word. HOT!
Sexy Chitown rapper Common and fabulous fashion model/actress Selita Ebanks are scorching hot on UPTOWN's August/September 2014 issue. In celebration of the magazine's 10th anniversary "Music & Style" issue, Common got extra dapper in a streamlined Caruso black tuxedo, while Selita went sultry in a La Perla black bra and panties, while resting her body against the "Kingdom" rapper's back. And we're totally loving every bit of it!
In the interview with the magazine, Common (real name Lonnie Rashid Lynn, Jr.) dished on his 10th studio album Nobody's Smiling, almost marrying tennis superstar Serena Williams, on being labeled "soft" and much more.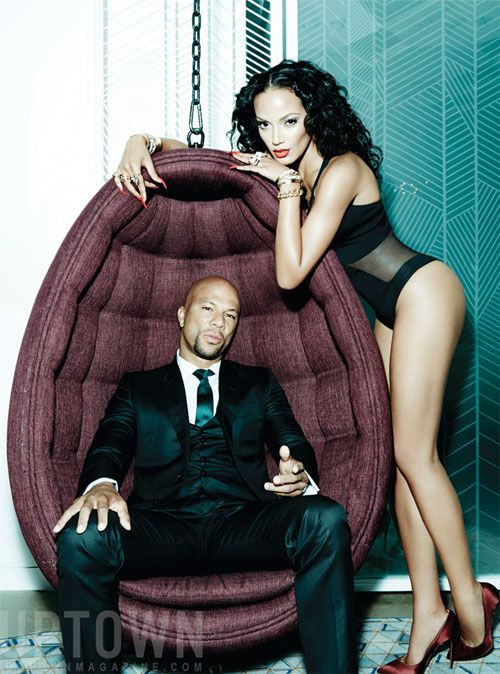 Here are some highlights:
Common is no stranger to violence:
His 6-foot-8 father, Lonnie Lynn, (Common was born Lonnie Rashid Lynn, Jr.) was a basketball playground legend who suffered from an addiction to drugs and the fast life. He once kidnapped Common, then a toddler, and his mother at gunpoint, taking them to a tryout with the Seattle SuperSonics to prove to recruiters that he was a family man.

On almost marrying Serena Williams:
Common is single now, and enjoying his unattached life, but says he believes in marriage. He thought it would happen with Williams, but he is taking his time now before he jumps into something else. "If I'm in it as much as I was with Serena, as much as I loved her...it takes time to heal and find that peace to be able to move on."

On being labeled as "soft":
"I'm hardcore which to me is coming from the heart. Putting your heart on that paper and being true."

Speaking for the first time on the death of close friend and industry peer J. Dilla:
"He was physically deteriorating. It would be sad for me to see. You know you coming home healthy. You feel guilty. It brought my own immortality to the forefront […] Until I did ["Rewind That"], I wouldn't answer questions in interviews about him. I wouldn't keep pictures around. That song has been part of my process in dealing with it still."

On his tenth album Nobody's Smiling and the youth of Chicago:
"One way of giving back is by having young Chicago artists on the album. This album is an action to increase awareness to people in the city. I owe it to Chicago […] The most beautiful thing about this project is it's not ahead of its time, it's not a throwback album. It feels like today. I feel like a new artist. There are people out there that don't know my music, but they know me from acting. Some don't know me at all."
 
Nice!
Peep Common's full spread below: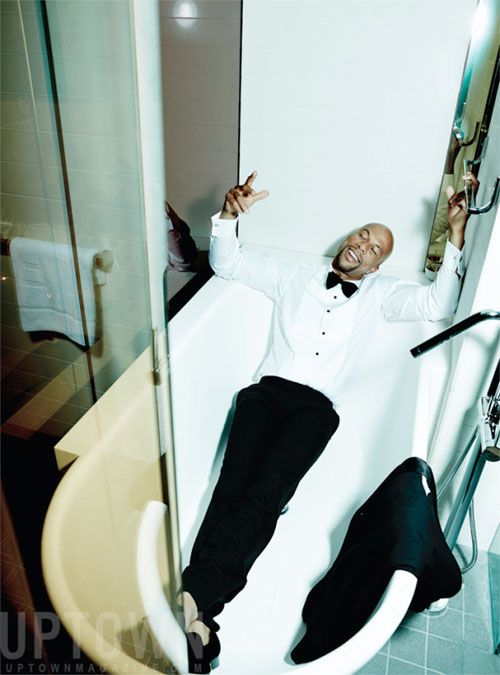 So damn sexy...
And check out the behind-the-scenes video of the photoshoot below:
So what's next for the Chitown rapper? Well, he just wrapped up a demanding role as civil rights activist James Bevel, who helped set up 1963's "children's crusade" in Birmingham, Alabama, in the upcoming film Selma. The movie will chronicle the life of late civil rights activist Martin Luther King Jr., which will be directed by Ava DuVernay and produced by Oprah Winfrey& Brad Pitt. The film is expected to be in theaters by Christmas.
Common will also continue his starring role on the AMC western drama series, "Hell on Wheels," as Elam Ferguson, an emancipated slave. Dude is definitely putting in work.
Photos: Cliff Watts/Chrystal Parker/UPTOWN