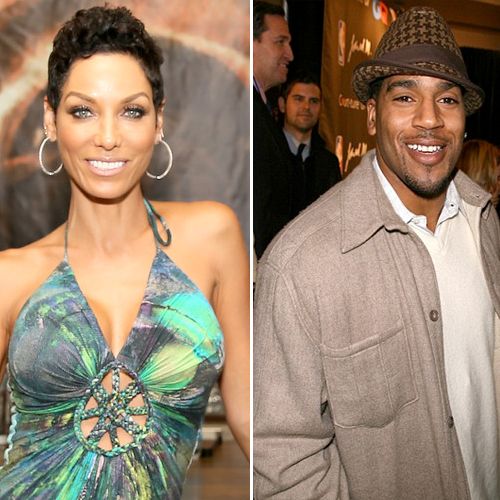 After Nicole Murphy and Michael Strahan ended their 5-year engagement (allegedly over Michael cheating) new pictures have surfaced of Nicole cuddling with former NBA baller Jim Jackson last month. Yep…one month before their split was announced. Deets inside…
A new twist has been added to the on-going drama between"Live With Kelly & Michael" host Michael Strahan and "Hollywood Exes" star Nicole Murphy.
New pictures of the reality star have surfaced of her snuggling up with ex-NBA star Jim Jackson on vacay in the Caribbean LAST month. Yep…one month before the former couple announced their split.  We can't post them here, but...
The twosome enjoyed a 3-day getaway at the Dorado Beach Ritz-Carlton in Puerto Rico on July 7th-July 10th. A source told TMZ that they were really affectionate with each other, hugging up on one another and KISSING. Chick sure moves fast.
We hear Nicole and Michael actually called off their engagement several weeks before the official announcement. Reportedly, back in July, she had a hunch that there was another woman. But it seems the relationship may have been over even before then, because last month Nicole was spending her free time cup-caking with this handsome baller. Hmmm... So who was cheating on who?
Other sources claim Nicole went to Puerto Rico with some girlfriends and just so happened to have bumped into Jim. Sources also allege Nicole and Michael were on a break during her trip, but claims she didn't think the relationship was completely over. Messy boots.
Guess we will see all of this play out on the next season of "Hollywood Exes."
Photos: Getty/WENN