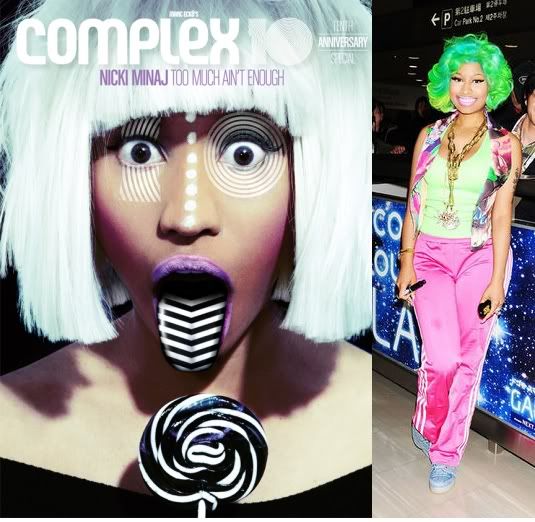 Nicki Minaj covers the tenth anniversary issue of COMPLEX magazine and we have pics and interview highlights inside.   See what Nicki says about behind the brainchild behind the N.M. machine and pics of her arriving in Japan....
Nicki Minaj covers COMPLEX Magazine's 10th anniversary issue with two eye-popping covers.
Inside the magazine, the rapper discusses her megastardom, how she's the brainchild behind her own success (she says she manages herself but still has a management team) and how she goes about setting her goals.   Basically she's saying she has the last word if she disagrees with management--like most artists do who aren't blind pushovers.  She says she never gets credit for what she contributes to the moves she makes.  Here are the highlights....
What wows you these days? Everything that comes your way keeps becoming bigger, bigger, bigger.  When you're constantly exceeding your own expectations, how do you set new goals?

Doing the Super Bowl with Madonna doesn't really change Nicki Minaj's personal goals. My goal right now is still to put out Pink Friday: Roman Reloaded, sell five million copies eventually, and tour every country in the world. That's what I've been working toward. So while the world is talking about, "Oh my God, I can't believe Nicki Minaj was at the Super Bowl!" I'm mixing and mastering my music. In my scheme of things it's way bigger.

You're on track to hit all your marks in 2012. Grammy solo set? Check. New album and tour? Check, check. Five million in sales? Possibly. What else?

I'm working on my fragrance and my apparel line. They took stuff that I've worn, focused on what I like, and then they started doing sketches. They're pretty amazing. I was like "Oh my God, the kids are going to love this." It's not gonna get done overnight, but I know that it's something they're going to love.

What's your off-stage persona?
I'm the biggest homebody. But I've been like this. Nothing about me has changed since I got fame. I never liked to go to clubs. I never liked to go out. I don't know where that public craziness came from. I was always like a comedian to my friends and family, but in a lot of ways I'm shy. I think people read my shyness as being mean. They misinterpret it. The first and only person who ever called me out for being shy was Wayne.

I always got a kick out of the endless debates over who was managing you. I've known you through three sets of managers [Deb Antney, Puffy and James Cruz, and Hip Hop Since 1978] and in every case, it was always clear that...

Little do they know, I manage myself.

Yes. You were always the first and last word.
Right. People assume that I am not the brains behind this operation, and they don't give me my credit. I could give two fucks about credit. I just want you to leave me the fuck alone. Let me do me. Don't tell me how to pose; I know how to pose. When I'm recording, I just have to go in and do it, you know? Even my engineer thinks I'm crazy because I'll hear something different on a track, and he'll insist, "No, no, nothing was moved." [But I tell him] "Tony, something was moved." And later, sure enough, "You were right, there was a two-second delay here."

Do you always feel like the smartest person in the room?
I meet people that are smart every day. I love collaborating with creative people. I'm not walking around saying I know everything. Hell fucking no. I want to build something. I just don't allow anyone around me who drops the ball constantly. I've never been happier with my current management, because Gee Roberson is such an intelligent man. I learn from him every day, and I'm very, very turned on by people that I learn from. Not sexually—I just love being enlightened. All artists should want to learn the business as they go along. If you're in this shit, talking about how you just want to be an artist, you're fucking stupid. It makes me cringe.
If I wasn't doing it, I wouldn't believe it's possible. I remember when I was working with Jay-Z. It was like, "Oh my God. Did I really just do a song with Jay?" I worked with Mariah and it wasn't commercially successful. But I had fun and I made a real friendship with her. It was, obviously, a life-changing moment for me. It does feel like every moment is getting bigger and bigger. Not only did I get a call to do a song with Madonna, but then I got a call to do a video with Madonna, and then—oh, by the way—you're going to do the Super Bowl with Madonna. This is not really happening.
Read the full interview here at Complex.  And more pics from Nicki's spread are below: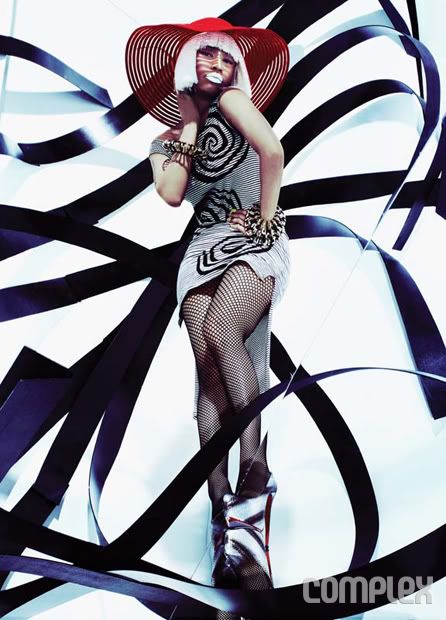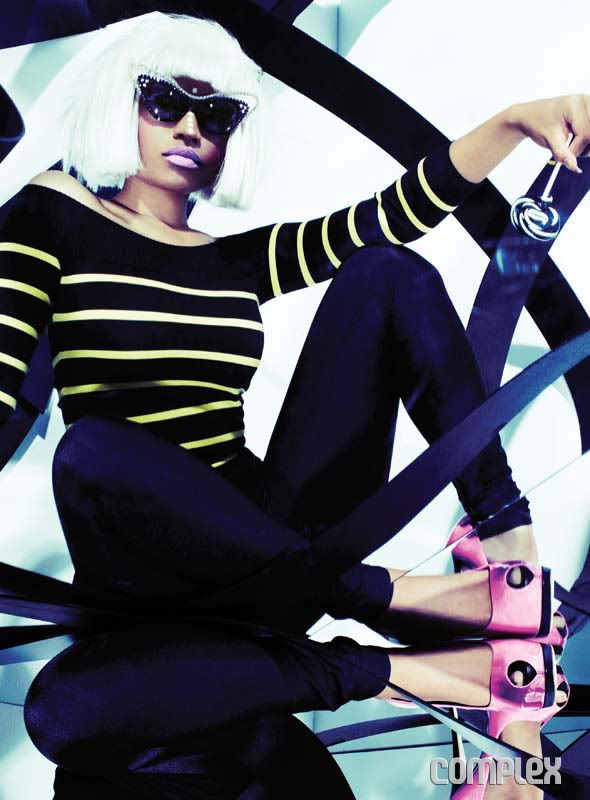 And in Japan today:
Nicki Minaj (and Sarafee) arrived at Tokyo's International Airport with fans going bananas:
She was dressed in hot pink athletic pants and her lime green wig.  
It's Nicki's first time in Japan and she's promoting her upcoming LP Pink Friday: Roman Reloaded.  The rap chick will be on a whirlwind of press stops as she's only in the country for one day.
BONUS:
Nicki's new track with Madonna ("I Don't Give") leaked online recently.  Check it out above.
The Randomness:
1.  Allen Iverson's estranged wife demands a list of women he's slept with. Story.
Photos via Splash