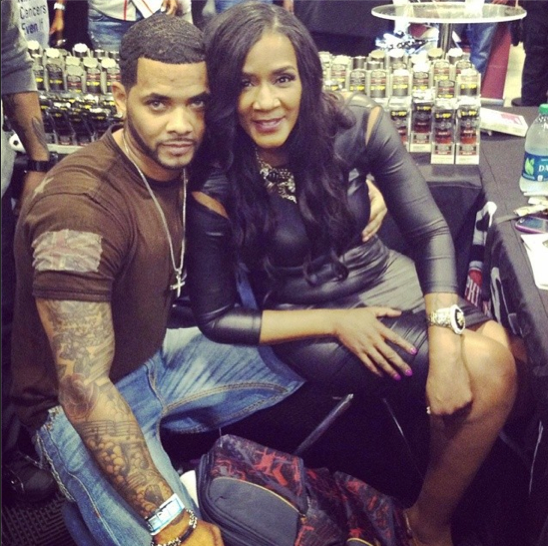 Remember the crazy drama with Andrea Kelly and the man she divorced just as quickly as she married him? Well, her suspicious ex Brian McKee has moved on....with Momma Dee!  Allegedly.  But, is it all a publicity stunt?
Deets inside...
Just a couple months ago, all was revealed when Andrea Kelly's husband she surprised her "Hollywood Exes" co-stars with....became her ex. Andrea married Brian McKee within just two months of getting engaged to him.  And it doesn't seem they knew each other long before the engagement, because NONE of Andrea's co-stars/friends had even met the guy until the season premiere when she introduced Brian as her fiance.
Well, just two months after their split, Brian the "barber" seems to have already moved on with another VH1 chick....Momma Dee!  Yes, really.
Dude is really not helping his case when it comes to folks thinking he's a straight up opportunist...and a few other things.
Momma Dee posted the above pic and the below sentiments last night:
Finally my king @B_crispy1 :) pic.twitter.com/3yh0sFRhkY

— Momma Dee (@ThaRealMommaDee) July 29, 2014
Really though? And yes, the "Queen" of the imaginary castle is well aware of his history. She also tweeted:
Inquiring minds wants to know he's divorce and so am I. ....

— Momma Dee (@ThaRealMommaDee) July 29, 2014
Chile...good luck with ALL of that.  Especially because this seems to be a desperate attempt at publicity stunting.
Brian posted the following, making it seem like he and Momma Dee are just "good friends" and she posted their pics to "get people's attention".
People in this world is so crazy! Its unreal how people think! People love to think the worst about people.smdh

— Brian mckee (@B_crispy1) July 29, 2014
People need to get a life and stop speaking on things they have no idea about.u need to know a person before u open ya mouth!

— Brian mckee (@B_crispy1) July 29, 2014
My good friend @ThaRealMommaDee really knows how to get people's attention!lol [crying tears emoji#calmdown

— Brian mckee (@B_crispy1) July 29, 2014
"Reality celebs" and their "please look at me....wait, why are you looking at me?" tactics. The thirst....
Photos: Momma Dee's Twitter & Instagram