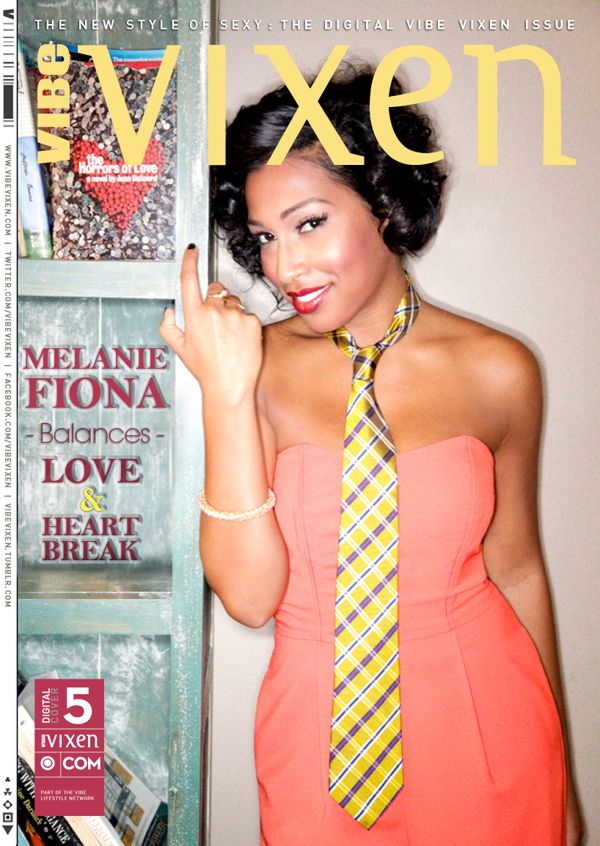 Gorgeous R&B chick Melanie Fiona, whose sophomore MF Life album drops nationwide today, is gracing the March 2012 cover of VIBE VIXEN magazine.  We've got the first look for you inside.  And the surprising emotional breakdown & severe heartbreak the Canadian beauty reveals she suffered through....
In a coral strapless RACHEL Rachel Roy Farrah jumpsuit and bold red lip topped off with a spring-ready yellow, pink & purple plaid tie from LAUREN by Ralph Lauren and RJ Graziano "Sleek Chic" bracelet, Melanie graces Vixen's second March cover (Estelle on the first) in a girlish tomboy look.  But she still screams girly nonetheless.
The 28-year-old "4AM" singer revealed in the issue that after her tour with Alicia Keys, she had an emotional breakdown due to the insane schedule of traveling the world.  She also dished on her hardest breakup, which was with her first love she met at 16.  And Mel also reveals why she feels newer artists are so entitled to stardom and don't work half as hard as she does.  Here's the highlights:
On hitting a low in her career
It got pretty low for me. I started to have a lot of emotional turmoil with my mental state of mind and my body 'cause I was exhausted. People don't really understand what an artist really has to go through. It's such an intense schedule; one day I'm in L.A., the next day I'm in Switzerland, the next day I'm in Italy and the next day I'm back in L.A. Mind you, I'm performing in that time in between, I'm meeting people, I'm talking and, you know, I'm on a different schedule. I came back off of the Alicia Keys tour, and I just hit the wall. Like, straight-up, I hit the wall. I crashed; I said to my team, 'I'm no good to anyone right now. I need to recover,' and it really affected my confidence level in my approach to my job, my mind when it came to everything around me. I started to victimize myself in a way and it's because when your body is not healthy, it really does produce negative emotions and energy and so.

On her very first heartbreak
The first cut is the deepest. I had a boyfriend when I was 16 and he was a jerk, but I loved him. It was before I put out my first album, when I was recording the first album, and it was right after I got off the Kanye West [Glow In The Dark] tour in 2008, and I was devastated. I was absolutely devastated because that was like the first crazy-stupid love I've ever been in my quote-unquote adult life. I actually made the decision to end it because I decided that I had gone back and forth enough.

On her career vs. newer artists' career
My team and I worked so, so much harder than artists now. [They are] like, 'Hey, I'm a superstar. I'm gonna make a YouTube video, and it's gonna get eight gazillion views, and I'm gonna be famous, and I'm gonna end up on every TV show!' Meanwhile, I'm busting my ass just to get spoken about on radio and television. I appreciate the process I went through to be honest, and I actually feel bad for the people who don't have to go through that process because they get hit with a harder blow when it doesn't work. I think that they create the one-hit wonder phenomenon rather than the career artist.
Can't agree more with those last statements.  Check out VIBE VIXEN for the full cover story at noon ET today.
Photog: Briana Heard/Stylists: Tiffany Hasbourne & Sheenen Zee