We told you about the offensive and down right racist casting call the "Straight Outta Compton" movie put out. Now find out what Universal Studios had to say about the casting information. Also, "Bad Girls Club" star Tanisha Thomas just landed a new gig. Deets inside….
As the NWA biopic "Straight Outta Compton" is gearing up to begin filming, there was a casting call released for the film that left many African-American women (and men) offended. Why? Well take a look at how they described what they were looking for below: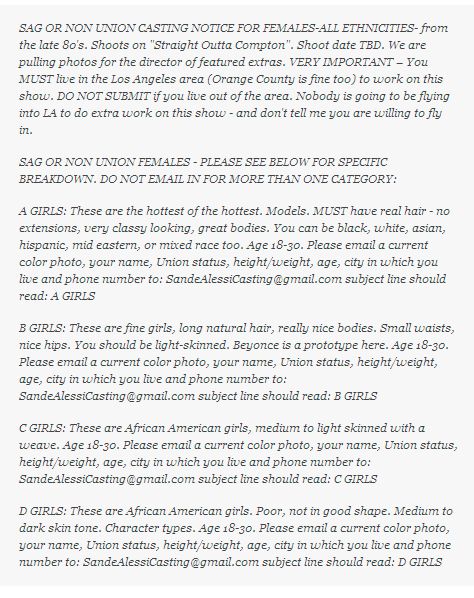 Ummm...yea...THIS is the casting call they're responding to.
Now the studio is speaking out saying NO one approved this casting call to be released. In short it was explained, "the filmmakers ... did not approve and do not condone the information in this casting notice. We regret and sincerely apologize for being in any way associated with the offensive descriptions it contained."
So why did Sande Alessi Casting post it if it wasn't approved? Hmm…
You'll recall, TMZ spoke to a rep for Sande Alessi Casting who said the ad was an "innocent mistake"…wait what? A mistake. Chile....
Do you feel their apology was sincere?
And coming to NetFlix…..
"Bad Girl" Tanisha Thomas has landed herself a new gig. And it's on one of the hottest television show series, "Orange Is The New Black." The show has been becoming quite popular in it's 2nd season, picking up two Emmy nominations for Outstanding Comedy Series and Laverne Cox grabbed a nod for Outstanding Guest Actress in a Comedy.
Tanisha made her exciting announcement that she's joining the television show for Season 3 on her social media accounts saying, "And guess who just got invited?!!! #blessed #oitnbseason3 look out for your girl"
Right now, Tanisha is currently working on saving her marriage with her husband Clive on WE Tv's "Marriage Boot Camp." If you watch the show, it will be interesting to see if the two will remain together. She's definitely a handful! Guess we'll find out next week during the finale.
Photos: Michael Buckner/Getty Images North America/Universal Studios/Twitter