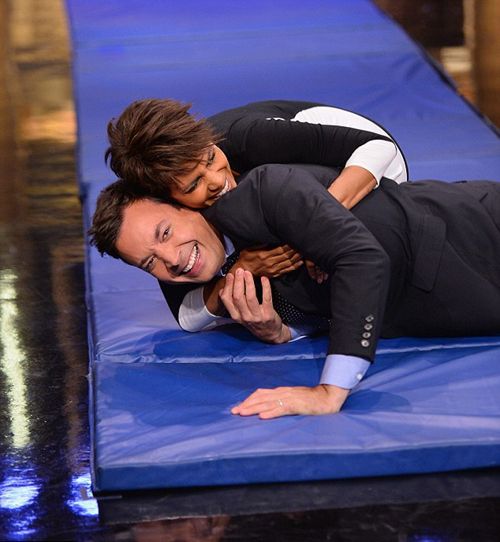 Halle Berry showed off her fun and playful side will promoting "Extant" on The Tonight Show with Jimmy Fallon last night.  Watch the Oscar-winner rolling around in her designer dress inside....
Rocking a sexy 'Avery' colorblocked dress by Astars and Ruthie Davis 'Lourdes' pumps, Halle Berry stopped by "The Tonight Show with Jimmy Fallon" to promote her new tv show "Extant" (which is helmed by Steven Speilberg).  Speaking about the show, she told Jimmy, 'It's a lot of work. I had no idea what it was like to shoot a TV series and with a newborn who doesn't sleep through the night.'
Then....Halle reminded us why we fell in love with her. She said 'whatever' to her designer clothes and got down and playful. The fun times included charades, and a "How We Roll" game where she rolled around on a gym mat with Jimmy.
 
Watch Halle and Jimmy show how they "roll":
Halle plays charades:
"Extant" debuts tonight on CBS at 8pm CT.
 
EXTRAS:
1.  Former New Orleans Mayor Ray Nagin was just sentenced to 10 YEARS in prison in bribery scandal.   STORY
Photos via Getty