The ridiculously fabulous Solange Knowles is featured in the UK publication The London Evening Standard as the fashion world's new IT girl.  And we agree.  The colorful, inspired, confident and unapologetically fly chick is showing off her retro glam looks while dishing on her improved sex life, her summer album, being besties with her big sister Beyonce (and new niece Blue Ivy) and more.
Pics and interview snippets inside...
Shot on location at the luxe Bowlmor Lanes bowling alley at Times Square NYC, Solange taps into vintage (with a futuristic edge on some) glam looks for the occasion.  The free spirited 25-year-old even explained why women who love others and themselves dress better.
The VOGUE blogger, Carol's Daughter & Rimmel spokeswoman and singer songwriter showcased her usual color-heavy style that we love.  And in the shoot, she makes bowling shoes, bowling pins, bowling lanes, and a random palm tree look all kinds of fab: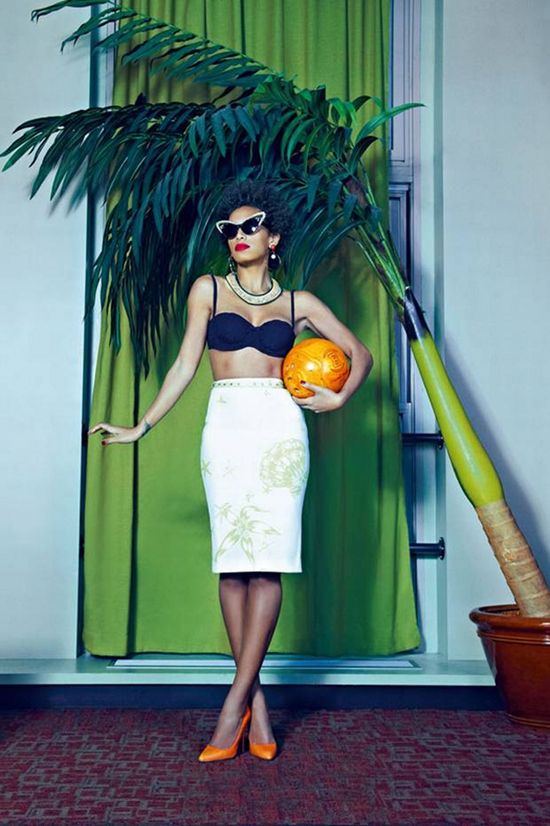 Bra top: Nina Ricci; Skirt: Versace; Shoes: Sergio Rossi; Earrings: Lanvin; Necklace: Vanessa Arizaga; Sunglasses: A-Morir
T-shirt & skirt: Giles at Joseph; Hat: Victoria Grant; Shoes: Louis Vuitton; Bracelet: Prada.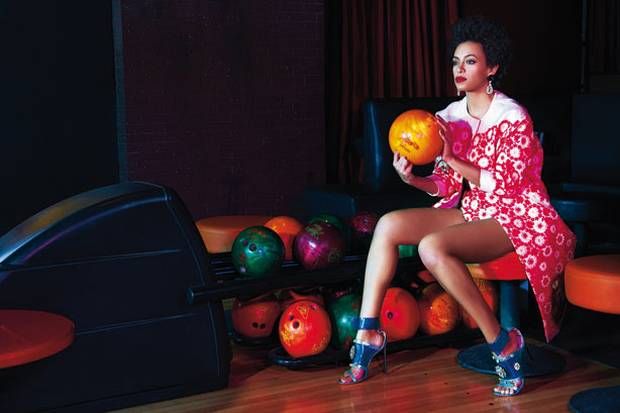 Satin coat, bodysuit and earrings: Prada; Swarovski embellished shoes: Viktor & Rolf.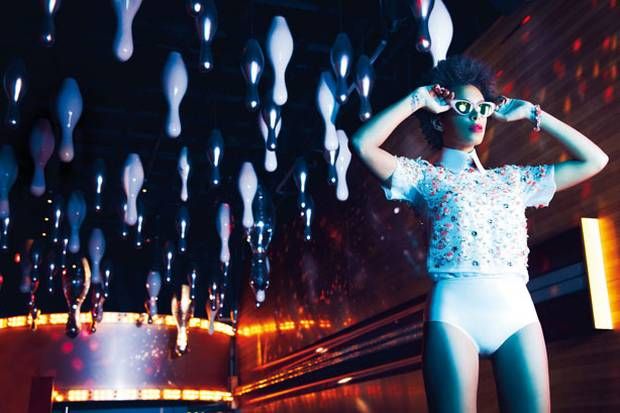 Top: Diane von Furstenberg; Latex collar: Atsuko Kudo; Latex hotpants: William Wilde; Sunglasses: Giles for Cutler and Gross; Necklace & bracelet: Prada.
Fur jacket: Frankie Morello; Bra top and skirt: Atsuko Kudo; Shoes: Prada; Earrings: Miu Miu; Necklace: Balenciaga.
Here's parts of her interview in full (we wouldn't want to take things out of context or anything):
Today, despite the torrential rain, she's wearing an aqua green oversized sweater, flared hot-pink Armani trousers, brown Fendi heels and a decidedly unwaterproof leopard-print faux-fur coat. 'Wow,' she says, smiling. 'Really not the best day to ride my bike here!'

She's happy and contented, living with her new boyfriend, the video director Alan Ferguson, putting the finishing touches to her third album, which she hopes to release in June, and raising her son Julez, now seven. Recently, of course, she also became an aunt: 'That was really, really insane,' she says of the press coverage of her niece Blue Ivy's birth. 'Such an invasion of privacy.' Has she offered Beyoncé any parenting advice? 'No, I really feel like because I had my son so young, I didn't want everyone's help,' she says. 'I think people felt entitled to give advice, so I'm always very sensitive to mums and letting them feel their way out. But there have been times when she'll ask, "Did Julez do this? Did this ever happen with Julez?" And I'll gladly give her advice. I'm in a really good place, and I think things are evolving because of that. Professionally, personally, I think that over the last three years I've just had a lot more stability, a lot more clarity about where I want to be and how I want to get there.' Finally, it seems, Solange is ready to step out from her sister's shadow into a spotlight very much her own.

Although she and [Julez's father Daniel] Smith broke up in 2007 (Solange moved to LA, where she completed her second album, a 1960s-inspired concept record informed by the Motown she had been listening to in Idaho), the experience of living in the countryside proved a formative one, and Solange continued her songwriting in a local studio. 'I'd have to time it around the baby's naps,' she says. 'And make sure he wasn't crying in the background on demos.' She continued writing 'all of these Sixties songs... I would send them to my publisher [EMI] and would check every day if someone was interested. This was before the retro vibe of Amy Winehouse and Adele... they were not very well received.'

I ask if sometimes she wants to keep the songs she writes for herself. [She has written album tracks for Kelly Rowland and four songs for her sister, including 'Upgrade U' and 'Get Me Bodied' when she was just 15.] 'No, I actually get the same thrill from seeing someone else bring [my songs] to fruition,' she says. 'Especially someone like my sister who's going to turn them into cultural milestones... I don't enjoy all of the things that come with that. Like not being able to ride my bike here today and not being able to walk and pick up my son from school. I've been so scared that someone's going to snap a picture of me with my hair like this!' (It's tied into little twists that fall listlessly around her angular, flawless face.)

One night, she sang some of her songs to her father. 'And he told my mother, who said, "Oh, no. We don't want you doing this, too. You can do anything in the world! You're so smart."?' But why would her mother say that, when she'd been grooming her sister for stardom from day one? 'I think she was nervous about me losing my childhood,' says Solange. 'My sister started at such a young age that this was her life for as long as she could remember.' Did seeing the extremes of celebrity and success first-hand discourage her? 'From a very early age I decided that I wanted to be able to do my music but still be able to live a normal life.' She recorded a song and sent it to Columbia Records, who offered her an album deal. 'I went into the meeting and said, "I want it to be clear that I want to write all of my music. I want to have control of that." I had grown up around this.' After a disagreement with the label, Solange had to promote the album, Solo Star, on her own. 'I didn't care. I didn't need the money…' She pauses. 'It wasn't very successful.'

Why isn't she signed to a major label? 'I don't think there's a need if you are able to fund it yourself and have a strong sense of development as an artist. It means you aren't dependent on some A&R dude to position you with writers or producers or figure out your next direction,' she says. 'Major labels act as banks in terms of how they produce and release your album. No major label is really good or bad, they just 100 per cent operate as a business, which makes sense… no hard feelings.'

So how does the new album sound? 'There's a lot of sexual vibes on it. I think I just finally started having good sex,' Solange says, before smiling a touch coquettishly. 'This woman came up to me the other day and said, "You know, I think people dress a lot better when they're in love with themselves, with other people, or with where their life is."?'

I ask how she plans to reconcile her increased visibility with her desire for a normal life. 'I think there's a way to protect yourself,' she says firmly. 'I think the fact that I live here is very helpful. It's about working it and not letting it work you, about being very selective about what you do and who you do it with.' As we get up to leave, I ask if she gets to see Beyoncé, Jay-Z and her new niece a lot. 'Yes. Actually, I invited them over for dinner tonight. I'm excited to see her; I haven't seen her in a week and half.' She wraps her coat around her, bracing against the weather. 'You know, my sister and I truly are best friends.' ES
Check out the interview in full at The Evening Standard's Life & Style section.
Credits: Hair by Chuck for Carol's Daughter at Jump/Make-up by Minha Khan and Randal Jacobs.