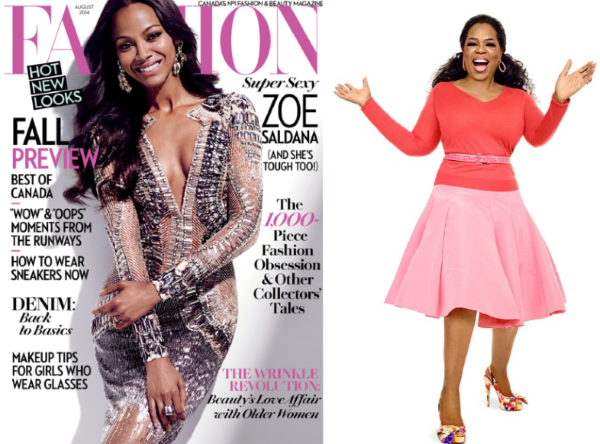 Zoe Saldana and Oprah Winfrey are making waves on newsstands with Oprah teetering on high Louboutin heels and Zoe revealing how competitve Hollywood really is.  Deets inside....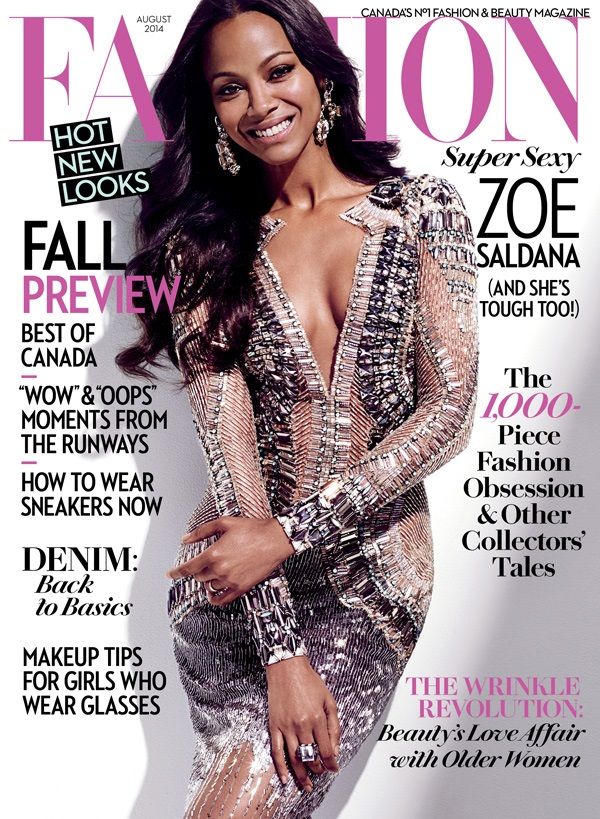 Zoe Saldana is undeniably one of the hottest stars in Hollywood. With upcoming roles in blockbuster sequels for Star Trek and Avatar, and a controversial biopic about Nina Simone, it's hard to ignore the Latina beauty. It's also hard to ignore that her clothes are becoming less revealing and often shield her tummy area. (We recently put her on baby bump watch? You KNOW TheYBF.com is ALWAYS right about these things. We're just saying. Check our receipts.)
For the August 2014 cover of FASHION, shot in L.A.'s Milk Studio by Chris Nicholls, Zoe models a Julien Macdonald dress, DSquared earrings and an MCL ring while opening up about her films, her marriage (which we blew the lid off of) and shares her best advice to women.  And seeing that she's in umpteen films a year it seems, it's hard to believe she feels the heat of competition.  Here are the highlights: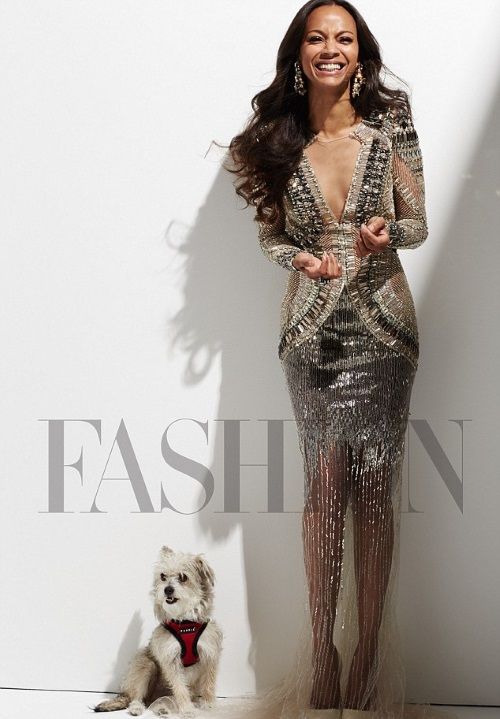 On her view of competition in Hollywood:
"I was a ferocious dancer so therefore I was a ferocious up-and-coming actress. When it comes to auditions, I'm not competitive with anybody. I don't even know who's sitting next to me. I wouldn't even tell you if it was a blonde or brunette. The moment you compare yourself, it weakens you."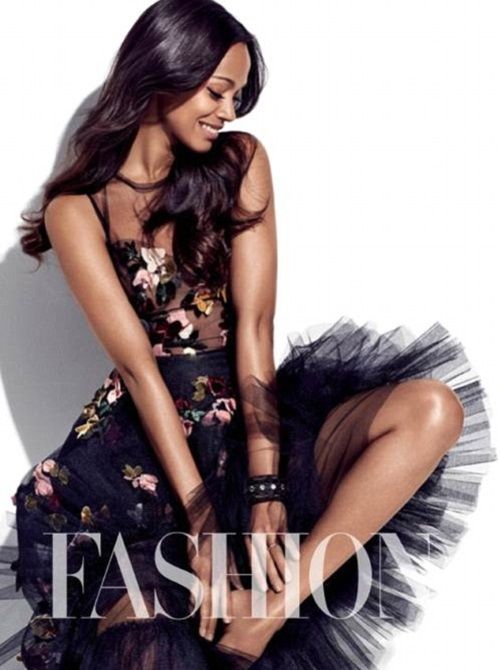 On her marriage to artist Marco Perago after her break up with Bradley Cooper:
"I was finally able to spend time without being in a relationship and even though, it was a short period of time, it was beautiful. Where I lost that fear of being alone. It was bliss. Then I met my partner when I was in really a beautiful place in my life. It was like I found all my answers with him not in him. I was finding my answers on my own."
On what her role in the next Avatar will be like:
"[Neytiri] is stronger than what I wanted this time, but she's also very vulnerable. It's very much her journey and I accepted the job again because I believe the script has her going in the right path. Jake and Neytiri are very much still a force to be reckoned with."
On the best advice a woman can get:
"It's important to not have women be afraid of you, to accept your mortality and your aging so that you can be a better mentor for up and coming women. Whenever these young women come and they just want to take everything all at once, just because they're younger and their asses are harder and plumper, you kind of go, 'Child, sit down. Yes, you're beautiful but listen to these 1, 2, 3s.'  1. Don't hike up your skirt too much. 2. I'm pretty sure you're intelligent so act like it. 3. Read a book."
Snaps.  Pick up FASHION Magazine's August 2014 issue starring Zoe Saldana on newsstands July 14th.
Also on newsstands......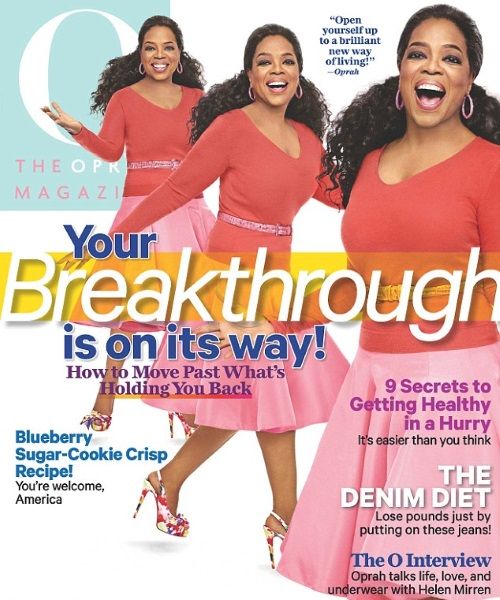 On the cover of OWNs August issue, Oprah Winfrey commands center stage in a pair of 5-inch Christian Louboutins, a coral colored V-neck Todd Duncan sweater and an A line Oscar de la Renta skirt.. Shot by famed shutterbug Ruven Afanador, Oprah spoke about the heels saying, 'They're like wearing stilts!'  But you look good Lady O!
Hitting newsstands on July 15, the August issue carries the theme "Your Breakthrough Is On Its Way." So what does Madame O have to say about breakthroughs?
'I love the very idea of breakthrough moments, breakthrough times in our lives. I would have to say that the biggest breakthroughs for me have always happened when I was going through a difficult time and suddenly came across an "aha" moment or an opening.

So what I've learned from all of the breakthroughs in my life experience is that not one single thing you ever have to go through, or get through, is wasted. All experiences are greater possibilities for a moment of awakening and enlightenment.'
Have you had a breakthrough?
Photos via Ruven Afanador/Chris Nicholls