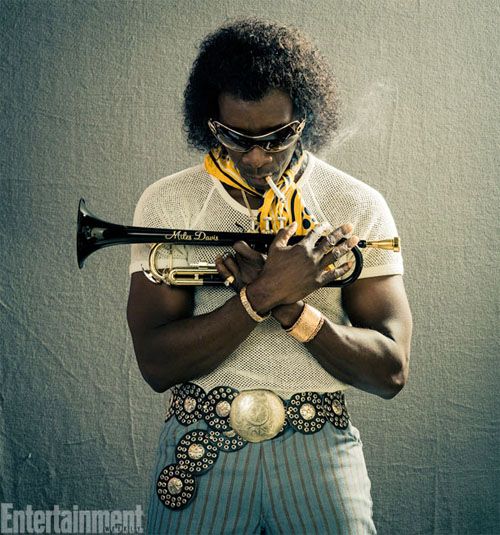 The big screen and daytime television is certainly heating up with these new previews. Check out the first look at Don Cheadle as jazz musician Miles Davis in his upcoming biopic Miles Ahead, Andre 3000 in the first official trailer for Jimi:All Is By My Side and a new promo spot for television talk show "The Real" inside…
We recently told you about Don Cheadle's efforts to raise funds to help back his crowdfunded Miles Davis project. And now, Don has revealed the first look of himself dressed as the legendary jazz musician for the role in the independent film, Miles Ahead.
In his first directorial debut (which he also co-wrote), Don will follow Miles' life as the trumpeter transitions back into music after a five-year hiatus (known as his "silent period) and it will also follow his volatile relationship with his first wife Taylor Davis.
The "House of Lies" actor mirrors Miles in the first pic with a trumpet in his hands, curly wig, a cigarette in his mouth and his 60's attire.
Shooting will finally begin this week in Cincinnati after being in development for nearly a decade!
In an interview with Entertainment Weekly, Don talks about how excited he is to start production, why he decided to turn Miles Davis' life into a movie and more.
Here are the highlights:
ENTERTAINMENT WEEKLY:How does it feel to finally begin production on Miles Ahead—to be in costume and begin this process?
DON CHEADLE: It's a great shot; it's kinda cool, huh? I attribute that to my department to more than anything I'm doing: That's hair, makeup, wardrobe, and props. But it's cool to be sitting on it and have it all begin. At this point, with everything that's happening, its real and surreal and hyperreal and every version of it that I can think of.

So you're a longtime fan; you admired him as an artist and man. How did you decide that you were going to make a movie? It's no small thing to embark on a project like this … especially not in this case, where you're approaching this independently.
"This was something that had been a periphery for me. I never thought about portraying him, really. I had done several other quote-unquote biopics and was always struck by the limitations they presented, because they were trying to be historically accurate. Let's be honest, any biopic is a series of omissions and conflations of events and amalgamations of characters. And you're trying to have a movie experience under three hours, so in the process you condense people's lives from cradle to grave, so things tend to feel episodic and event-oriented as opposed to a story about people and relationships and a character."
 

"So I didn't want to do another biopic. So when I heard the idea, from various people who had played with him, producers, writers, that this could potentially be something, I thought, 'if the script is great, I would be open to it since he's always been a fascinating figure to me.'"

"And then, in 2008, when Miles was inducted into the Rock and Roll Hall of Fame, his nephew was interviewed and was asked, 'Would you ever do a movie on his life?" He said yes, and that Don Cheadle is going to play him. And I was like 'I am?'"
Check out the full interview here.
 
And in another biopic....
We gave you a little nugget with the first sneak peek of Andre 3000 as legenadary guitarist Jimi Hendrix in his upcoming biopic. And now, we have the official trailer for Jimi: All Is By My Side.
The feature film is written and directed by John Ridley, who won the Oscar for screenplay adaptation of 12 Years A Slave. One major thing missing from the film is Jimi's orginial music. The estate was not on board for the biopic, so the film will use covers of other musicians' songs Hendrix performed.  Hmmm.
 
Jimi: All Is By My Side hits theaters September 26th. Check the official trailer above.
 
And on daytime television....
The ladies of "The Real"—Tamar Braxton, Tamera Mowry-Housley, Adrienne Bailon, Loni Love and Jeannie Mai—are ready to take over daytime with a full season.
With shows like "The View" in the midst of finding new co-hosts, "The Real" looks like it may have a good chance against some hefty competition. In the new promo reel, the talk show divas let us know how real it's really going to get their first season. Nothing is off limits with these five bold and opinionated women, who will discuss topics such as their personal lives, trending topics, news, beauty, fashion and a lot more. Check it above.
 "The Real" debuts Monday, September 15th the Fox Television Stations and in national syndication. It will rebroadcast during primetime on BET.   Will you be watching?
 
Photos: Entertainment Weekly