Solange Knowles has been spending her summer in New Orleans, and cleary making the most of it.  The fashionista is LUCKY magazine's August 2014 cover girl (shot in the Crescent City), and she's dishing on the back story on how her H-Town upbringing, her father's rules, and bi-coastal life created the flawless style rebel she is now. 
Oh, and she semi-addresses that elevator incident....
The stylish singer-songwriter, who always serves up a fest for our eyes with bold colors & prints, is giving us her story on how she became the enviable fashion maven she is today.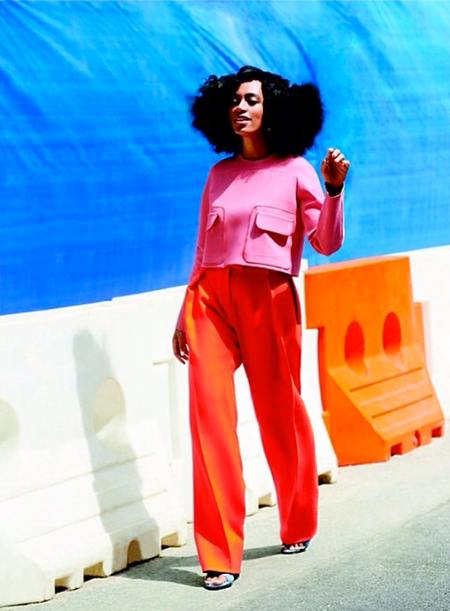 28-year-old Solange Knowles shot the cover & spread of glossy fashion mag LUCKY back in May in temporary home city of New Orleans.  And the pics are fabulous. 
The gal who is never scared to give us a modern 60's meets 70's vibe in both her clothing choices and music is also opening up about that now infamous elevator scuffle between her and brother-in-law Jay Z.  But don't get your hopes up, despite the mag acting liek she REALLY spoke on it, the PUMA Art Director basically said that the family's previous joint statement says it all.
Here are the highlights from the fab cover story (she's got new music on the way) and more pics below:
On the elevator incident
She calls the incident "that thing." "What's important is that my family and I are all good," she says. "What we had to say collectively was in the statement that we put out, and we all feel at peace with that."
On fashion:
'When I look back at old pictures, my dad was always smartly dressed, my mom had the most elegant, beautiful style, and my sister was very into the '90s Cross Colours look, and I…' says Solange..."I just had all of these different things inside me… It's interesting how the past comes back full circle and then it becomes more refined."
On Music:
"The music is changing… My last EP, True, was about the overall vibe—the message was fun. This one, I really want you to hear what I'm saying. I want you to hear me.'"
 
On father Mathew Knowles curbing her unconventional fashion choices as a kid
"He worked a super-corporate job," she remembers. "And naturally he just wanted us to look nice, and six-year-old me came out in a tutu and tap shoes. He said, 'No. Not this time.' It was the first situation where he really gave me a look and sent me to my room. He was upset. It was a big deal." She smiles at the memory. "When I look back at old pictures, my dad was always smartly dressed, my mom had the most elegant, beautiful style, and my sister was very into the '90s Cross Colours look, and I …" she pauses. "I just had all of these different things inside me."
On how living in laid-back New Orleans affects her fashion game
"I lived in New York and L.A. and they were different worlds I learned to navigate. Fashion and music have so many elements I'm connected to, but they also have parts that I'm not so interested in. I can step in and step out of those worlds. Being in New Orleans gives me space."
On being a fashion rebel since childhood
"I had issues with dressing weather-appropriate," she remembers. "In Houston, it's pretty much always hot. But I was mad I didn't get to have seasonal outfits so I'd wear sweaters and tights anyway."
On classical ballet training and switching to hip hop for Destiny's Child
"I had no idea how to dance hip-hop at the time," she says. "I was trained in classical ballet! But it sounded chill and I was going to make a little weekly check and be with my whole family, so I said okay.
"I loved traveling," she continues. "We were in Europe for a month, and that's when my musical eyes opened up. There, Björk was on pop radio. She wasn't some obscure underground thing like she was in America." Knowles spent the next two years as part of the Destiny's Child machine until an injury forced her to take a year off from dancing. "Dance had been my everything since I was a little girl and all of a sudden I couldn't do it," she says, her voice going quieter. "Some beautiful things came out of that year but also some painful things. I started writing songs because I had all of these emotions that were so real."
On showing her first written songs to Kelly Rowland before her deal at Columbia
Kelly's like a sister. When I let her hear my music, she said, 'I want you to write for my album.' That gave me a lot of confidence." Telling Mathew and Tina was a little harder. "I was nervous to talk to my parents. Part of my mom was like, 'Please be normal and get a regular job,' because she had gone through so much with my sister. She knew how strong-willed I was and how the industry was probably not going to be the most supportive thing for a 15-year-old girl."
On her failed Solo Star debut album
"I was serious about my songwriting but not necessarily too gung ho on all the other elements of being an artist—the public nature of things, the lack of privacy, the feeling of always needing to be on. I also felt really misunderstood by my peers and the musical landscape that I was in," she says. So she stepped out of it.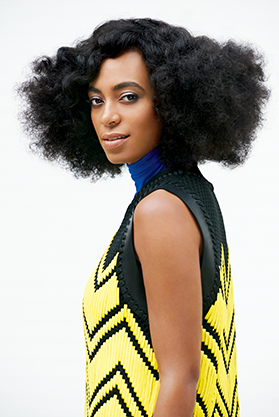 Dress, $1,895, alexanderwang​.com. Turtleneck crop top, $30, americanapparel​.com
Check out the full story over at LUCKY magazine.  Loves it.
Photography by Todd Cole