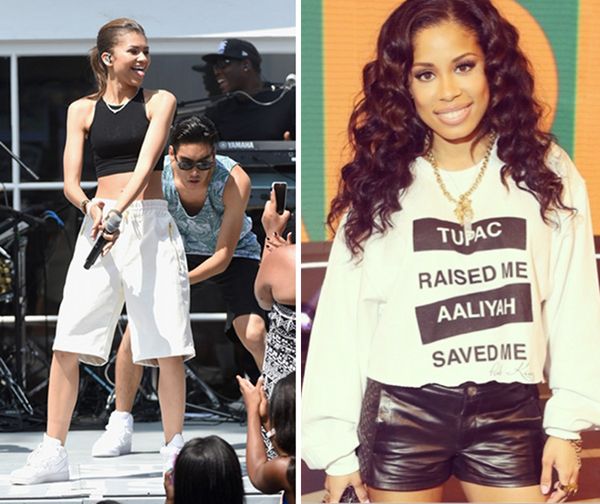 Zendaya Coleman, who turns 18 September 1st, is speaking for the first time (in an interview) about her upcoming Aaliyah role.  Check out what she had to say about it and her urban chic style inside.  Plus, "106 & Park"'s Keshia Chanté, who reportedly landed the job first, reveals why she turned down the role...
During a chit chat with Billy Bush and guest co-host Meghan McCain on "Access Hollywood" this week about her upcoming Disney movie "Zapped", YBF chick Zendaya Coleman (pictured above performing at the Hollister House yesterday in Santa Monica) revealed a bit more about what's going on with Lifetime's upcoming Aaliyah biopic.  She addressed the backlash, the family's issue with the film, and more.
On becoming the new face of Madonna's "Material Girl" clothing line
"It's so amazing. First of all, just the fact that Madonna knows who I am. Her and her daughter [Lourdes] I think they are an amazing dynamic duo. I think these clothes are like the coolest juniors line that's available and that's for us. It's cute and it's affordable and I think that's so important....Fashion should be for everybody."
On her style
"I'm very urban chic.  I like to take urban inspired streetwear and put a girly twist to it.  Being 17, I shouldn't be confined to a box.  This is the time for me to experiment with fashion and try different styles.  So I might as well do it."
On Aaliyah's family being opposed to the new bipic
"We haven't started production or anything.  But the family was my number one concern.  My important thing about this was the mother & the brother... and that Lifetime reached out.  I didn't feel comfortable until they did.  So they're working on that and reaching out to the family to make sure everything's ok.  I wrote a letter, a whole bunch of things. I've been an Aaliyah fan my entire life.  I auditioned like anyone else and I got cast in the part.  I want it to be something [the family] is proud of and what she would be proud of.  It's a Lifetime movie.  So it's just to honor her. And to show how incredible she is and the things she was able to do."
On the backlashabout Zendaya playing Aaliyah
"I think people are entitled to their own opinions.  Some people know me from the Disney channel and maybe they don't think I can handle the role or do whatever.  But at the same time, I was cast in the part.  I auditioned like everyone else and I was cast.  My passion and my love for Aaliyah is so strong.  I'm just going to channel her and do my best to honor someone that I love so much and have and taken so much from in my career."
Check out the full interview below:
Meanwhile, the person initially cast in the biopic, BET's Keshia Chante, revealed why she ended up turning down her dream role:
Keshia, who will be hosting the BET Awards pre-show this weekend with Bow Wow and more, posted a message on her Instagram yesterday saying that she couldn't do the movie knowing that the family was not on board.  But she also gave her support to Zendaya Coleman:
Now regarding the Aaliyah film, I just want to say Thank You all for the outpouring of love & support. You guys went so hard!! It's really touching to know that you root for me! Words can't even express. But this particular project just wasn't for me. After learning more about the situation & how the Haughton family truly felt, I just didn't feel like it was right. But at the end of the day, this is just one, of what will be many movies on Babygirl's life. So maybe one day, if it's the right circumstance, timing & I get the blessing, I'll choose to be a part of something. Until then, keep #Aaliyah's legacy alive & positive! And support my girl Zendaya who is just living out her dreams & working hard to do so! xo KC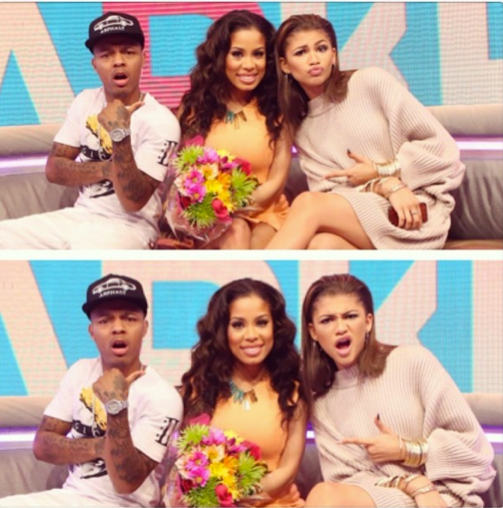 Zendaya visited "106 & Park" recently and it all seems like nothing but love between the two.
Photos: Keshia's IG/Getty