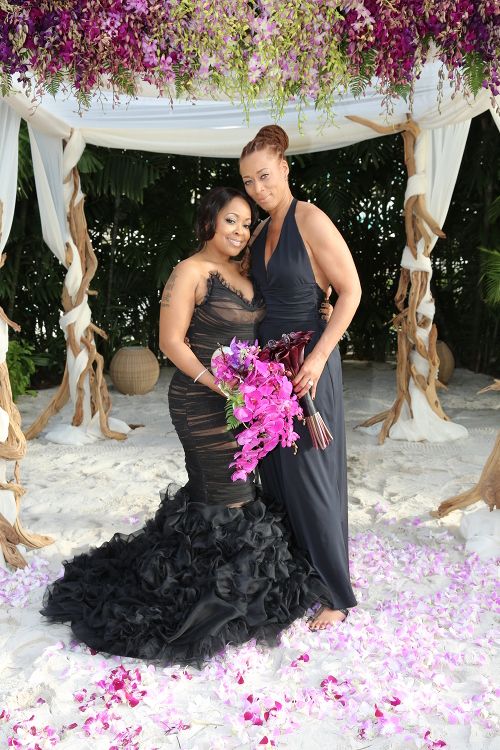 If you've been watching "R&B Divas", you know that singer Monifah is taking the plunge into married life with girlfriend Terez. We've got a sneak peek at her wedding inside, plus why her daughter wasn't present...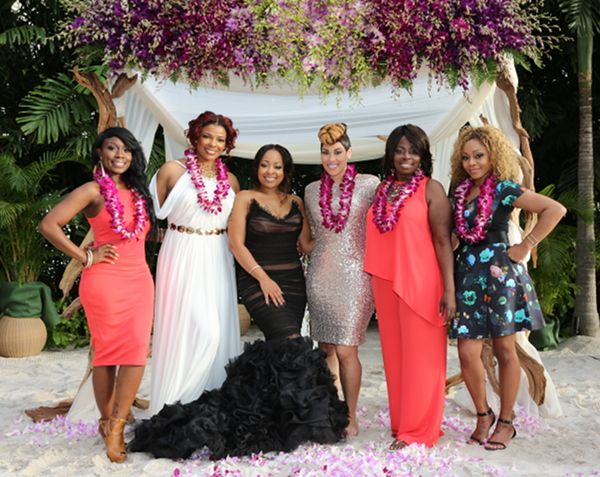 When season three of "R&B Divas Atlanta" wraps Wednesday (June 25) at 10 PM/ET, Monifah will be a married woman.
Monifah & Terez rocked black gowns on their big day.  And Monifah's cast members--Meelah Williams, Syleena Johnson, KeKe Wyatt, Angie Stone and Latavia Roberson--traveled to Hawaii for Monifah and Terez's much anticipated wedding, but it seems everyone was on hand to congratulate the newlyweds...except for Monifah's own daughter.
The folks over at MadameNoir caught up with the "Touch It" singer (above with her mom, Terez and Terez's mom) about how she handled her super religious daughter being a no show.
"You have to live your life for you. You demand respect in that area of your life because that is your life to live. I think acceptance of people's decisions and beliefs and choices in those things is very key. You cannot change people. You have to keep it on you and do your best to be the example of what you'd like to see—in them or in the world period. That's really how I've been living my life. It helps me make much better decisions because you know, you can't change people. You'll be disappointed the minute you try. That's not even our place. I've learned that acceptance is key in most of those situations. You have to protect yourself and your spirit and you have to make tough decisions. It's not always easy."
 
Below are more photos from the big day, including a never-before-seen photo of Monifah with Terez and her fellow Diva.  By the way, Monifah helped to design her own dress:
Also, check out a video sneak peak of Monifah and Terez walking down the aisle below: