VIBE says Jhené Aiko is the millennial's modern-day Sade.  So they gave her the second cover of their Summer 2014 issue (the fellas Mack Wilds, August Alina and Ed Sheeranhave the first).
Check it inside, plus her take on her style and music...
Hipster/gypsy Jhené Aiko says her style is "not loud, I blend in"...but she's no stranger to popping off on haters who criticize her singing skills.  But she loves some good floral added to her look, doesn't she?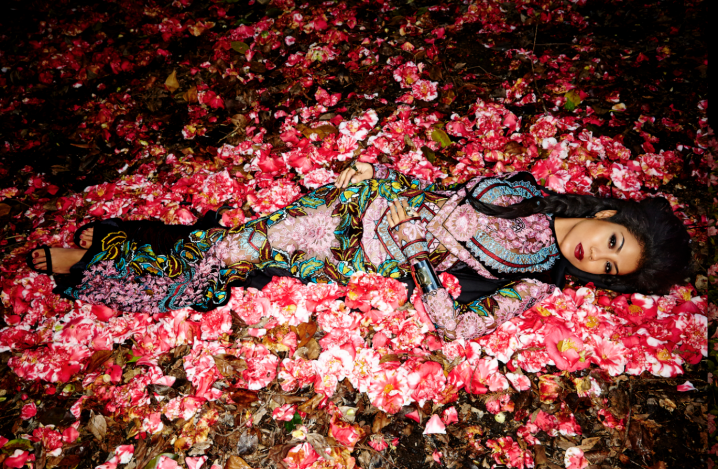 On songs about killing her ex lovers, like on "The Worst"
"I've never killed a guy, and I've never went to jail, but those are the things I have to get out of my head some way," she says. "It's writing a song and then turning my crazy thoughts into those moments where I'm like, I could really do that, but I'm not going to."
On her real-life love style
She once gave a guy flowers from Walgreens ("He was like, 'You're making me feel like a bitch.' He liked it, though.") The biggest splurge gift: a boat ride, at $200 per hour, for a day-time excursion that she references on "Comfort Inn Ending (Freestlye)," singing: "I should've never fucked you on a boat on your birthday."
On comparing her style and collabo partner Drake's style
"Drake's a conversation with a woman on a level of honesty," says producer No I.D., who signed Jhené to his Def Jam imprint, Artium, in 2011. "Jhené represents the woman who talks to herself and deals with the good, the bad, the happy, the sad, the spiritual and the ghetto."
 
On preferring vapors or papers over blunts for the occasional stress reliever 
"Everyone's [singing] about weed now, 'cause that's the 'in' thing to do. I'm like 'Do you even smoke?'" says Jhené, without singling anyone out. "You can tell when it's contrived. You don't have to do it. Talk about what you do."
On her self-proclaimed "hood rat behavior"
Doing hood rat things was part of Jhené and her best friend Tynetta's agenda. In fourth grade, they took a midnight Metrolink bus ride to Compton—"I told everyone about it. I felt so brave," says Jhené. She gradually smartened up and later realized she was a lightweight after downing a whole bottle of brandy with two friends while one of their moms weren't home. She woke up to vomit in the sheets. "I just remember having a ridiculous conversation, being loud," says Jhené. "I probably had a hangover for the next two days. Until this day, I can't drink brandy."
Pretty pics.  Check out the full cover story over at VIBE.
EXTRAS:
1.  Remember Olivia Longott from "Love & Hip Hop"?  Well, she's got a memoir coming out. It's called "Release Me: My Life, My Words," in stores July 1, 2014.