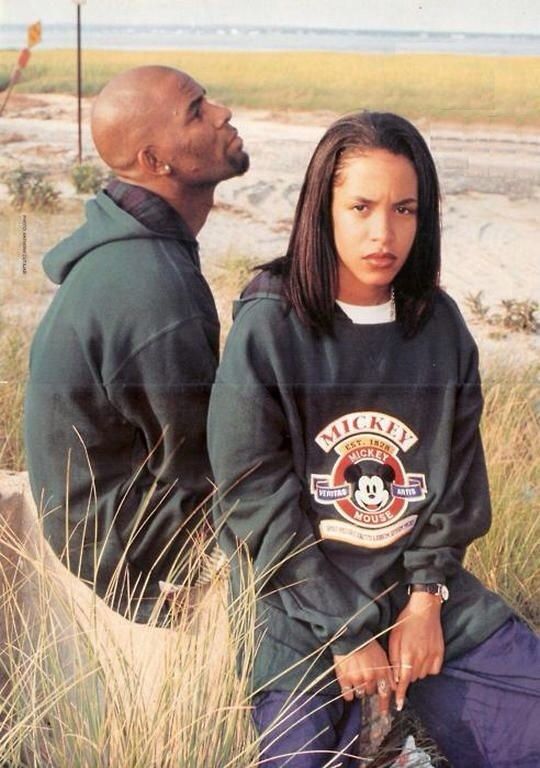 The upcoming "Aaliyah" biopic is stirring up more drama with Aaliyah fans.  New reports claim the story will also focus on the controversial relationship between the singer and mentor R.Kelly.  Deets inside...
Now, we ALL want to know what REALLY went down between Aaliyah Haughton and R. Kelly.  But since it doesn't seem the Haughton family is interested in working with Lifetime on the project (they're attempting to shut it down), where would the factual info come from?  Surely not R. himself.
Page Sixreports that the Aaliyah story on Lifetime will indeed explore and focus on their illegal marriage and relationship.  And folks are pissed, despite the fact the movie will also span her life from 10 to 22.
The 1990s diva — who was tragically killed in a 2001 plane crash when she was just 22 — was alleged to have secretly, illegally married her mentor Kelly in 1994 when she was 15 and he was 27.

Though the couple denied the union, a marriage certificate was eventually revealed that falsely listed Aaliyah's age as 18.

The marriage was reportedly annulled by her parents. The movie, starring Disney star Zendaya and based on a biography by Christopher John Farley, will cover Aaliyah's life from 10 years old to her death at 22.
So will they also be exploring her relationships with Dame Dash and Jay Z as well?  Hmmm.
Executive producer, Debra Martin Chase, told the publication, "Aaliyah's personal and professional relationship with R. Kelly will be explored with care in the film as we set out to depict her life with the utmost respect. Above all else, it's our hope to inspire an entirely new generation with her music and larger-than-life talent."
The biopic, based on the bestseller "Aaliyah: More Than a Woman" by former Time Magazine music editor Christopher Farley, will film this summer and is slated to premiere this fall.  Zendaya Coleman, slated to play Aaliyah, will record four of the late star's songs.