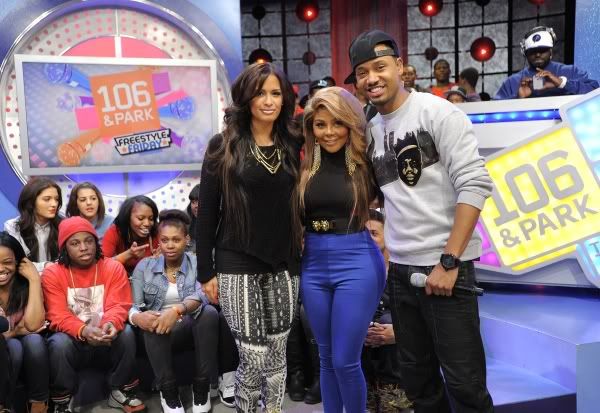 Lil' Kim stopped by "106 & Park" yesterday where she honored Biggie Smalls and had an awkward moment when Rocsi asked about Nicki Minaj.  Watch the interview inside....
Lil' Kim appeared on "106 & Park" yesterday where she honored the legacy of Biggie Smalls, discussed what's in store for her new album and judged Freestyle Fridays.
All was well until Rocsi asked Lil' Kim about Nicki Minaj.  Kim got a little irritated and replied,
"At the end of the day, this is about Kim right now.  We gave you that movie already, you know what I'm sayin'. We movin' on to a whole 'nother direction and if it come back that way, then we give ya'll another movie. But right now we moving into another direction. 'Bout to drop some new singles for Queen Bee and Brooklyn."
But it didn't end there.  After the show, Kim tweeted,
"I want to take this time 2 say #TeamLilKim & all my fans that came out 2 106. I fucking love u guys. Y'all really turnt it up & represented.  "Even when Rocsi tried to get disrespectful towards the end & ask an unappropriate irrelevant question."
Why can't folks just let Lil' Kim be great?
Watch Lil' Kim's interview here:
Watch Lil' Kim introduce Freestyle Fridays here:
Watch Lil' Kim's moment with Rocsi here: